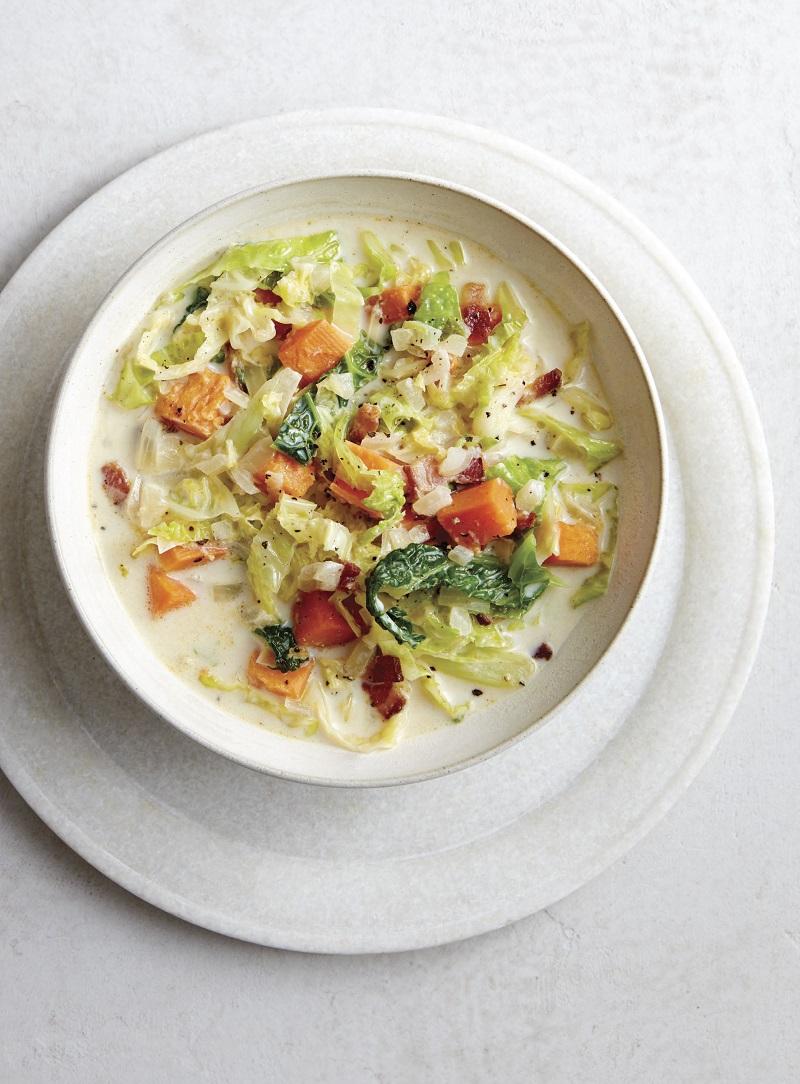 Wall Street Journal food columnist Aleksandra Crapanzano joins us to talk about The London Cookbook: Recipes from the Restaurants, Cafes, and Hole-in-the-Wall Gems of a Modern City. She spent many years living in London and shares the adventurous and vibrant cuisine of a city that once had a reputation for "watery potatoes, stringy mutton, and grayed vegetables."
 Event: Aleksandra Crapanzano will be signing copies of her cookbook at Book Court (163 Court Street) in Brooklyn on Friday, October 21st at 7 p.m.
Recipes
Sweet potato, Bacon, and Savoy Cabbage Soup
SERVES 4
6 thick slices bacon
Extra-virgin olive oil, for cooking, if needed
1 yellow onion, chopped 2 cloves garlic
1 large or two small sweet potatoes, peeled
Pinch of freshly grated nutmeg
1⁄2 savoy cabbage, finely sliced or chopped
21⁄2 cups homemade chicken  stock
Salt and pepper, to taste 2 cups whole milk
3 tablespoons quick-cooking rolled oats, if so desired
It's quite possible to see the same Hampstead locals day in, day out at Ginger and White. It is more than a neighborhood café—it is a hub. This is in large part to do with the cheery menu. Muffins and scones, heaping mounds of homemade roasted peanut butter churned with honey and demerara sugar, the ubiquitous mac and cheese, steak for the very hungry, and pearl barley salads for the parents.
My son Garrick adores this soup, possibly because he adores all things bacon. Here it provides a bit of smoky meatiness that is particularly welcome in the winter months. But everything in this soup pleases: the palette of vivid orange and green, the gentle murmur of nutmeg and cloves, the milky broth, the flecks of oats.
To an American, it may resemble a chowder; to a Scot, however, the use of oatmeal as a thickening agent will conjure memories of mussel brose, a traditional mussel stew made with milk and oatmeal. There's little need to follow this soup with a main course. It is perfect for a night at home when warmth and comfort are required but a long, rich meal is not.
Slice the bacon into lardons. In a heavy soup pot with a lid, sauté the bacon over low heat until it has rendered much of its fat. Add a splash of olive oil, if needed.
Add the onion and garlic and toss to coat with the bacon fat. Cover the pot and sweat the onion and garlic for 10 minutes, until soft. Check every now and then to make sure they aren't coloring.
Meanwhile, cut the sweet potatoes into 1⁄2-inch cubes. Add to the pot along with the nutmeg. Cover and cook for 5 minutes longer.
Uncover the pot, toss in the cabbage, and cook, stirring, until it has wilted. Pour in the stock and bring to a boil. Season with salt and pepper. Add the milk and bring it to a simmer, watching to make sure it doesn't boil over. Remove from heat and taste.
If the soup's consistency is already to your liking, check only to make sure that the vegetables are tender and the soup well seasoned. For  a thicker soup, whisk the oatmeal. Simmer 5 minutes longer.
Ladle into warmed bowls. Serve immediately.
NOTE if you'd like to get a head start, prepare the bacon, onion, and garlic in advance, but wait to add the sweet potatoes or they will get mushy.
Apple and Calvados Cake
SERVES 6 IN FERGUS PORTIONS, WHICH ARE ALWAYS GENEROUS
2 cups sugar
3 eggs
11⁄2 cups vegetable oil 1⁄4 cup Calvados
31⁄4 cups all-purpose flour
2 teaspoons ground cinnamon 1 teaspoon baking soda
Pinch of salt
Pinch of ground cloves
3 or 4 baking apples, peeled and chopped, preferably Bramley or Granny Smith
1 cup walnuts, chopped Crème fraîche, for serving
When Fergus sent me this recipe, he wrote me this note at the top of the page: "A very fine cake. What is not fine with a little Calvados!" How right he is, on both counts. I'm mad for this cake. The Calvados seems to ambulate in the background, like a haunting. The chopped apples and walnuts provide texture. The oil would keep it moist for days, were it not certain to be devoured within hours. The cinnamon offers comfort, the clove intrigue. The whole is like a perfectly conceived short story, with a dollop of crème fraîche as the final punctuation mark.
Preheat the oven to 350°F.
Butter a 9-inch springform pan or a 10-inch cake pan.
Whisk the sugar and eggs together either by hand, in a stand mixer, or with electric beaters. Add the vegetable oil as you would to make
mayonnaise—in a thin stream as you continue to whisk until emulsified.
Add the Calvados, while continuing to whisk. Add the flour, cinnamon, baking soda, salt, and cloves and whisk to incorporate.
Fold in the apples and walnuts. Pour the batter into the prepared pan and smooth the top.
Bake for 90 minutes, until a sharp knife inserted in the center of the cake comes out clean. Serve at room temperature with a generous bowl of crème fraîche.
All recipes and photos  are reprinted with permission from The London Cookbook by Aleksandra Crapanzano, copyright© 2016. Photography by Sang An. Published by Ten Speed Press, an imprint of Random HouseLLC.