SchoolBook
Cell Phones in Schools: Lessons from the Front Line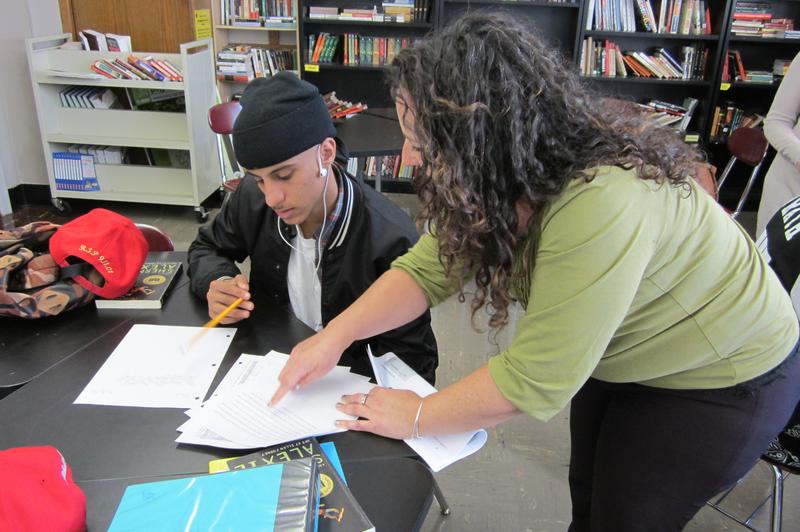 New York City's Department of Education officially bans students from bringing cell phones to school, but at one high school in Brooklyn the faculty has surrendered to the reality that their students have their phones and will sneak them out at any chance.
West Brooklyn Community High School allows phones in the classroom while faculty members try to teach students about responsibility in the digital age. Principal Gloria Rosario said the policy evolved by trial and error.
"If you get into a power struggle with the young person, you will never win," she explained. Rosario said teachers used to waste too much classroom time on "pointless battles" and prefer instead to help students focus on classwork.
They also use a system that emphasizes positive behavior, giving their students up to five points per class for good engagement, which includes showing up on time and not using electronics. Students told WNYC they liked the point system and the emphasis on personal responsibility.
"If they're taking off points, that's you," said 17-year-old Ariel Bravo. "You're going to be here way longer. And if you want to see all your friends and be with them and texting them, you're going to be delayed on graduating."
West Brooklyn is a transfer school for students who enrolled somewhere else first and now are behind in the credits needed to graduate.
"We should be mature enough not to take out our phone because all of our friends are also in class," added 18-year-old Christina Rodriguez.
If a student does not abide by a teacher's request to put away the phone, the teacher may call his or her advocate counselor. One counselor, Bernard Greene, said he uses those moments to give the students a lesson about real-life consequences.
"If you're at a job and they told you to put your phone away and you didn't you would get sent home," he said. "And I know that because I've been sent home before at previous jobs for doing that same thing."
During a recent English class, students worked quietly on their writing assignment. Only one student was warned for looking at his cell phone; the teacher told him he'd sit at a different desk the next day.
Seventeen year-old Said Muwalled kept his white headphones fully visible, but they were draped over his ears, not in them. At the end of class, he swore he had managed himself well: "I took it out to get somebody's number once," he confessed but promised that was it. 
This report is part of American Graduate, a public media initiative addressing the drop-out crisis, supported by the Corporation of Public Broadcasting. Our ongoing "Educating on the Edge" series is here.