A Listener-Sourced #CulturePack for This Political Moment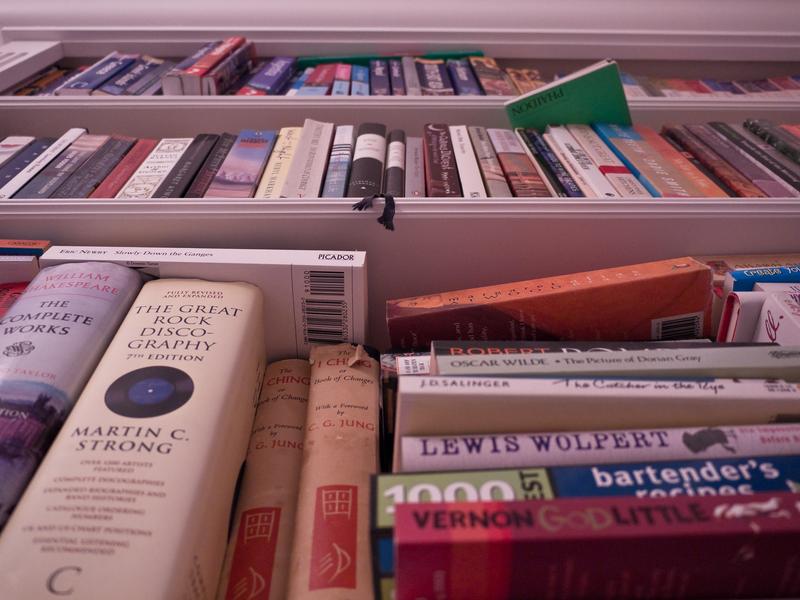 There are over 800 hard copies of George Orwell's 1984 in the New York Public Library system, and as of week two of Donald Trump's presidency, every single copy is checked out (with holds for months).
WNYC's Shumita Basu spoke to Nick Higgins, the Director of Outreach Services at the Brooklyn Public Library, to hear more about the library's ambitious 48-month-long book club centered around 1984.
But while some people seek meaning in dystopian fiction, others have different impulses when reacting to a complicated news moment. So we're asking listeners: What books/movies/TV/podcasts/etc. are you digging into to better understand this political and cultural moment? Or to give yourself a little break from it all? See some of the responses below, and keep adding to our list using #CulturePack. 
A WNYC Listener-Sourced #CulturePack
Books
The Rise and Fall of the Third Reich, by William Shirer (recommended by Brian Lehrer and many others)
The Handmaid's Tale, by Margaret Atwood (recommended by many, including @tara_atrandom: "given where women's rights could be going")
Hillbilly Elegy, by J.D. Vance (recommended by many)
The Cost of Discipleship, by Dietrich Bonhoeffer (recommended by @earthscorners: "on my bedside table since the election")
Man's Search for Meaning, by Viktor E. Frankl (recommended by @earthscorners)
Facing Unpleasant Facts, by George Orwell (recommended by @somogyianthony)
What Moves at the Margin, by Toni Morrison
Bring Up the Bodies, by Hilary Mantel and Difficult Women, by Roxane Gay (recommended by @jhaubner2: "fascinating to read side by side!")
White Trash: The 400-Year Untold History of Class in America, by Nancy Isenberg (recommended by many, including Lisa in Brooklyn: "it's really enlightening and showed me a lot of parallels between the history of the US to 1800 compared to right now")
The Fifth Sacred Thing, by Starhawk (recommended by @brook_packard: "San Francisco seceded + creates a sustainable compassionate culture. Hope for a better way.)
Swastika Night, by Katharine Burdekin (recommended by @lizzie_donahue: "pub in 1937 under a male pseudonym, she imagines a world where Hitler won")
Hope in the Dark, by Rebecca Solnit (recommended by @mjterrito: "needing light and hope at the moment")
The Rebellious Life of Mrs. Rosa Parks, by Jeanne Theoharis (recommended by @KristinDuvall)
No Time to Lose, by Pema Chödrön (recommended by @KristinDuvall)
The Dictator's Handbook: Why Bad Behavior is Almost Always Good Politics, by Bruce Bueno de Mesquita and Alastair Smith
Amusing Ourselves to Death, by Neil Postman (recommended by @taylordobbs: "Postman predicted current U.S. situation…about the role of TV in public discourse")
The True Flag: Theodore Roosevelt, Mark Twain, and the Birth of American Empire, by Stephen Kinzer (recommended by @CbijouJ)
An Indigenous Peoples' History of the United States , by Roxanne Dunbar-Ortiz (recommended by @debiDEA)
Learned Optimism, by Martin E. P. Seligman (recommended by @JeffreyZeth)
Days of Rage: America's Radical Underground, the FBI, and the Forgotten Age of Revolutionary Violence, by Bryan Burrough (recommended by @loribiff: "parallels with #blacklivesmatter and protest movements.  Hope to avoid violence this time.")
A Man of Good Hope, by Jonny Steinberg (recommended by @Azania1981: "to help me understand what refugees endure. Adaptation of book at BAM Brooklyn this month")
Blindness, by Jose Saramago (recommended by @deborah_ruffins: "world gone blind to reality. One woman leading a group through a world descended into chaos. Parallels abound.")
In the Garden of Beasts: Love, Terror, and an American Family in Hitler's Berlin, by Erik Larson (recommended by @Debbie_Rabina: "road map to what we are seeing unfold")
The Federalist Papers (recommended by Angela in Bridgewater, NJ: "to try to get back in touch with how the country was originally meant to be founded in hopes that it will guide the future")
The Warmth of Other Suns: The Epic Story of America's Great Migration, by Isabel Wilkerson (recommended by Jed in Brooklyn, NY)
The Plot Against America, by Philip Roth (recommended by Mary Ann in New Jersey)
American Revolutions, by Alan Taylor (recommended by @jurisprudame: "Parallels with today striking, esp. among minorities & women)
The Dispossessed, by Ursula K. Le Guin (recommended by @JohnReedsTomb: "food for thought and fuel for dissent")
I Will Bear Witness: A Diary of the Nazi Years, by Victor Klemperer (recommended by Justin in the East Village: "a day-by-day account of how an autocratic regime tightens the screws")
Strangers in Their Own Land: Anger and Mourning on the American Right, by Arlie Russell Hochschild (recommended by many, including Alexandra in the Poconos, PA)
March, a three-volume graphic novel by Congressman John Lewis (recommended by @KarenYauNYIC15)
Dark Money: The Hidden History of the Billionaires Behind the Rise of the Radical Right, by Jane Mayer (recommended by many)
True Believers, by Kurt Andersen (recommended by a caller)
Bowling Alone :The Collapse and Revival of the American Community, by Robert Putnam (recommended by a caller)
Divided We Fall trilogy, by Trent Reedy (recommended by Sheryl in Brooklyn, NY: "young adult alternative fiction...about a second Civil War that starts out of America's cultural polarization. It's frightening, it's timely")
Renaissance: The Power of the Gospel However Dark the Times, by Os Guinness (recommended by @PatrckWalsh: "As an Evangelical Christian who did not support Donald Trump, I have gained perspective from [this]")
Two Years Eight Months and Twenty-Eight Nights, by Salman Rushdie (recommended by a caller: "It's shockingly relevant even though it's a fictional take on 1001 Arabian Nights")
The Natural Way of Things, by Charlotte Wood (recommended by @analiss: "the best book I read in 2016")
White Rage: The Unspoken Truth of Our Racial Divide, by Carol Anderson (recommended by @lisa_b_davidson)
Understanding Power, by Noam Chomsky (recommended by @d_L2i0T1e0)
Dog Whistle Politics: How Coded Racial Appeals Have Reinvented Racism and Wrecked the Middle Class, by Ian Hanley López (recommended by @Jerry33)
We Wish to Inform You That Tomorrow We Will be Killed With Our Families: Stories From Rwanda, by Philip Gourevitch (recommended by @KatieGonzo: "an earlier instance of mass denial of facts + irrational hatred of a people")
A People's History of the United States, by Howard Zinn (recommended by WNYC's Stephen Nessen)
Letters to a Young Muslim, by Omar Saif Ghobash (recommended by @theotherbrisa)
Here's our #culturepack for @WNYC -- books/tv etc we're turning to for this political/cultural moment. How about you? (cc: @shubasu) pic.twitter.com/DbekrFg3Kv

— On the Media (@onthemedia) February 1, 2017
Movies
"Idiocracy" (recommended by many)
"V for Vendetta" (recommended by many)  
"You've Been Trumped" (recommended by @braykur: "more people should be aware of this great documentary")
"Frost/Nixon" (recommended by @UDbmas)
"HyperNormalisation," a BBC documentary by Adam Curtis (recommended by @E_the_BetaSlayr: "helps understand the current American gov")
"The Childhood of a Leader" (recommended by Shelly in Upstate New York)
"(Dis)Honesty – The Truth About Lies" (recommended by Cathy: "I'm a psychiatrist....wonderfully done, scientifically based, very compelling. Important to watch given what's going on in our country right now")
TV
"The Man in the High Castle" (recommended by many, including @scottstowell: "almost too relevant, almost hard to watch")
Black Mirror, Season 2, Episode 3 "The Waldo Moment (recommended by @daveostowdraws: "was @realDonaldTrump b4 Trump")
"Full Frontal with Samantha Bee" (recommended by @marshaberkowitz: "She is the heir apparent to Jon Stewart. None better")
"The Young Pope" (recommended by @katieraffa)
"Occupied" (recommended by many, including @KeepObamacare: "about Russian occupation of Norway")
"Star Trek: The Next Generation" (recommended by @zuzustweets: "a reminder of utopian society we should be working towards) 
CNN's "The Sixties," "The Seventies," and "The Eighties" (recommended by @charlesggibson: "these specials are a must watch right now")
Podcasts
NPR Politics (recommended by @asap___roxy)
On the Media (recommended by many, including @ejgertz)
On Being (recommended by many, including @ejgertz and Gina in Westchester County, NY)
Pod Save America, by former Obama staffers (recommended by many, including @asap___roxy)
Trumpcast (recommended by @Kresse__H)
West Wing Weekly, a podcast about each episode of "The West Wing" (recommended by @TheArtRopeik: "retro imaginary politics > current actual politics")
My Brother, My Brother And Me (recommended by @dannydoodar)
NPR's Latino USA (recommended by @zuzustweets)
See Something Say Something (recommended by @zuzustweets)
The Majority Report with Sam Seder (recommended by @ironbrooklyn)
Hidden Brain and Waking Up podcasts (recommended by @tygera)
Other
"The Designated Mourner," a play by Wallace Shawn (recommended by @TankWitch: "admonition and cautionary tale about what happens to our society/culture when artists are silent/silenced")
Scalawag Magazine, dedicated to Southern stories, politics and culture (recommended by @cddeaton: "Teach love, even in the hardest times + places")
Interference Archive, a public library and exhibition space in Brooklyn (recommended by @kzrt)
Robert Bly's poetry
Rage Against the Machine's music
Kerry James Marshall's "A Creative Convening" at the Metropolitan Museum (recommended by @MrOkra)
The IRS' codes and publications on tax deductible donations (recommended by Sarah in Oakland, CA: "The true way that our vote can be counted is with our money. Instead of paying taxes directly, we can make tax-deductible donations to charities of our interest.")
Poetry by Claudia Rankine, Donika Kelly, Sarah Manguso, Christian Wiman, Kim Addonizio, Jenny Johnson, Mary Oliver (recommended by @DNovgorodoff: "I've been hungry for poetry these past months – beauty, light, and truth in these ugly, dark times")
Terrence and Dennis McKenna's philosophy (recommended by Doug in Brick, NJ: "and any ethnobotonists I can find, to get a connection back to the earth itself and back to plants and things that are important and inspiring")
@WNYC heard The Smith's "How Soon is Now" last wk--realized it's as if Trump/Spicer/Bannon wrote it! #culturepack https://t.co/R4twH4bDwn

— ashleybell (@ashleybell) February 2, 2017
Escapism
SO MUCH YOGA (recommended by @SarahAziza1)
Copious amounts of HGTV (recommended by @katieraffa)
"Bob's Burgers" (recommended by @Jimk997)
Your Soul is a River, by Nikita Gill (recommended by @kaioticmusic: "it reminds me of how small we are and yet how much meaning surrounds us")
Terry Pratchett novels and Agatha Christie mysteries (recommended by Beverley in Westchester, NY)
"Green Acres" (recommended by Ronnie Anne in Brooklyn, NY)
Seincast, a podcast about "Seinfeld" (recommended by @fleurdlibrarian)
Agnes Martin at the Guggenheim (recommended by @MrOkra)
"Supernatural" (recommended by @LadyT_TNT: "two brothers fighting demons and staving off the apocalypse seems...educational")
The 13 ½ lives of Captain Bluebear, by Walter Moers (recommended by @MavetyStreet) 
In the Time of Butterflies, by Julia Alvarez (recommended by @sewingsumthin: "was looking for escape, but starting to feel anxious again as story unfolds")
Books by Georgette Heyer (recommended by @earthscorners: "delectable regency romances")
Any Harry Potter movies (recommended by Nancy in Montclair, NJ: "Because good seems to triumph over evil, and we need that right now")
"Downton Abbey" (recommended by @IvernianEye)
"Chewing Gum," a show by Michaela Coel (recommended by @mchristied)
"The Good Wife" (recommended by @LabeccaStella)
"Gilmore Girls" (recommended by @alisaharris)
"Parks & Recreation" or "Veep" (recommended by @dinabloom: "after hours of political angst I need to laugh")
Obsessively following NPR & MSNBC. Tried escape to The Great British Baking Show, but thought of Brexit so I had to stop. #CulturePack

— Susan Swensen (@jordydog13) February 1, 2017
@WNYC I WAS enjoying Black Mirror but it got too real. Now I'm re-reading Hunger Games for the survival tips #culturepack

— Equality Now! (@Come_andTake_It) February 1, 2017
@WNYC #CulturePack I'm watching @whoismrrobot and reading @MerriamWebster to brush up on political theory terms

— Meghan O. Gill (@megineire) February 1, 2017
@WNYC @shubasu rewatching The X-Files has been a little too real #culturepack pic.twitter.com/uHiBk5tuw9

— Abby Norman (@abbymnorman) February 3, 2017