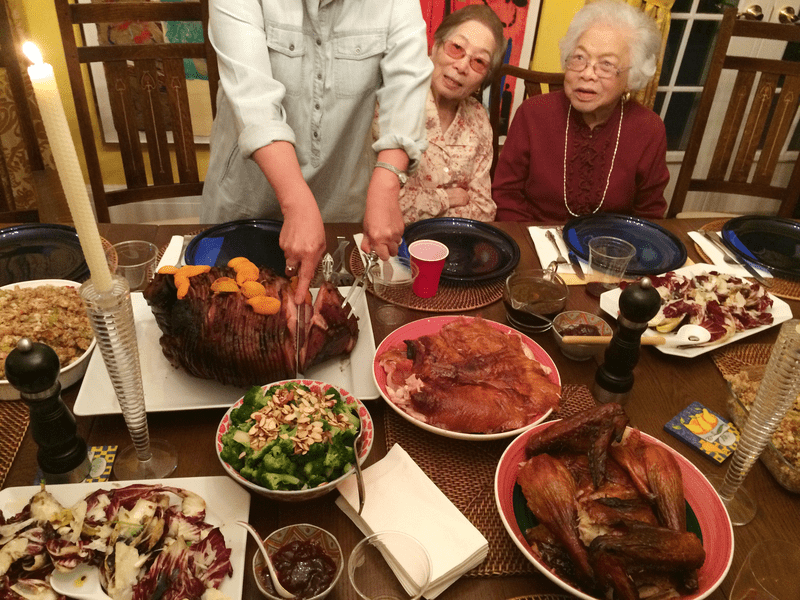 Summary
It's not a coincidence that we decided to tackle listening right before a big holiday, when a lot of us are about to spend time with family. After all, sometimes the people we love the most can be the hardest to listen to — and that can make for contentious conversation (unless you've got Adele to save you).
So we're rounding out Only Human's Listen Up project with some guidance to navigating the dialogue at your Thanksgiving dinner table. Henry Alford, who writes about manners for the New York Times, had heard about so many family trainwrecks during the holidays. And he started wondering, what would people who deal with serious conflict have to say about getting through a challenging family gathering? He called up the experts: crisis negotiators.
Some strategies he heard from the FBI: saying sorry even when you might not be, and acknowledging differing opinions without actually disagreeing. But what these techniques really boil down to is being attentive and thoughtful.
"The person who can come up to me a year later and say, 'How's your cat?' or 'How did your mother's surgery go?' Just any little bit of emotional recall, that's hugely flattering," Alford explains. We all want to be listened to, but we're not great listeners. So this Thanksgiving make sure to offer the mashed potatoes, as well as an attentive ear.
Did you use any of our Listen Up! strategies at your Thanksgiving table?  Tell us. Leave a comment here or Tweet us @onlyhuman, using #ListenUp.
Music Playlist
Connect Me

Artist: Christopher Norman

Album: Ep Instrumentals

Label: Audiosocket

Vespers

Artist: Color Radio

Album: Architects - Instrumentals

Label: Audiosocket

Morning Light

Artist: Mokhov

Album: Revel Revival

Label: Audiosocket

Beach Waves

Artist: Mokhov

Album: Revel Revival

Label: Audiosocket
Transcript
MARY HARRIS: This is Only Human. I'm Mary Harris. And we have arrived. We're on the other side of our Listen Up! bootcamp, our weeklong project built to make you a better listener. We've sharpened our memories, put down our cell phones, practiced saying yes, and spent time in silence.
Doug Brandt heard our Listen Up project and called in from New Jersey. He's a father of five, and he's a chaplain in the federal prison system. He says that job shows him just how important listening is. But it hasn't always been an easy thing for him to do.
DOUG BRANDT: For me, I love to talk. So it was a huge challenge to learn how to listen and to try different things and to be criticized by colleagues while I was training.
MH: Brandt says he's noticed in his own life that listening with empathy sometimes means breaking old habits.
DB: When people cry, you know, the first thing we do is grab a tissue for them, right? And really what that's actually communicating, it tells them to stop crying. So sometimes rather than give them the tissue, you give them a minute to breathe. And you say, "tell me about those tears." And it takes discipline to just -- not have to fill the blank air.
MH: We also got a call from Michael, a psychoanalyst from New York City. He called to say how hard it can be for him to be a good listener at home after a whole workday of listening. He was a fan of our Face-to-Face challenge, to get us talking to each other in person.
He says he's constantly recommending that his clients stop relying so much on electronic communication.
MICHAEL: People just go crazy with texts and emails because they can't hear the intonations and will read into them all kinds of things, opposite meanings. And so I suggest that they just pick up the phone.
MH: Christie Brooker is an esthetician from Hampton, Virginia. And she told us she's constantly thinking about body language and being a good listener in her line of work.
Christie Brooker: One of the most intriguing things I've noticed is that when my clients' eyes are closed, their expressions are still present and even more pronounced than when I was consulting them with their eyes open.
MH: So, Thanksgiving's coming up. And it's not totally coincidental that we decided to take on listening right before a big holiday. After all, a lot of us will be spending time with our families this week. And sometimes the people we love the most are the hardest to listen to. Even some of our listening experts say that.
KENNETH FEINBERG: You know I remember once, when my kids were younger -- very young.
MH: This is Kenneth Feinberg, the well known lawyer and mediator.
KF: I came home one day from work and they were fighting with each other and my wife. And I said to all of them, "Well, why don't I mediate this dispute? We'll work it out." And there were two reactions. From my children: mind your own business. And from my wife: yeah, you can go ahead and mediate it as long as you come out on my side.
MH: Feinberg has managed the aftermath of the very worst events of recent history. So having him handle a family dispute should be kind of like having a major league umpire show up at a tee-ball game. Except it's not.
KF: Very difficult to do, family. Very difficult.
FRANCHESCA RAMSEY: For me, I always realize, when I'm with my extended family, that they don't know me that well.
MH: This is Franchesca Ramsey. She's the comedian and vlogger who gave us our first listening challenge last week.
FR: They know me as a kid, but they don't know me as an adult. And so when we spend time at the holidays, they're kind of projecting what they remember of me as a child and then what they think adulthood is supposed to be, or who they want me to be. And that's kind of conflicting with who I am. And so we're all kind of speaking to each other in these, like, stilted… And then as an adult, I'm like, "I'm an adult, you can't talk to me like that." Like, "No, I'm not eating those sweet potatoes, 'cause I don't eat those…" Or whatever it is, you know? And so I feel like we're all kind of not seeing each other as we are?
MH: Yeah, it's like you're renegotiating the relationship.
FR: Yeah...
MH: So this week we're sending you off with just a little more guidance, this time from writer and humorist Henry Alford.
HENRY ALFORD: I know of one Thanksgiving that a friend told me where they had to seat people in different rooms halfway through the meal.
MH: Oh my gosh.
HA: Yeah, that an argument erupted and the matriarch of the family kept trying to tamp down the antagonism, tamp down the antagonism, and finally she said, "Okay, let's some of us sit in the living room. I'm so sorry to do this but I don't see any other remedy."
MH: Alford has a special interest in helping people treat each other well. He writes a regular column about manners for The New York Times. So this problem of families behaving badly -- it's fertile ground for him.
MH: So what makes family gatherings so contentious?
HA: Well, I think people enter into those situations thinking they don't have to hold any part of themselves in abeyance. And I think that...
MH: It's family.
HA: Yeah, it's family. You know them, they've known you for a million years. Nothing you do is going to change the record. You've got this long history with them. You know the essence of good manners typically is that you're withholding something. You're taking your throbbing id and you're just putting a little blankie over it.
MH: Put it in a box over there.
HA: Put it in a box for those two minutes where you're sitting next to each other on a train.
MH: But when you're with your family, you're like "This is ME!"
HA: Yeah, no, you're letting the freak flag fly… (laughter)
MH: Alford says he's lucky. His family manages to get along great most of the time, even when they're all under one roof for Thanksgiving. But he's heard about so many holiday trainwrecks. And he started wondering: What would people who deal with really deep-seated conflicts have to say about getting through a challenging family holiday?
Like, what advice would crisis negotiators give?
We'll find out after the break.
--
MH: This is Only Human, I'm Mary Harris. And I'm here with a little bonus bit of listening advice from writer Henry Alford. He wrote a column about how to survive Thanksgiving, based on tips from crisis negotiators. And he actually called some of them.
One of the first guys Alford reached used to be with the FBI. And he said that the key to getting through a fraught family gathering is to shut up and listen. He recommended echoing back and summing up what the person you're talking to has just said. It's called emotional labeling.
But Henry is skeptical.
HA: Emotional labeling, like paraphrasing, which interestingly were the two techniques that were most commonly cited — to my mind you have to be really careful with those, because I think people are too hip for those. I think we have all watched nine million hours of crime procedurals. And as a result, I think we know both of those techniques.
MH: So you're like, "I get it, good cop. You're just repeating what I'm saying."
HA: Yeah, precisely.
MH: One negotiator recommended saying you're sorry when you might not be.
HA: That, however, I love.
MH: Really!
HA: Yeah, and I've used that all the time. It totally works.
MH: Ok tell me how you'd use it.
HA: Uh, okay so — two weeks ago I asked a friend to meet me at 6:00 in the lobby of the building where I rent an office. He breezes in at 6:15. It became clear as we then walked to the place where we were going to get a drink together — it became clear that he was not going to apol... He didn't see it as any kind of misdeed. So I said to him, "Oh, I'm sorry that I scheduled this so late in the day, this is probably when you get really busy, right?" And he said, "Oh -- was I late? And oh, I'm sorry!" And then he apologized!
MH: Oh wow! That's like a Jedi mind trick.
AH: It is a Jedi mind trick. It seems manipulative, but I don't think it has to be. I think it's just an "I'll show you mine if you show me yours" kind of thing. Not to get blue, here on Only Human.
MH: Another technique that you talked about was acknowledging a difference of opinion without actually disagreeing.
AH: Yeah. And that comes up a lot with politics, obviously. You know another reason why I think Thanksgiving is so tough is you do get these intergenerational situations. And so — that there's a way to say to someone, "Huh, that's how you see it. Okay, well, I'm still forming my opinion…"
MH: So this is where we cross over, though, because this verges on not telling the truth. And then you could straight up lie, too…
AH: Well, come on, the white lie is a profound and time-tested tenet of good manners. That to say to someone, "I'm sick. I apologize, I can't come to your one-woman performance in a leotard…"
MH: Was that your last white lie?
AH: (laughter)
MH: Lying … not everyone wants to go down that path. But a lot of the techniques really do boil down to being attentive and thoughtful.
MH: Can you salvage a Thanksgiving by listening well to people?
HA: A terrible Thanksgiving? I think you can.
MH: Really!
HA: Yeah, or at least you can make the waters smooth enough that it's not awkward for most of the people present.
MH: Is that listening or is it faking it?
HA: I think it's a little of both. And I think distraction -- you know a lot of these things that we're talking about are methods to steer the course of the meal away from trouble spots.
MH: Yeah, I have to say I was kind of of two minds when I was reading your essay. Because in one sense I was thinking, "Oh this is great, I could talk to anyone!" And then on the other hand I was thinking, "Oh, these would totally work on me. I am such a sucker!"
HA: Yeah, no that's the thing. I think that we ourselves when paraphrased or when someone does any of these emotional labeling type techniques on us, I bet it's very flattering. I'm the same way just in general social situations. The person who can come up to me a year later and say, "How is your cat?" Or, "How did your mother's surgery go?" Or whatever. Just any little bit of emotional recall, that's hugely flattering. So if you can in any way get across that you remember something about them, they're going to love that.
MH: You're sort of painting a picture of a world where — we all want to be listened to, but we're not great listeners.
HA: I think that's really true, yeah. Don't you?
MH: I guess…
HA: You know, there's that great Fran Lebowitz thing about, you know, "The opposite of talking isn't listening. It's waiting." And I think a lot of people are waiting. They're just waiting to get their agenda, their stuff out. And if you can be the person who says, "Oh, I heard you when you said that thing an hour ago, and this reminds me of it!" If you can resuscitate stuff —
MH: You win Thanksgiving.
HA: You win. Hands down. You are the big Turkey in the sky.
MH: (laughter)
MH: Henry Alford will have a small Thanksgiving this year. He and his boyfriend and a few other people will gather at his brother's house. And he says the night will probably end as it usually does — in a poker game.
MH: Do you have any final parting words of advice to send people to Thanksgiving with?
HA: Pace yourself with the stuffing. It's very heavy.
MH: Wear the big pants.
HA: Wear the big pants!
MH: Henry Alford's book about manners is called "Would It Kill You To Stop Doing That."
Only Human is a production of WNYC Studios. And this episode is really thanks to Elaine Chen. She runs our listener engagement at Only Human. And if you have taken our listening quiz or done a hearing test with us - all of that is thanks to Elaine's boundless energy and creativity.
You can still check out Listen Up — and subscribe to the show — at onlyhuman.org. Also there, a link to Henry Alford's essay about Thanksgiving.
Our team is Molly Messick, Amanda Aronczyk, Paige Cowett, Fred Mogul, and Kathryn Tam. Our technical director is Michael Raphael. Our executive producer is Leital Molad. Jim Schachter is the Vice President for news at WNYC. I am grateful for these guys every day.
I also want to give a big thanks to the great shows that helped us get the word out about our Listen Up project and made it a success: The Brian Lehrer Show, The Takeaway, and Science Friday. And finally - Franchesca Ramsey has a podcast! It's called "Last Name Basis." You should check it out.
I'm Mary Harris. Happy Thanksgiving everyone. See you next week.