Dear President: What You Need to Know About Race - Harlem Edition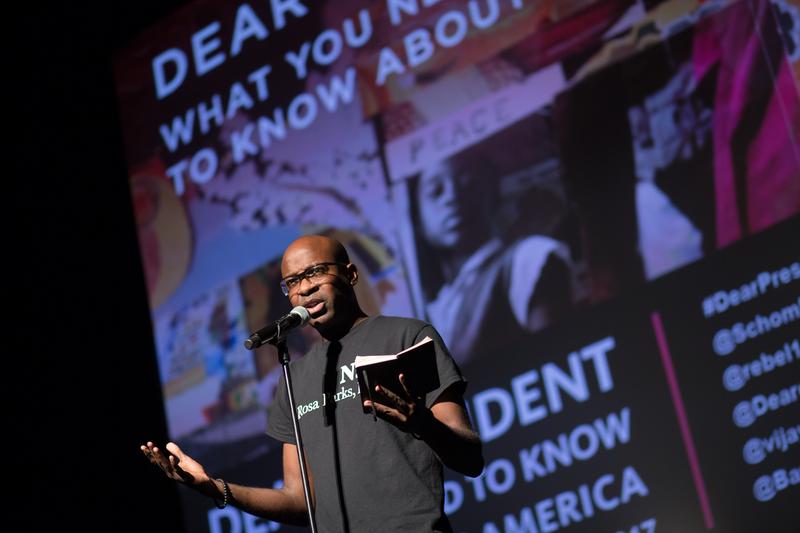 "Dear President: What You Need To Know About Race" is WNYC's post-election series of first-person radio essays by leading thinkers, writers and activists exploring a broad range of personal truths about America to help set a new agenda for racial equality.
In the above audio, hear an evening of micro-conversations, hosted by WNYC's Rebecca Carroll, featuring a stand-up comedy performance by Khalid Rahmaan, at the Schomburg Center for Research in Black Culture.
CONVERSATION LINEUP:
Micro-Conversation 1: That Extra Work We Do As Black Folks
Inspired by Damon Young's essay, "Nigga Neurosis," Kevin Young, poet and director of the Schomburg Center for Research in Black Culture, and Bayete Ross Smith, photographer and multimedia/video artist, on how black folks do the most and whether we deserve a seat at the table.
 
Micro-Conversation 2: Hope Just Got Real
Journalist at The Intercept, Liliana Segura, in conversation with Chris Stone, President of the Open Society Foundations, on facing an already failed criminal justice system under a Trump administration-- as inspired by Theo Shaw's essay, "An Uncomfortable Hope."


#DearPresident "I was always taught that the American Dream did not pertain to black people." @experentiadocet

— SchomburgCenter (@SchomburgCenter) January 27, 2017
Micro-Conversation 3: Who We Be in America
Inspired by Kirsten West Savali's essay "The American Dream," composer Vijay Iyer joins Yvonne Thevenot, Founder and Executive Director of STEM Kids NYC, on the American Dream, who has access to it, and who does not. And how we will continue to encourage science and art moving forward.