Note to Self
Lavabit Founder Talks about Snowden While Under a Gag Order for Hosting His Email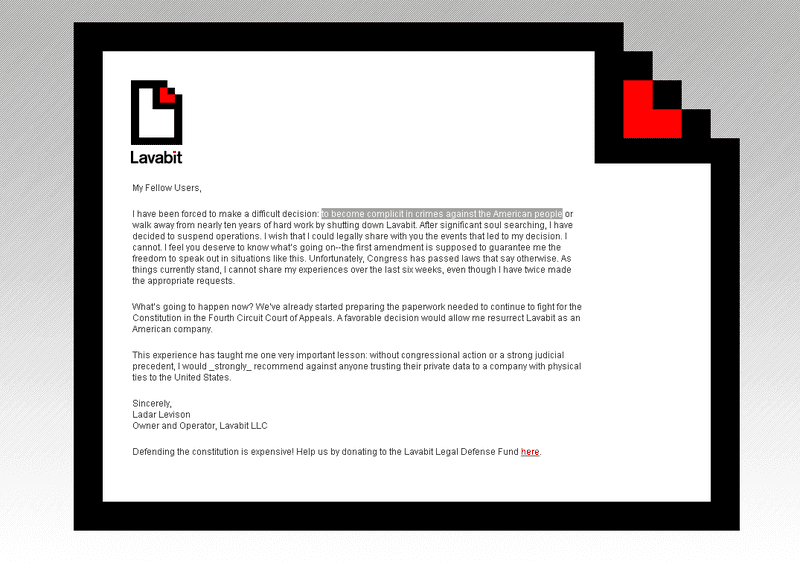 Another peek into the NSA snooping scandal comes to us today via unsealed court documents in the case of Lavabit, a secure email service used by NSA leaker Edward Snowden. That email service was run by Ladar Levison, an interesting character. He stopped by the New Tech City studios last week, donuts and Red Bull in hand. 
Levison was under a gag order. "Legally I can't admit if there's anything pending in our legal system, I have to pretend it doesn't exist," he warned us.
But he was excited to talk and — bursting with caffeinated energy — yearning to share what he found to be an outrage, even if he couldn't dish the details.  
In particular, he was surprisingly frank about why he feels the federal government wanted access to his secure email service. It wasn't just NSA leaker Edward Snowden.
Levison shut down his company last month with only a few paragraphs of explanation posted to his website. One reason, he wrote, was that he did not want "to become complicit in crimes against the American people."  
The newly unsealed court documents confirm that the federal government wanted not just copies of emails from one person, but the keys to Levison's whole encrypted service, which would have given them enough access to read the emails of all 400,000 clients. 
Although it is widely assumed that the federal government was after Edward Snowden's correspondence, names are redacted from the unsealed documents and Levison still can't confirm the targets. Most of the coverage of this latest revelation are painting it as a case of the government using a surveillance sweep for Snowden, when they could have used a surgical strike, like a warrant. But Levison didn't paint it that way to us. 
In fact, we found the way he talked about this particular point so fascinating that we've posted the excerpt of the interview here ahead of our usual podcast schedule. (Click the audio above for that excerpt.)
Listen to how masterfully Levison handles the question about whether Snowden was a client or not, and what the feds were after. Remember he was discussing this under a gag order last week. 
He also tried to speak about the sweeping orders against him. Speaking entirely in hypotheticals.
Sound like an absurd conversation? It was. Parts of it, anyway. We'll have more on that and what it is like to be served with a national security letter in our weekly New Tech City podcast.