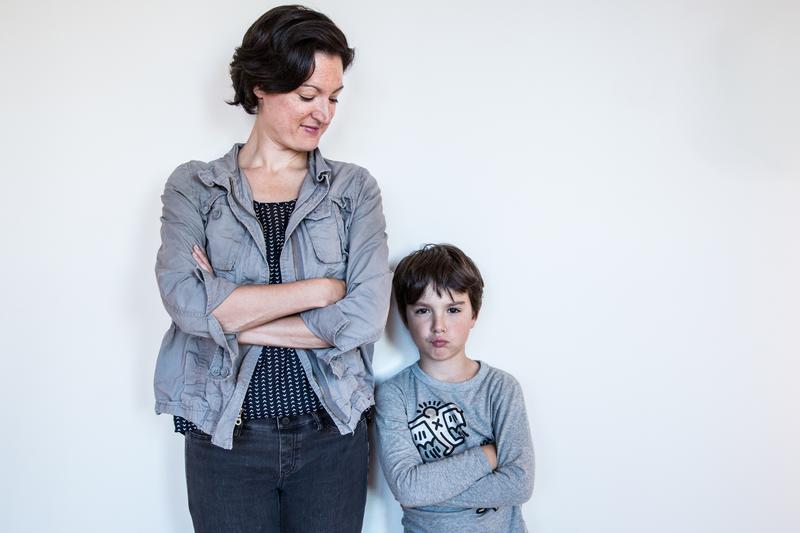 Summary
Welcome to day two of Only Human's Listen Up! bootcamp week. If you're here for the first time, here's how to participate.
The Challenge: Find a friend, stand face to face, and reflect the other person like you're standing in front of a mirror. If they smile, you smile back. If they frown, you frown. Pay attention to your partner and reflect back what you see. Fall in sync, and move together.
Watch Only Human's Mary Harris and Paige Cowett demonstrate "mirroring":
Okay, we know it seems strange to talk about body language for a listening challenge. We don't listen to body movements or facial expressions. But we would be missing a whole lot of information if we ignored them. Plus, your own body language during conversation communicates a lot, even affecting how well someone tells a story to you.
So we took a page from some experts on body language: actors. Okieriete "Oak" Onaodowan performs two very different types of characters in the smash hit musical Hamilton. Being able to read and "mirror" the body language of others is one of the keys to Onaodowan's success on stage — and it also helps him better understand and empathize with people in his everyday life.
Fay Simpson teaches movement at the Tisch School's graduate acting program at NYU. She developed a physical training method for actors called The Lucid Body, and often has her students "mirror" each other as a frequent exercise in the studio. "When you understand body language," Simpson explains, "you understand the intention of someone, what they want from you."
Do the mirroring exercise with a partner, then tell us what it was like for you. Did you get past the awkwardness? Did you learn something about your partner? Leave us a voicemail at (803) 820-WNYC or send a voice memo to onlyhuman@wnyc.org 
To make sure you hear every challenge, subscribe to the Only Human podcast on iTunes or anywhere else using our RSS feed.
Music Playlist
Connect Me

Artist: Christopher Norman

Album: Ep Instrumentals

Label: Audiosocket
Transcript
MARY HARRIS: This is Only Human from WNYC. I'm Mary Harris, and it's Day 2 of Listen Up, Only Human's quest to make you a better listener. So Paige Cowett is here. She's part of the Only Human team and she's in charge of today's challenge.
PC: Yes, and today is body language day
MH: Ok so how much does body language have to do with listening?
PC: A ton. So the people who study this stuff say that something like half of communication is body language. So, if you're you're missing body language, you're missing a lot.
MH: You know I'm thinking about how yesterday's challenge was all about talking face-to-face. But how much of the time when I'm talking to someone in person, am I texting, or emailing, or looking at my phone?
PC: Yeah so I wanted to talk to someone who's an expert student of body language — an actor. So I got in touch with a cast member in Hamilton, the hottest show on Broadway.
MH: Yeah I'm obsessed with this show. This is the hip hop musical about founding father Alexander Hamilton. I've seen it once. President Obama's been like a couple times.
PC: I haven't seen it all, but I did get to hang out with the guy who plays two really different roles: James Madison and the spy Hercules Mulligan. His name is Okieriete Onaodowan, people call him Oak. Here he is in the show - and beware, he curses in this song…
So a couple of weeks ago before a Friday night performance, I took a walk with him from the subway to the theater, because this is how he studies body movements for his characters - he imitates people walking down the street.
OAK: Like there's a guy that kind of had a pot belly, kind of businessy looking dude... and he kind of led with his belly. Which causes him to kind of have a downward motion as he walks.
PC: So if someone's walk kind of grabs him, he just mimics it. So when we see this pot bellied guy, Oak transforms his body. So he's leading with his stomach, and his shoulders are back and down. And the point is to feel how that person must be feeling - like what it would be like to be them.
PC: So what does it feel like to be that guy?
OAK: I'm slightly agitated. There's a guy who's like taking his time with his whole foods bag, and I kind of want to be like "get out of my way."
PC: Oak walks like that guy for a couple of blocks. And then we see this woman. She's walking alone, she's a little overweight, blondish, middle-aged. She has a big purse…
PC: Alright, what about her? What about her?
OAK: She's in a hurry.
PC: it's kind of a shuffle.
OAK: Totally a shuffle.
PC: Yeah and her upper body is kind of all over the place.
OAK: Yeah, it is.
PC: So what does that indicate to you,
OAK: It seems like she's constantly fighting her body. There doesn't seem to be a fluidity in the way she walks. I would imagine her somewhat out of breath just by how disjointed everything is, and what it's doing to my breathing.
PC: All of these details — how we hold our shoulders, how our feet are hitting the ground, how we hold our heads — Oak studies and imitates all of that because how we move tells so much about who we are and how we feel at any given moment.
So we made it to the theater, and went in the stage door, climbed a bunch of stairs up to his dressing room. And it's an hour and half before the curtain goes up. And I wanted to know: how does he transform his body into two very different characters, James Madison and Hercules Mulligan.
PC: Which character do you play first?
OAK: Hercules Mulligan
PC: What's your first move?
OAK: I come out kind of screaming (laughs), he screams "showtime" and that's his first introduction, it's just like "SHOWTIME" and it's just high energy high energy high energy!
PC: So Hercules Mulligan is a gregarious extrovert, but James Madison is this brilliant, bookish, but sickly guy, so they're totally different. So when we made it up the stairs to Oak's dressing room, I asked him how he decided to play each of them.
OAK: Madison stands more or less like this.
PC: So he stands one foot in front of the other, one hand behind his back.
OAK: Always one hand behind his back. His chest is up and out. His head is aligned. He was only 100 pounds, he was very fragile, so he couldn't really physically interact with people because of his health. And he wrote and read so much. He was a very brilliant mind. So everything was in his head. Just constantly absorbing information, and the best way is to hear what someone's saying.
PC: Yeah, so you put your ear forward instead of your eyes, or your chest or your chin, or anything else.
OAK: And then Mulligan has a big coat on, and he sits closer to how I stand. But there's always like a slight bop. Almost like a fighter...
PC: Being a total pro at reading body language is something Oak has to do to for his job, but I wondered, just as a person, does it help him understand people better? He says it does.
OAK: Like for me I just feel like it's just so important, because not everyone can articulate themselves. Not everyone can really say what they're feeling.
PC: He feels like he can read them, and that helps him empathize.
MH: Alright, so first of all, that's cool you got to go backstage at Hamilton.
PC: Yeah, it was super fun.
MH: So what he was just saying there, that to be more empathetic, looking past what people are saying, into what their bodies are telling you - it leads us to today's challenge, right?
PC: Yeah so I talked to somebody who thinks about this a lot and trains actors in how to understand body language. She's Fay Simpson and she teaches movement at the NYU graduate acting program. I asked her what exactly we're understanding when we understand body language.
SIMPSON: When you understand body language you understand the intention of someone, what they want from you.
PC: And when you understand your own body language, what does that get you?
SIMPSON: When you understand your own body language, you can be in control of the message you're putting out. You can be in control of your intention.
MH: So what does she have her actors do to get good at this?
PC: There are exercises and she did one with me. It's a mirroring exercise, and she thought that it would be good for anyone, not just actors.
MH: Okay, so mirroring, you mean like one person imitating the other?
PC: Well, it's not really imitation, exactly. She talks about it more like dropping into the same tempo as somebody else, so you're trying to see and reflect their emotional state.
MH: Hold it, so you did this with her?
PC: Yeah so we stood up and we faced one another. And she started with a smile on her face, so then I had a smile on my face. And then my smile made her start moving her head and shoulders back and forth, so then I was kind of moving my lower body back and forth…
SIMPSON: And then if we kept going with this, cause everything moves...
PC: Now your face is getting more aggressive
SIMPSON: Now we're sort of getting more combative because that's what happens when the body moves. One thing leads to another now...
MH: So what was going on there?
PC: Our smiles turned into us like dancing a little bit, and then we were there like marching in place in front of one another, it just evolved.
MH: What did it feel like?
PC: At first it felt a little bit silly, but then it felt kind of intense because you're paying attention to someone really closely. And I actually heard that when actors do this in class, they sometimes end up in a puddle of tears. And it makes you realize how rarely we're paying attention to each other so closely in real life. And that's Fay Simpson's point in doing this mirroring exercise, to shed all that noise in your head that make us bad at listening and reading body language in the first place.
SIMPSON: When you take away judgement, you take away, "I'm not trying to do anything to you I'm not trying to get anything from you, or sleep with you or get money from you - I'm just being you." Then there's a level of intimacy that is very informative.
PC: And she says that makes you a better listener.
MH: So is this exercise our challenge for today?
PC: Yes, exactly, it is. So what we want you to do is pick a partner, a friend, a coworker, a kid - do the exercise. It only takes a few minutes. What you do is you stand face to face, and you reflect each other's faces back at each other. So somebody starts with a smile or a frown, the other person reflects that smile or frown back at the other person. And maybe that turns into dancing, maybe that turns into arms crossed, maybe that turns into tears. And just let it evolve. Keep going for a few minutes, and see what happens.
MH: And when you're done, go to onlyhuman.org/listenup. You can see a video of Paige and me doing this there. And you can tell us what it was like for you. Did you get past the awkwardness of mirroring each other? Maybe you felt closer to the other person.
We'll be back tomorrow for Day 3 of our listening week, which is all about empathetic listening and the power of silence. We'll talk to Kenneth Feinberg. He oversaw the distribution of funds to victims after 9/11 and he's had to have more heartbreaking conversations than you can imagine. I'm Mary Harris. Talk to you tomorrow.