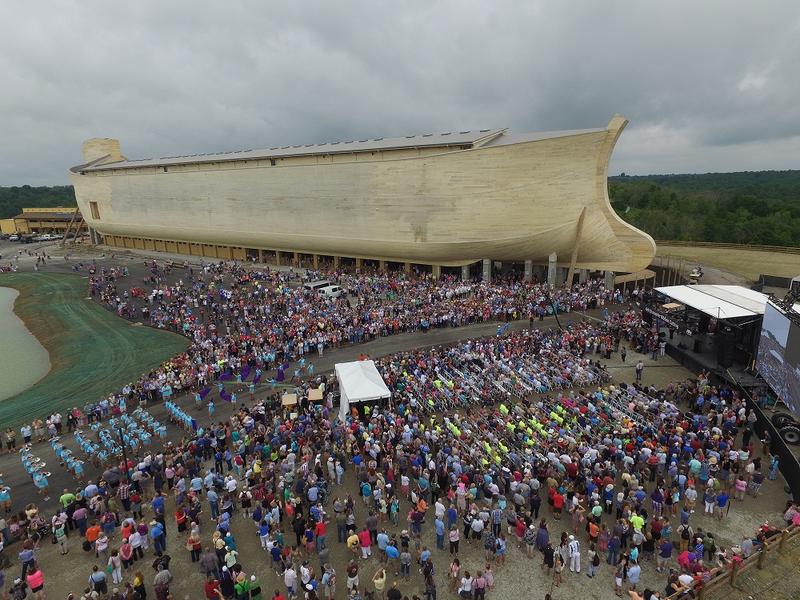 Ark Encounter, a seven story high, 500 -foot long replica of Noah's Ark opens to the public today in Northern Kentucky. The 100 million dollar project is the vision of Ken Ham, CEO of Answers in Genesis, a "Christianity-defending" ministry and founder of the Creation Museum in nearby Petersburg, Kentucky.
"There's a word: feasibility," says Ham "what we want to show people is that this is feasible because we believe this actually happened." He says the family oriented, historically authentic attraction is aimed at challenging visitors to talk about the Bible.
Michael Camp, author of "Craft Brewed Jesus,"says historical and educational potential is one thing but he says Ham's intentions go much further. 
"It has an overt religious agenda—to evangelize people; it clearly says it on their website, that this is "the greatest evangelistic outreach of our time."   This is indicative of modern religion to do large scale events, grow mega churches, and use entertainment, politics, or calls for revival, and in this case a big business theme park, to convert people to a particular religious system and exclusive worldview."
The building of the Ark has sparked debate over its hiring practices on the basis of religious beliefs and tax incentives have raised questions over separation of church and state. 
"The reason they get a pass is because in this case religion has gotten into the economic development business," adds Camp. 
Cheri Lawson, is reporter and local host for "All Things Considered" at WEKU in Richmond, Kentucky.  She has been following the progress of the Ark Encounter, the mission of its founder Ken Ham and impact on the local economy and community.