The Middle Class Squeeze in Bedford-Stuyvesant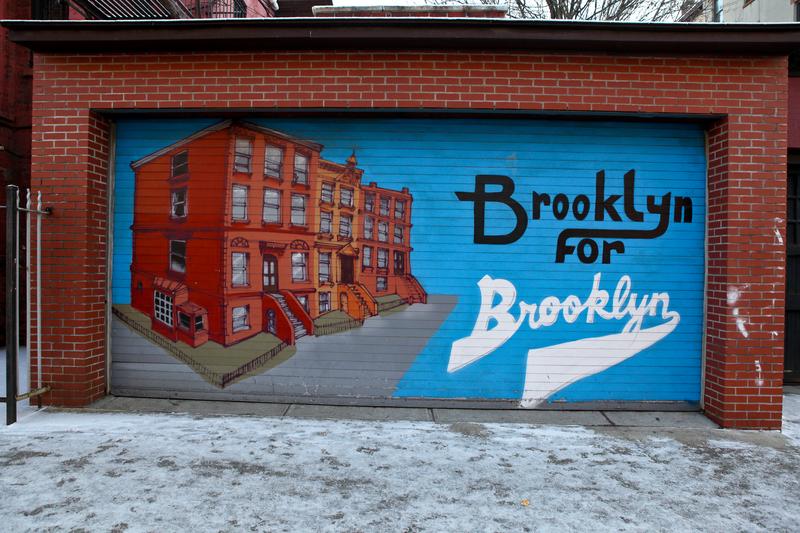 The city's median income is $51,865 across the five boroughs. In Manhattan it's closer to $70,000; in the Bronx it's around $34,000. And in Bedford-Stuyvesant, Brooklyn, in Census tract 267, where brownstones break all-time price records, it's $52,253.

 Stepping gingerly down the icy stairs of her three-story brownstone, Rosalind Morris shakes her head. Her kids forgot to lock the front door again.
"Those kids leave everything open," she says, marching off to catch a late subway to her nursing job at Elmhurst Hospital.
Morris grew up in her family's Renaissance Revival brownstone, which was built in 1899. It's now home to a household of 12: kids, grandkids, in-laws. Told that she lives in a census tract that matches the city's median income, and asked if she feels middle class, Morris doesn't hesitate.
"Always did," she fires back. "Bi-racial child growing up in the '60s. I was middle class when middle class wasn't popular. You figure that out."
Morris' mother was a hairdresser; her father, a Trinidad native, played saxophone in a Calypso band and was a maintenance worker at Brooklyn College. He helped sell real estate on the side and in 1946 the couple bought a home on Hancock Street for $6,000.
Now, there are eight children living there and only two adults are working: Morris and her daughter, an MTA dispatcher.
Despite the upward trend of Bed-Stuy brownstones selling for millions in this census tract, Morris says she's not tempted.
"I'm going to stay here 'till I die and I'm going to pass it on to my kids," she says. "The way my mother passed it on to me."
She says half her income goes to paying a mortgage she refinanced so she could fix the building's 100-year old plumbing. A quarter of her income goes to fixing up the house. But she does splurge once in awhile. Last Halloween, she took everyone in the house on a four-day Carnival cruise to the Bahamas. That was rare, though.
She says she usually runs a tight ship.
"Like my mother, she taught me to always save things for a rainy day and I've lived on that mentality because she went through the Great Depression. So, I live like I'm going through the Great Depression," she says.
Much of the housing in the eight blocks that make up Census Tract 267 dates to well before the Depression, and the neighborhood has a 19th century charm.
There are six buildings in this tract that are included in the American Institute of Architects Guide to New York City: family homes made of red terra cotta, with stained glass, elliptical arches, and Byzantine columns, and there's a neo-Renaissance townhouse. Director Steven Soderbergh even used a high school next to the tract that was once a hospital to shoot his latest TV series, the Knick, set at the turn of the century. While filming he filled the streets with dirt, old trolley cars and horse drawn buggies. The brownstones needed little altering.
While Rosalind Morris was born into the neighborhood, others, like Avi Frey, 32, his fiancée and their French bulldog, Ralphie, arrived just seven months ago. The public interest lawyers says they came because of the large apartments and neighborhood feel.
His second-story, one-bedroom walk-up is flooded with light from three windows that still have the original molding. Both Frey and his fiancée, a first year teacher, have law degrees and huge student loans. As a household, they're more than double the median income for the neighborhood. But they can hardly afford to live there.
"Spending $2,000 a month, it's a very short-sighted financial approach," Frey admits. "It doesn't permit the type of savings that would allow us to buy a home," he said. 
Frey says they eat almost every meal at home, and are pretty frugal, only splurging on $120 dinners twice a month. They aren't making any long term plans.
"The sad thing is, as much as we love this neighborhood, by the time we're ready to purchase, whenever that might be, this neighborhood, we'll be priced out of," Frey says. "I don't know what the next Bed-Stuy is, I don't know if we'll be looking at East New York at that point, or something like that. It won't be here."
No one tracks the affordability of the neighborhood like Ban Leow. He's a real estate broker for Evans & Nye which, he says, bears some responsibility for the skyrocketing cost of homes.
"A lot of middle class people are looking for homes around here, it also seems they're being priced out," he says, speaking from his gleaming office with exposed brick and Edison bulbs in the window. "The vigorous activity of Bed-Stuy became suddenly so hot, we are partly the reason for it as well."
Leow's office is also located in this census tract. The real estate agent claims to have broken records, closing a three-family home for $1.85 million and a four family for $1.45 million. Not exactly middle-class prices.
"Brokers are always the person that brings the right people in, creates this vibrant mix of people, and hence business will come in, prices will go up and you are liked by some, hated by many," he admits.
Evans & Nye's mortgage banker, Joe Spinelli, helps people get financing and says he hasn't qualified a single person who makes less than $100,000 in this neighborhood for a loan.
"I don't want to say a majority, but a high percentage of people who are from here, and have been living here, not just recently, would not be able buy in today's market. Absolutely no way, absolutely not," he says.
Lisa Tompson, 42, feels lucky she got in early. Her Innervision Beauty Salon has been on the neighborhood's commercial hub on Tompkins Avenue for more than 17 years. She grew up in this tract and owns the building where she lives.
"I'm really here to see all the changes that's been made. And it's for the better. You invite different businesses, different kinds of people. It's a good thing. I like it," she says, pausing for a second. "Yeah." 
While she says she's middle class, she's getting a lift by renting out one of her apartments. She's still making about the median income, and feels the economic pressure every day. She's hopeful Mayor Bill de Blasio will improve things.
"I think he's going to be a lot better than the last mayor," she says, while braiding a customer's hair. "I believe that he'll make different changes for everybody in general, for the middle class, and the no class."
However, Tompson may not be around to see the changes. In the next five years she's hoping to move somewhere warmer, maybe in the South. Unlike her neighbor, Rosalind Morris, Tompson is ready to cash in on the booming Bed-Stuy market.
According to Census data, about 22 percent of the population in this tract moved in since 2010. And 43 percent moved in between 2000 and 2009. With rising rents and home prices, chances are good by the next Census that this tract will have a hard time remaining in the middle.