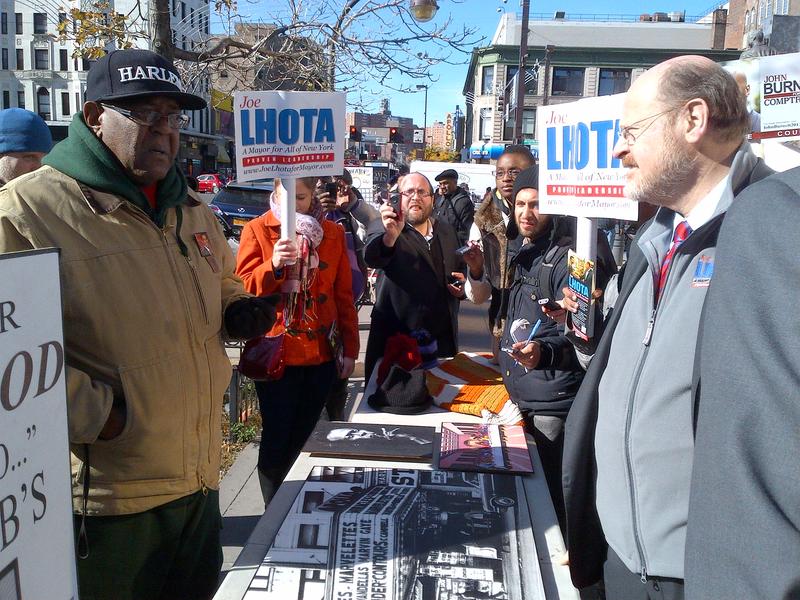 Republican mayoral candidate Joe Lhota walked back and forth greeting voters on W. 125th Street in Harlem Monday, hoping to sway some last-minute supporters.
The candidate was in such an obliging mood that when a woman drove by blasting Robin Thicke's "Blurred Lines" asked to see Lhota's dance moves, he paused and gave a little shimmy.
But not every encounter was so upbeat. Artist Kelvin Maull gave Lhota an earful over his struggle to find affordable housing.
"Where's your preferred area?" Lhota asked.
"I'd like to live right here in Harlem but I'd live anywhere," said Maull, who said he's paying for a motel room in Fort Lee, NJ, because he can't afford the down payment on an apartment. "At this point it's about to be 30 degrees outside," added Maull.
Lhota acknowledged that affordability was indeed a problem — a position he's struggled to articulate consistently.
Polls still show Lhota trailing Democrat Bill de Blasio by 40 points.
But Lhota said he's still optimistic going into the election, and won't talk about what he should have done differently until the results are final.