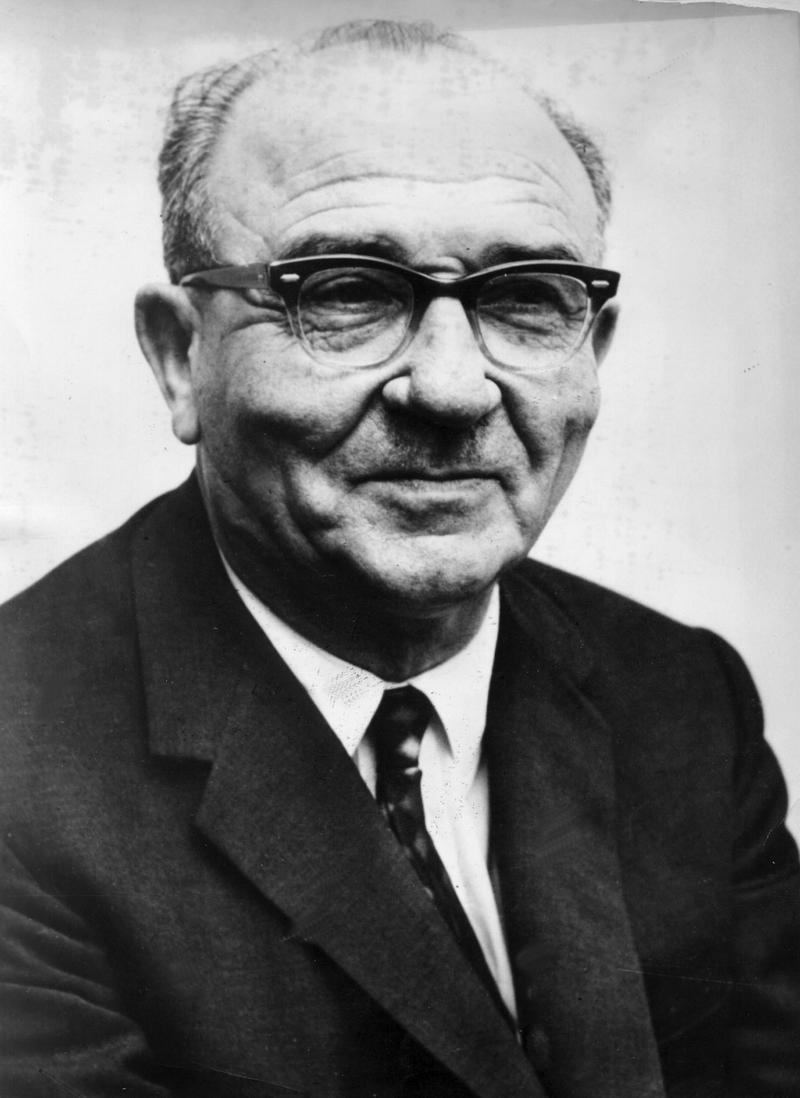 Summary
This episode is from the WNYC archives. It may contain language which is no longer politically or socially appropriate.
From card catalog: Prime Minister Eshkol of Israel talks about his nation's position in the world; particularly as regard the dispute with the Arabs and Israel's technological and economic development.
Host introduces Eshkol. Relations between the US and Israel. 98% of mankind today live in sovereign, independent states. A new chapter of international corporation, bond of mankind. Dangers of the atomic age. Growing will to negotiate and advance toward a solution. Arab-Israeli Conflict is caused by an unwillingness to negotiate on the neighbors' side. Relaxation of tension in the Middle East: UN should settle disputes in Middle East as elsewhere, world community should encourage negotiations between Arab countries and Israel, strengthen territorial integrity of borders, slow down Arab escalation in the Middle East. Weapons given to Arab countries by countries in Eastern Europe. Compelled to prepare for self-defense. Losing war would mean the loss of hard won independence and physical destruction. Reconstruction of the homeland.
How Israel can increase economic security. (President?) Johnson's plan for cooperation. Sharing water in the region.
Arab refugee problem. Building national life and culture.
Audio courtesy of the NYC Municipal Archives WNYC Collection
WNYC archives id: 70408
Municipal archives id: T572
Transcript
This is a machine-generated transcript. Text is unformatted and may contain errors.
The prime minister has a very crowded schedule and so I will take advantage of this moment while we continue to wait to introduce those who are here at the head table General Frank the author a member of our club. Thank. The director general of the Ministry of Foreign Affairs. Fielding of our club. J. Rupp the friend of the State Department also of our club. Ambassador. Harmon assigned to Washington. Julian band of our club. The deputy director of the Foreign Ministry. How Lerman vice president of our club. There are two kinds of introductions which are possible on an occasion such as this one would be. Long and brilliant curriculum of our guest and the other would be merely to say that we all know already the personality of the prime minister ask all know how easy it was for him to. A close relationship quickly with President Johnson because of the striking parallel in their two stories without further ado it's my very great pleasure to get this club prime minister. Mr Chairman. Thank you for your. Coming. Problems and the. End of his dedication calls of. Being cut. By the fact that he is a great. Find. Both. Over the past few decades the map of the world has changed dramatically ninety eight percent of mankind today. Independent States. Their primary objective over there is in New nations. Develop their economies and achieve a reasonable standard of living without demanding progress their independence is robbed of much of it significance United States. And the long program to a Europe impoverished by war and you know member and later Africa and Latin America. Being a novelty in the relations between the states. Here is a new chapter. Of international cooperation even. A new chapter in the F A mission of the common bond of mankind. We are happy. To let you know the modest way we are able to undertake the continuous technical cooperation program of cooperation in fifty countries in Africa Asia Latin America and the Middle East as we share with these countries the fruits of experience we had a same time learning from them our capacity with our limited. Gaijin problems of this nature is due in no small measure to the fact that over the years. And particularly in the first decade of our stated we received extensive aid from the United States government and from international financial organizations I would say government and the people of the states and the Jewish people throughout the world ladies and gentleman this slow but perceptive change in the world atmosphere bearing with it the hope. To the universal appreciation of the dangers of the atomic age. You know this there is the growing will to negotiate and the will to advance. A solution. It is the absence of this well. Which baffled all attempts to put it and the conflict between Israel and have made. It is said to lean not on Israel's side. Well to negotiate. Animated but it is a desire to put an end. Israel. Despite a disappointment of the past we have not given up the hope they. Will eventually develop out of countries this depends in no small measure on international public opinion. Which will make it clear. Members of United Nations have obligations with all other members without exception and the rights of. Not consistent with the letter and the spirit of the charter United Nations with the creation of Israel as you know the Arab armies invaded territory. Fifteen sixteen years ago. It was in flood and violation of United Nations charter and the United Nations resolution of nineteen forty seven which had a full support both of your country and the Soviet Union West and East United in the vase a doctrine of religiously continues to be preached and practiced in the middle east building up of the Arab military machine boycott blockade sees the threats of destruction at least dependable expressions of this. Community of nations cannot agree that in the Middle East alone of all areas the doctrine of vigilance. A test of Justice is the quality with which it is applied it would seem to us imperative that the world statesman particularly those of the. East and West. A concerted problem for the relaxation of. Such a program would include three main lines of approach. United this is sort of the provision for the settlement of disputes by peaceful means must be applied in the Middle East as elsewhere the world community should encourage direct negotiations between the Arab countries and if. We are already as we always have been to meet. Leaders without preconditions to help resolve the outstanding problems of our. Second Ways and Means must give up hope and strength. Integrity and political in the other countries in our region. In the Middle East should be a slowdown. That is hopeful. That national statesmanship should because. Aid to countries. Is applied for the just right to economic development and not for the. Place. This could be a prelude to a regional development program for the benefit of all peoples in the area. And. It is not sufficient to realize that the Near East comprises as many Arabs as are almost half and half in numbers of population ladies and gentleman I have no need to explain to an audience in this country the importance of a fact. For the prevention of war countries to be declared up war against using is inevitable. Immense quantities of. Military equipment. I'm not going to mention the sorceress you know they're. A very. Very high quality and they're very easy terms from Eastern Europe. This country has ever led the way. He stayed in the constant escalation of arms in the Middle East whether first introduced jet aircraft the fair to those missile launching ships submarines and. In the Middle East. These preparations. Use real compelled to prepare for self-defense that we cannot afford to move in war this would mean not only the loss of territory or the loss of our own you would and how one independent it would mean physical destruction this is what we are seeking to detail now although much of our national resources must unfortunately be diverted from vital economic development the process of rebuilding nevertheless continue. The work of reconstructing our homeland began almost a century ago not only for the fifteen or seventeen years old existing of the state. That it received the mighty impetus. Of Israel in one nine hundred forty eight and the survival of one million and a quarter of immigrants since that you know or the well out economic potential of this gentleman we must and our scientific skills but all my already occasional problem. Private investment and utilize our limited natural resources to the best of our ability. Of. Knowledge and skill that we are still like what. Is one of the resources with which we have not been bountifully and doubt for this reason that you're welcome President Johnson's proposal of corp into research between the United States and Israel aimed at making your dream of the sole thing what our God. Any accomplishment in this field would of course and I assure you there will be put this powerful stuff out countries in our area throughout the world will want nothing but be more natural for Aus Aid and to cooperate with our neighbors in a regional project was in this spirit. Cooperated in working out the original plan for the utilization of the job the system. Unfortunately the system. System. Unfortunately the agreement reached on a technical level has not yet mature on the political level musical can not however allow ill will to prevent to prevent Israel from putting to the best possible use. All the water that is rightfully. States. Taking water from for their needs from the Jordan water system based on their. Scheme of world out. Of the just unified plan to give full satisfaction to the Arab states. There is I believe general comprehension that this project is fair and reasonable this agenda will come in well we hope bring one day the Arab states and. Probably see of. I feel ladies and gentleman that I must say a few words on the refugee problem. In order to question. Yeah successful attempt to strangle Israel. In nineteen forty eight created then. Refugee problem following months of terror of murder and destruction by Palestinian. Regulars the Arab armies moved into Palestine in nineteen forty eight seventy number mistaken. To scuttle the United Nations resolution of nineteen forty seven. They called upon the Palestinian Arabs to clear the way after months of terror to clear the way for their troops so that they might later return with a victory. In this war we lost thousands of our finest you boys and girls and suffered a great loss of property some of the Palestinian Arabs did not believe they and their children have now full citizens of Israel great number left in the hope that they will come as victors when he will be the rock and have since been. Elected they have since been out of companies. From the companies. Approximately the same members living in the Arab countries are rooted then came to you for hundreds of. Only the clothes on their backs. And. Has in fact been an exchange of population in this way. Problem has found its natural solution. Would be found. In the. Host Country. And are treated. As pawns in a political game with obvious Troy has. Long since been absorbed and integrated among their own and then in an environment and culture which is their own just as we settled. On a million two hundred thousand immigrants who came to Israel and hundreds of thousands of them from other countries such as. We are down to a smaller number of. Many hundreds of thousands of them have been absolved already. This still left on the United Nations roads. States would not like would not agree with. The people. There is no lack of water in the region. Or of resources or finances to settle the problem. What is and what is indeed. What is needed is goodwill on the part of Arab leadership and of readiness to bridge the problem in its true humanitarian context and not make a political issue of the political part of it for yes we have proposed negotiations on this problem as an outstanding issues and there's been no response we are ready for cooperation but they've told us we have been in recent weeks of the refugee problem can be solved only by the elimination of Israel as we have expressed in the mouth of Mr Mansour this means for. There is no readiness to solve this matter but only a desire to use it as a political weapon. Spokesman of the raise the specter of the expense. Of. It is used to existing frontiers by economic boycott. To prevent development within our own and. More are we ever repeatedly suggested that. Also. Let this be clear. Growth will be in development within the empty spaces of our own territory and our present for until normal but absent will also be in the spiritual realm we want nothing that belongs to us in conclusion. How is building our national life and culture for our people gathering. To master the relations is infinitely greater area for still. People in government is dear to us. All these friends. Present to the United States is a must. As we did YOU are independent as we are sustained by the knowledge. Able through faith does survive. This century. Experience. As we make our way forward into the future. Thanks for your time. On three thousand.