Tish James to be First African-American Woman to Hold Citywide Office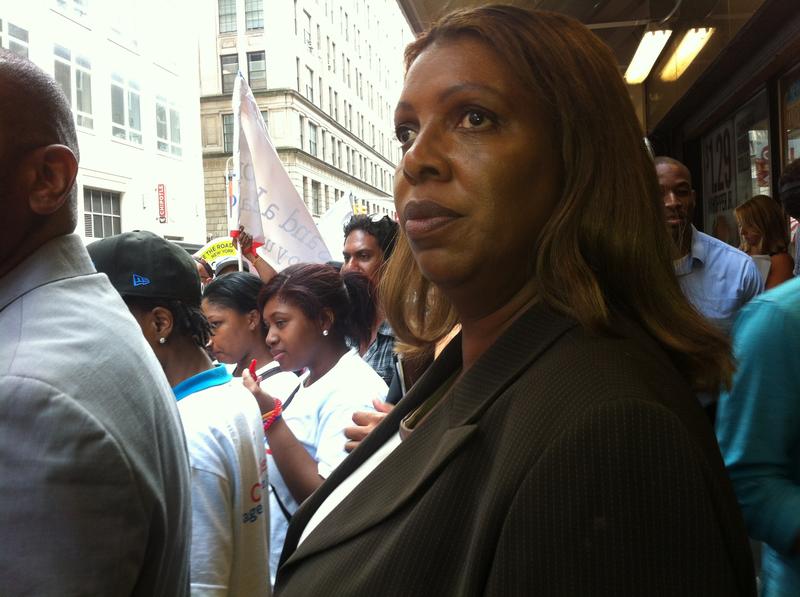 Council member Letitia James has won the runoff for public advocate, beating State Senator Daniel Squadron. With 100% of returns reporting, James had 59 percent of the vote to Dan Squadron's 41 percent.  The votes were sharply divided along racial lines, with nearly all black-majority precincts voting for James and most white-majority districts choosing Squadron.
"I'm Every Woman' by Whitney Houston blasted as James took the stage at her victory party at the Copacabana in Midtown. The crowd of supporters was ebullient and interrupted James with cheers as she talked about her historic win.
"Today you elected me the first -- " she said, before choking as supporters yelled "Say it! Say it!"  
"The first woman of color to hold citywide office," she completed, to loud applause.
There was a significant racial gap in this election, with James carrying communities that are majority African American and Hispanic, and Squadron carrying areas that are majority white.
The runoff was marked by a bitter back-and-forth between the two candidates; each accused the other of being too cozy with Mayor Michael Bloomberg, and failing to be forthright about their personal finances.
Squadron got endorsements from the New York Times, Senator Chuck Schumer, and two of the three former public advocates.
James was backed by many unions, women's groups and the Working Families Party.  The Working Families Party claimed the James win as "a major victory," noting that James had been the first city council member to win election on the WFP line. 
Political observers said she had a particular edge in an election year when white men are poised to take the city's top jobs of mayor and comptroller.

The public advocate is known as the city's watch dog, and is first in the line of succession if the mayor is unable to serve.

With no Republican challenger, James is expected to take office in January.