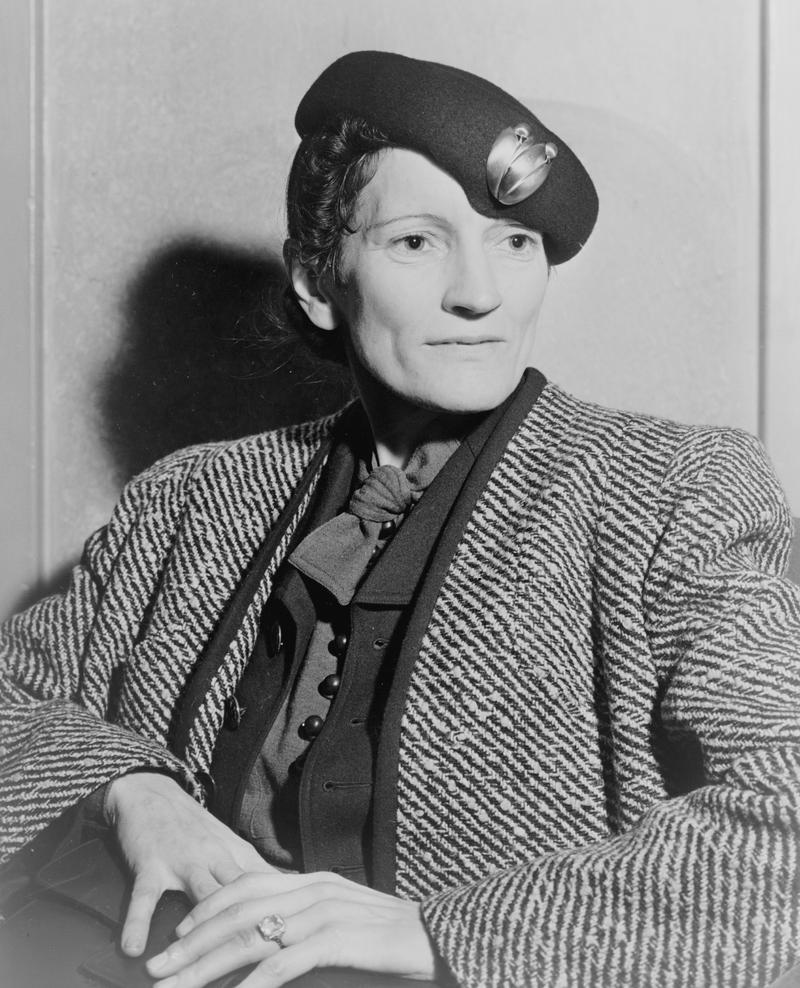 Summary
This episode is from the WNYC archives. It may contain language which is no longer politically or socially appropriate.
Irita Van Doren, introduces the day's speakers.

Vice Admiral Leslie Stevens discusses the current state of Russia and communism.

Mari Sandoz describes the plight of the Northern Cheyenne people in her non-fiction novel "Cheyenne Autumn." She tells the story of Little Wolf and Dull Knife, who led their people out of Oklahoma and back to their home in the North. (Library of Congress Photo/NYWTS Collection)

Chester Bowles recounts his time as an ambassador to India. He speaks generally about the stabilization of Asia through the democratization of India. Strong anti-communism sentiment.


Audio courtesy of the NYC Municipal Archives WNYC Collection
WNYC archives id: 71198
Municipal archives id: LT7293
Transcript
This is a machine-generated transcript. Text is unformatted and may contain errors.
We bring you the spirit of the things in the book and author luncheon transcribed earlier this afternoon at the Grand Ballroom of the hotel after the affair mainstay of the city's cultural life I thought sponsored on a nonprofit basis by the New York Herald Tribune and the American pathologist will be. Among our distinguished authors speakers today and Mr Chester Bowles Admiral Leslie feast even and if not a standout here now is I read her van Doren literary editor of The New York Herald Tribune and that's just a pair of monies for the book another luncheon with then don't. Think it is a. Wonderful at telling you anything about him and his background I'd like to say that his Russian assignment is the first book I read and I've read a good many books about Russia that have given me any mental picture of what restaurant Rashtriya life today really it's people like. IMO Stevenson had a long and distinguished career in the United States Navy on destroying your duty until the end of the First World War he did post graduate work in aeronautical engineering at Annapolis and MIT and after flight training so as a naval aviator and technical advisor on the experimental carrier line. He was among the first to land on a rigid and get a life and it was assisted maybe last year in London thirty four. To thirty seven years officer in charge of experiments with. Thirty seven to forty. Blue on kind I'm very very light use Elan with seeing Ireland was naval Observer in London during the Blitz was on the start of the commander of aircraft in the Pacific and bodies bought. Advance through the rewrites to reroll info he said he was present at the bikini atomic test in bodies and in forty seven to nine naval Irish and I'm a bit out of shape but I asked in Moscow years with the Joint Chiefs of Staff from fifty to fifty one when he was retired at his own request as a vice admiral This is by our factual record means that he had a hand in the design or conception of all of various types of aircraft and aircraft carriers and gear used in the landing of a craft on board ships in World War two And except for a break of a year and a half he was in charge of the entire experimental program for naval aviation but can lead for thirty seven to forty seven now he is working with the American Committee for liberation from Boettcher that there's a sign like to Russia must of been the pope Philmont of a long held dream so he says the beginning in nineteen thirty three he read Russian continuously and systematically even if as during the war in the Pacific only a few moments a day were available when he reached Moscow he began immediately to improve his speech by teachers by talking to the servants by attending the theatre I listening to radio and found a knowledge of the language so important to an understanding of what was going on a belly that he made it unable requirement for a mask our assignment. As a result of his eager curiosity is the only easy relaxed friend in this he considered himself a guest in the country and acted accordingly he was able to gather a wealth of impressions and experience. He saw a great public spectacle celebrating the eight hundredth anniversary of Moscow the thirtieth anniversary of the Red Army the May Day parade he noted that women really make Russia they do most of the heavy work coupling trains laying pavements cleaning streets planting trees and. In the theater during his first winter he saw five of the three hundred plays on the boards in Moscow in the summer we found. From modesty a Russian sailors in the Green River. Depressed by the mystery silence and millions that often prevented the Russians from answering his simplest question over and over again he ran into great prison a stockade some German some Russian and he found himself constantly under the surveillance of M.V.D. agents the unnecessary irritations and delays of Soviet bureaucracy were maddening but they were fishing and hunting in the Volga marshes and exciting their long white nights in Leningrad when people filled the streets and parks in a civilized book a perceptive sensitive observer and an engaging skillful writer wearing his extensive learning lightly gives us the most human picture we have of the Russian people and their land contrasts I'm happy to be able to introduce to you the author of Russian assignment and no legislation. Thank you so much. Hard for me to live up to that. When it was suggested that I do what is known as say a field where each day more than a little reluctant because I make small for ten still being a writer and I don't have to tell you that I'm no Baker. I've always found it particularly difficult to speak on Russia that is not from lack of thing is to shape but for quite a different reason all of us tend to crash late any thing that happens to us any bed of information that we get on any subject at all it's almost impossible for us to do anything except the tend to translate that into terms of our own experience and our own standards we have to relate it in some way unconsciously to the war on alive. Now on the background and the surroundings of Russia and the Lions that the people have there are still completely alien to anything that any of us have ever experienced that we continually measure lead ourselves and forming judgments about Russia by relating that to our own experience one would think that. Any. Straightforward direct question on Russia could be a sham Blanchard whether with the champagne direct yes or no. But. Far not the best not the case is hardly a question that people can ask on Russia that I can answer where the simple yes or no the reply always has to be but or no but and followed by about ten minutes of the dissertation on on of what it is if you're in a main the qualifications if you have to put in it just to keep people from running it to their own standards and their own experience. Of course it is rather clear that the reason for that is because those of us who have never had the doubtful privilege of living in the Soviet Union do not have any common common background or any point of departure on a country. Writing assignment. Was not read and for publication out on. I have been and so many strange and interesting places in the course of my life and the name of that again and again I have been extremely regretful at the wait time erodes away the notion of your impressions and you will tend to lose the memory of anything except the very high spots of things that have happened to you. And Roger the professional requirements that were laid on me were. More like it and I'm so that for once I was able to do something about it for myself and for my own I didn't keep my diary or a journal or anything of that. And in the normal sense of the word and in the sense that the day I did this year that or solace such and such I went somewhere but from time to time as as things interested me or impressed me or I thought they were worth remembering why I've tried to have mental adequate words for for my. Own the ocean and I feel it you. That one time. Edward wage the editor of that manic Monthly who. I think is one of the most sympathetic and sensitive people that I've ever encountered was on my home all the way can in connection with some I think the issues that I was doing for them Matic monthly and I show and wait. These are these things that I had done they were they were just on on different colored scraps of paper and anything I could find it was nothing orderly about them or anything of the shark while he's took them back to Boston and went over them. With Mr Martin and with others and they may seem to find them interesting they are real justification for me in putting them in shape and publishing on it is that it seems to me they come as close as I am able to manage to provide a substitute for living in Russia. It goes as far as I am able to go provide quite a bit of this common background that people show to have in order to understand and make judgments and it seems to me that because of what it might be possible to. Take think patients I love my own or someone else and judge them better and certainly to understand them better. Then. I have always had a weakness for the short of things that you can infer from. Or the old fashion travel a copy. Of a more leisure only account of a strange foreign land. I like that sort of thing and it appeals to me much more than the shards of writing which. Used to hit you over the head that starts off with the proposition Communism is a bad thing and then tries to demonstrate why it weren't as bad I think a Russian assignment is as a travel book more than anything else and yet you'll find it in all the bookshops under political books. I couldn't talk at a body at a putting it anywhere else I think possibly the reason for that is that there is nothing nothing whatsoever in the Soviet Union that does not have politics or connotations to it that's one of the vast differences between shelving that life on our own life. Everything must be to be understood must be viewed in political terms. However I trying to. Not that I tried to do it but the sort of thing that cam out of what way and Mr Martin and myself tried to. Present the material what happened to me and let. People draw their own can approach rather than to try to argue from from a preconceived point. As a result of an occasional read the order has. Complained because. They said that I seemed to be in a sort of a state of passion puzzlement. About Russia. Or an occasional criticism that I had a lack of political conviction. Well I. Plead guilty to the fact that I was in a state of PA and I'm still in a state of puzzlement about about some things about Russia I'm always puzzled about things that I can understand and put into words and I refuse to be positive about of that long as I am positive. On the other hand as far as political conviction is concerned I want to reveal Sterling Norris I think. Pleased with that it started off saying this quietly devastating book well I don't see how it could have been devastating unless there was a political viewpoint in it and I don't have very strong political convictions on on things that I understand them passionately. However. It is almost impossible. For the validity of those going to make change according to the same standards that we that you demand profile in the western world because Soviet Russia is called She quit. And has been. To take what other call convictions of importance and present them adequately would require all this background a lot of it along this your patients that have to interrupt what appears to be the simplest point to keep from. From possibility of much understanding or image application that is it would demand. Articles along articles or a whole book and this just wasn't that kind of a book or the place or as it is it is a long book. Since it was already at the time it wasn't a question of what I would write a bob but a question of what would be would be cut out and I I I feel myself that there's not a single paragraph and a block that isn't there for a good part as either either it expresses a mode. Where or it makes a specific point where it seems to repeat for attention is there there are several occasions where. I describe the Russians or about why both of which are just talk there they are. Those are things that are right and that was part of it well. And. Those are replicated I think in every case it's an article bringing in additional or different ideas and certainly not for the sake of reputation. I think everybody in Russia and like probably a lot of your people here are. Interested more than anything else and the one basic important question of war or peace and. I was asked on all sides I don't think one has to be very much of a prophet not to tell whether there is going to be war or peace but to be able to state the conditions under which you are well are well not concerned come and I am sure I'm confident in one of the convictions that I deal have that there will be in all our right Halo not go to war against us as long as we do not make it too easy for them that way not to make it easy to be momentarily strong if we are alone isolated without allies we are an attractive target no question but that the the communists who are Russia want one world one communist world and they can't be talked out of it and they're not going to change their mind but most of that what we are strong if we have aligned if we are not a parade the internal dissension the economic crises labor troubles social disorder that got us apart then as a time when they would when war would be attractive to them and also when they are sure of being able to rely on their own people. I cannot document that but I think not only what I have written but others such as. It would be in land. Our rights our secret our lives. Are more and more books appearing which well documented. Should. Keep it from coming. Along. The the. Implications to put into it. And the. Country. Of two hundred. And a. Home. In the meantime. Revelation. In this country I can. Count on that flight. She was born in the Homestead period of Northwest Nebraska a crippled but fiery father and a mother who like most pioneer women worked in the field days from the time she was five she was left alone to camp for the younger children I was ever a lot of the time she was seven she was sometimes alone with them as much as two days and two nights when her parents had to make the necessary trip to town by seven she knew other things too something of the Indian wars a half brother was a good friend of the two and the Cheyennes who had lived with them since the tragic life she'd seen a great deal of the stuff like cattlemen fight our father was a star witness for the government against the Kalman she remembers how much a lot hired by the cattlemen having shot down her father's brother in cold blood came to get him revolver in the hand that I overdrew ready with right quality showed us the spirit of his hosts and left some years later she found the muzzle of that same rifle against touch as in one of the the violent rages over who had taken the gun the one of his neighbors just assisting the press the trigger she struck the stop down and the shock went well and fury aided Father Boyle the rifle on her but just assisting him against the tense on the trigger he dropped it and went off into the woods not to return until night but she learned what she calls a wonderful at home as with the world from her violent father at seven she knew the meaning of every change your various and Sky The lead to take on a wild goose on the wings how to catch a mink on em in the coyote how to remove a pelvis and cure it she also knew the history of Napoleon's campaigns and the multiplication table to twenty five times to either from. By