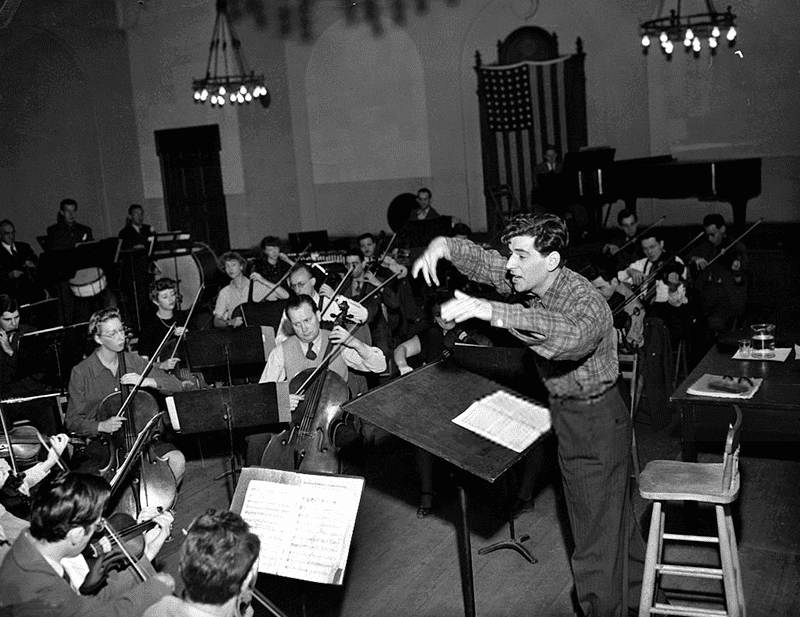 Leonard Bernstein's "Big, Big Night"
It was the afternoon of October 8, 1945, and Leonard Bernstein had a cold. This wasn't unusual for the 27-year-old maestro; he was a competitive chain-smoker who sometimes taunted friends for buying filtered cigarettes. Still, his cold couldn't have come at a worse time. Bernstein was about to make his debut as conductor of the New York City Symphony, a shoestring orchestra created by Mayor Fiorello La Guardia to bring symphonic music to the masses. Tickets were 75 cents, and the balcony at New York City Center was packed with bohemians, bobby soxers, and working stiffs. It was Bernstein's ideal audience, according to the critic Virgil Thomson: "real New Yorkers, many of them young, most of them working people, and all of them twentieth-century minded."
Bernstein was giddy to be leading his own orchestra for the first time. "Tonight's my big, big night," he wrote his friend David Oppenheim. "I'm a nervous wreck, but the orchestra is so fabulous and excited and young and interested and in tune and precise and enthusiastic, etc., etc., that if it's not a hit tonight I won't understand it."
It was indeed a hit—the Brooklyn Eagle reported that "Mr. Bernstein created a kind of white heat"—and WNYC was there to bottle that white heat. In honor of Leonard Bernstein's birthday, we're making the live broadcast of his New York City Symphony debut available for streaming. Recorded on October 8, 1945 at City Center, the program features Aaron Copland's Outdoor Overture, Shostakovich's First Symphony, and Brahms' Second Symphony.
Click here to read more about Bernstein's salad days conducting "the youngest, poorest symphony in the world."
Special thanks to Marie Carter and The Leonard Bernstein Office, Inc. for permission to stream the WNYC broadcast concert.