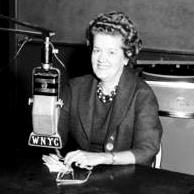 Summary
This episode is from the WNYC archives. It may contain language which is no longer politically or socially appropriate.
"How close are we to fluoridating the city's water?
What is the role of private industry in administering the Salk vaccine in New York City?
Is the public responding to the Salk program?
How is it that vaccine makers now find themselves with a Salk surplus?
What is the age limit in the city's Salk vaccine program?"

Commissioner of Health Baumgartner answers questions about the fluoridation of the city's water and the Salk vaccine for polio from student reporters Flo Casey, Felice Rinus, Jim Farrell, Larry Lipschitz and Lawrence Barrett.

Marvin Sleeper hosts.


Audio courtesy of the NYC Municipal Archives WNYC Collection
WNYC archives id: 72034
Municipal archives id: LT7580
Transcript
This is a machine-generated transcript. Text is unformatted and may contain errors.
How closely to fly again with city life what is the role of private industry minister and I thought vaccine program in New York City is the public responding to the self program hours of that song vaccine makers now find themselves in the surprise what is the age limit in the city's salt vaccine program for the answer to these and other questions stay tune for your city stations campus press conference in which editors of college newspapers interviewed prominent personalities in the near our moderator for this award winning program is Marvin sleeper reporter for The New York Journal American here not to introduce our panel and tonight's guest is Mr sleep that evening and welcome to another edition of campus press conference commissioner of labor Nelson was I tell was scheduled to be our guest this evening but he was unavoidably detained so instead I guess the saving is one of the city's hardest working commissioners Dr Leona Baumgartner a commissioner of health during the past two years one of the main engines have been the salt vaccine program and her untiring efforts to get the city's a water supply fluoridation so that the future generations of New Yorkers will not have the big dentist bills that we have today hit a question Commissioner Baumgardner our campus press conference reporters Flo Casey of the Hunter College arrow police run out of the Brooklyn College a research review Jim found the forum ran Larry Lipsitz of the N.Y.C. you square Journal and Lawrence Barrett of the Columbia Graduate School of Journalism and how about the first question of the year Laurie looks at. Commissioner Byrne Where is the public responding to the salt program well I gotta say yes and no what is that question if you take the youngsters from five to. About fourteen the youngsters it could get in the days when there were shortages about eighty ninety percent of the kids are vaccinated if you take other age groups or lots of variations the important thing is that there are lots more shops to give if everybody's going to get protected as a matter of fact we've made the calculations pretty carefully there about ten million more shots ten million of them that need to be given by next polio season if everybody under forty gets protected and I think you probably know that if you're under forty your chances for paralysis are probably better than they are after that on the other hand anybody can get paralyzed if I remember correctly the oldest person that was ever paralyzed from polio and in New York City is an old gentleman of about eighty six who was completely paralyzed a few years ago so that we if you take everyone and follow that everyone is going to get their shot there are some twenty four million shots yet to be told what are the chances of the twenty four million getting on the next I think a little bit on the people themselves money a vaccine been going to be going a ban on whether people are going to be smart enough to go protect them your department planning a public education program are adults to get the shots we're not only planning it we're in the middle of it and how is it going well I think it's going both good and bad grabs I think you know it's a very interesting thing about this polio business when I feel it's just like everything else on the run very much vaccine everybody was talking about it now there's plenty they are very interested in and it and as a matter of fact not even your newspapers print the things that we put in the paper these days about polio you say Oh well as old stuff all you got any plans for stepping up that program and. Within the next month or so we've got a lot with doctors in town have done a wonderful thing the five county medical societies have gotten together and said they're going to roll up their sleeves. See if I can move this along a little faster they are recommended to all their members a maximum fee of three dollars per shop and that includes some sixty one cents for the vaccine itself the charge for shops given in the doctor's office is that any deadline on that three dollars not that I've heard of it all was. A month or two I think that as far as I know there isn't the doctors are saying this is the finest Christmas present that you can give your family they've also said and I'm sure that many of them well that they'll be happy to take care of people who can afford to pay three dollars for a somewhat less now as that can't be a lure or regulation because it is a free country but it's a it's a wonderful program and I would hope that every family in New York thinks it's worthwhile enough to spend just a paltry three dollars to see to it that you get protected again in the trial of the polio but a lot of vaccine may go to waste proposals for a lot of manufacturers shells when it is true that there is a lot of humiliated on manufactured shelves right now. This is because of course for a long time there were shortages when the thing really got going they began to accumulate vaccines and the public has not been as interested in getting vaccine shot what a good time limit on how. Well you were using it being able to use it all up in New York we haven't had any go bad a charge doesn't go bad maybe just in this effect if you're if you read the papers very carefully you're also saying that they're exporting quite a lot remember we've been a have country when it comes to polio shots and there are other countries that run it so none of it is going to go bad or get lost or are not being used I'm sure aren't there any reason for the. Black market and Salk vaccine not that I can see going any drug stronger than. Any foreign country there's enough of. Well there certainly. Beginning to give export licenses for a new member for a while you couldn't buy it outside the country now what is the city doing about the people who can't afford to go to a doctor well haven't got a family doctor to go to and the city has done two or three things in the first place there are continuing immunizations going on in the schools and this will be stepped up and bring times around the city is also also making available to doctors who are giving a shot free vaccine for anyone up to forty. The. Doctor tells us that the person is Medicare and agent can't afford to pay for the vaccine will supply him with. We're also urging along with the county medical societies are encouraging industry to do a lot about this we've got. A Christmas present also for those people who haven't got their doctors and that is Army twenty six the twenty seventh on the twenty eighth of December and we haven't told us yet the public and you'd like to have this is a school. Exclusive ride on the try to six twenty seven and twenty eighth of December where having what we call our holiday family special in the twenty three District Health Center is where you can come in as a family get your. Shop is your course there for families that don't have their own doctor well what do they have to do to get there how about some coming ons on that come on into the health center you look up the telephone book and see where your nearest health center is you look in the telephone book look up city of New York and look under the district health center and find out the one that is closest to your home. All day long but all ninety five have to have an. You know is it advisable for preschool age children to receive certainly as and this bothers us very much because all of the five to nine year old or is where the most susceptible to paralysis Remember you can still have polio but you don't get paralyzed from much and they saw faxing infrared protects against process and we get a lot of paralysis and preschool age children as is the reason we put a second priority on them as soon as we got a little bit more of that so one of the chances of setting up a school program to include the pretty high schools and colleges Well the city colleges got programs going on right now. We furnish vaccine to those students and you get a far do pay for it in the city colleges right now there are also vaccinations going on in some of the high schools and many other schools or any evidence of negative or it. Actions to. You people take it you mean if they've been heard by We've had we done something or other over two million shops ourselves and we were very careful we let the parents know because we knew no one lots of anxiety about their we let the parents know that if anything of the matter with the trial they could call us up and we would even send a doctor out than an hour south but we sent doctors out to see them we had out of the five million something as I remember under about four hundred people what color they called us when that child fell down broke a leg and we had several broken legs broken arms broken other things but we found really no difficulty whatsoever about the fact my girl laughed when we have with the same diphtheria shot. Could you give the sun to testicle information upon the success that this program since it's been administered in New York City police I'm so glad you asked half a. Minute what you're going to ask me that I'm good I think this is one of the most exciting at success stories that we've ever seen we used to have them have had for years old. Ten year average for example is eight hundred sixty cases of polio a year in yearly average and up to the first of the family had one hundred forty six years but the better part of the story is that we used to average around around fifty this year this year we've had five we think the. Resting place in flight. Was future as successful as all your other inoculation programs on all other diseases Well I don't know I would think it would I would be sure there probably is the years go on there may be a few cases take the story of this area nineteen twenty. We used to have in the city of New York anyplace from ten to fourteen thousand cases of this Syrian around a thousand that when we had one of these intense E.U. campaigns for this area immunization and twenty eight twenty nine Incidentally there's a lovely story about that was the first time they ever had an electric light a billboard in Times Square and they were awfully excited about having a billboard that stayed lit all night we were years now or have had only a handful of cases where this year we've had ten cases and you know there are maybe a few people perhaps well I still have not have gotten their shots and now are not responded that we would think that the prognosis the outlook for reading the city for polio were still per year a problem for anything for the city employees themselves either through the city departments or through the health insurance plan well a health insurance plan many of them are now offering shots city employees are certainly not medically engine people and salaries like other people do we would expect that they go ahead and go to their own doctor. Terry Lane. Do you think that the soft vaccine program will become official such as the diff there U.S. smallpox injection programs are where you can't enter school unless you have the injection or can't visit certain places without having Well I think it's about as official now as a disparity a program as you say you can underscore that you know you can go to school without this area shops that the point is that everybody is accepted and so that's what we do when a child enters school now the health department doctors who are the school doctors ask the family whether or not the youngster that is that serious shot and if he hasn't we send them around or is doctor to get some Are they haven't got a doctor we do them now where we already in the fall of one thousand nine hundred and fifty six did exactly the same thing with polio also exactly like it. If they're your program is right now or very What other disease problem it's a break you also still causing trouble in New York City Rollers still among the Thames leading cause of causes of death Florence what is being done about it all quite a lot this is one of the stories that you usually read about the fact that there aren't as many people going to the hospital with tuberculosis and therefore I guess people think TB is all over this isn't true a tall There are many fewer people in the hospital a lot and they're not there is a there are hospital we've been able to throw let's put it that way because of the fact that people don't have to stay in bed as long as they can go home earlier and be on treatment there but the big problem and a regular basis is to find the case that has to burn. Find it early and get the person under treatment So what's being done as far as the controller tuberculosis is concerned is the following that we have speeded up tremendously the case finding program so call that is X. raying apparently well people define the. Unknown in case of tuberculosis this the health department is doing and then of course the department of hospitals and the health department together because we both run Fenix for ambulatory people with tuberculosis home care program and then the hospitals themselves take care of the people who have tuberculosis and giving them the new modern methods including the new ground means that many more people are getting well much faster. About how many unsuspected T.V. patients are wandering around at the moment well we have a rough estimate of around ten thousand people. That are have tuberculosis in the city and don't know the. Lightest degrees of tuberculosis or just the most severe Well you know tuberculosis about might be procedure and a little bit like pregnancy you can have just a touch of it. What about when you have a job have it if you've got a light case it's probably going to go on to be a much more severe case and the cases we find in all seriousness seriousness are both what we call mild cases and very seriously advanced cases in a lot of market place Dr Baumgardner what is New York City today on fluoridation of all water well the health department in the Board of Health have as you probably remember for some years been recommending to the city fathers that they spend a small amount of money necessary to go ahead and Florida the city's water supply the mayor has said that they this matter will be on the subject of a public hearing before the Board of Estimate the date for that hearing haven't yet not been set. And do you think the opposition was still a strong fluoridation as it was when the first came up I recall that you will be one of these microphones every six months ago. And there were a lot of people that were aghast that you think we've Well I think they're only going to be I think it there is nice that you're in a world in which there are people that are against. This is probably. True for our nation although I think they perhaps talk a little more and some of the people that are against other things I think personally from what we ca