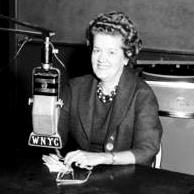 This episode is from the WNYC archives. It may contain language which is no longer politically or socially appropriate.
Leona Baumgartner discusses her month-long trip in April 1958 to the Soviet Union as part of a delegation of six American physicians, which came after a delegation of Soviet physicians visited the US in 1957. She answers questions from the audience (reporters?). She draws three conclusions for the US:

1. A reappraisal of its [medical] educational system
2. Cut down on the lag in putting into practice what is known; Give research higher priority
3. Carry out a worldwide attack on disease

She mentions Van Cliburn's visit and other events of the "thaw"
Audio courtesy of the NYC Municipal Archives WNYC Collection
WNYC archives id: 73844
Municipal archives id: LT8006