At Least 22 Killed, Dozens Injured in Blast at Pop Concert in England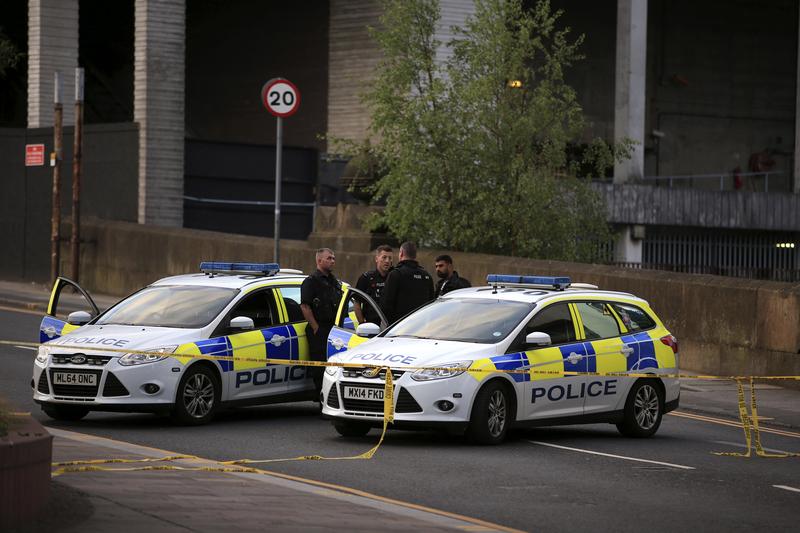 Updated: 8:55 a.m.
An apparent suicide bomber attacked an Ariana Grande concert in Manchester, England, Monday night, killing 22 people among a panicked crowd of young concertgoers, some still wearing the star's trademark kitten ears and holding pink balloons as they fled.
Teenage screams filled Manchester Arena just after the explosion, which also killed the attacker and injured dozens.
The attack sparked a nightlong search for loved ones - parents for the children they had accompanied or agreed to pick up, and friends for each other after groups were scattered by the blast. Twitter and Facebook were filled with appeals for the missing.
The police announced Tuesday that they had arrested a 23-year-old man in the south of the city, in connection with the bombing. Chief Constable Ian Hopkins said forensic investigations are trying to determine if the attacker had accomplices.
The Islamic State group says one of its members planted bombs in the middle of crowds in the arena.
Police, however, have spoken only of "an improvised device" used in the attack.
ISIS says "a soldier of the caliphate planted bombs in the middle of Crusaders gatherings," then detonated them. It did not say whether the attacker was killed.
The group claimed that "30 Crusaders were killed and 70 others were wounded," higher than the totals confirmed by authorities in Manchester.
The concert was attended by thousands of young music fans in northern England. Grande, who was not injured, tweeted hours later: "broken. from the bottom of my heart, i am so so sorry. i don't have words."
Hayley Lunt was staying at a hotel nearby and had taken her 10-year-old daughter Abigail to her first concert at Manchester Arena on Monday evening.
She said the explosions rang out as soon as Grande left the stage. "It was almost like they waited for her to go."
"We just ran as fast as we could to get away from that area," Lunt said. "What should have been a superb evening is now just horrible."
Campaigning for Britain's June 8 election was suspended.
The explosion struck near the exit around 10:30 p.m. Monday as Grande was ending the concert, part of her Dangerous Woman Tour. Police cars, bomb-disposal units and 60 ambulances raced to the scene as the scale of the carnage became clear. More than 400 officers were deployed.
"A huge bomb-like bang went off that hugely panicked everyone and we were all trying to flee the arena," said 22-year-old concertgoer Majid Khan. "It was one bang and essentially everyone from the other side of the arena where the bang was heard from suddenly came running towards us as they were trying to exit."
Home Secretary Amber Rudd decried "a barbaric attack, deliberately targeting some of the most vulnerable in our society - young people and children out at a pop concert."
The local ambulance service said 59 people were taken to hospitals.
The city's regional government and its mayor, Andy Burnham, were among scores of Twitter users who circulated the MissinginManchester hashtag, used by people looking for family members and friends.
Among the names being circulated was Olivia Campbell. Her mother, Charlotte Campbell, said the 15-year-old attended the concert with her best friend from school. He is hospitalized but Olivia is missing, the mother told ITV television's Good Morning Britain breakfast show.
"I've called the hospitals. I've called all the places, the hotels where people said that children have been taken and I've called the police."
She said she last heard from her daughter just before the concert.
"If anyone sees Olivia, lend her your phone, she knows my number."
U.S. President Donald Trump, in Bethlehem, said the attack preyed upon children and described those responsible as "evil losers."
"This wicked ideology must be obliterated. And I mean completely obliterated," he added.
If the explosion is confirmed as a terrorist attack, it would be the deadliest in Britain since four suicide bombers killed 52 London commuters on three subway trains and a bus in July 2005.
Meanwhile, the NYPD said it is closely monitoring events in Manchester to determine any possible implications for New York City but has not announced any official measures.
Governor Andrew Cuomo said he ordered state law enforcement to step up security and patrols at high-profile locations across New York, including airports, bridges, tunnels and mass transit systems.