A Lear Less Bright Than Its Stars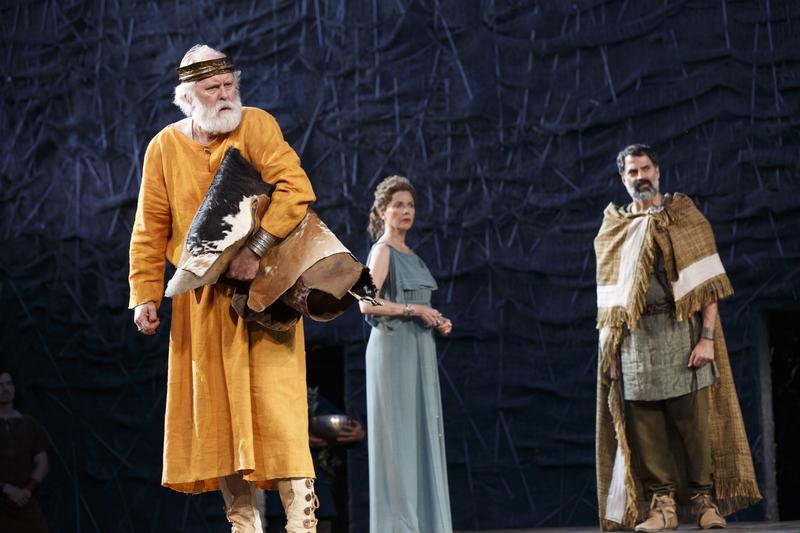 John Lithgow has excellent comic timing.
You wouldn't think that would matter when an actor is playing King Lear, but it turns out it does — it brings out the wit of the play, throwing the tragedy into high relief. And Lithgow is a very physical actor, which makes Lear's madness in the second act an almost palpable thing.
And yet.
In the first act, all Lithgow does is rage. His rages are so brutal so quickly that they have an unexpected effect. They made me feel sorry for Lear's elder daughters Goneril (Annette Bening) and Regan (Jessica Hecht), who are supposedly trying to steal all of their father's remaining power. Compared to Lear, his daughters seem even-tempered and fair — in fact, they seem a lot like long-suffering adult children who are trying to reason with a demented, elderly parent. 
Bening, Hecht and Jessica Collins (as the youngest, saintly daughter Cordelia), turn in intelligent, subtle performances that are shocking in another aspect: they are truly sisterly. They grab each other's arms, swat each other away. I don't know that I've seen a Lear that showcased such subtly complex relationships among the sisters. It was wonderful.
There were other delights in this production directed by Daniel Sullivan, including giant metal slabs used as eerie, resonating instruments, the satisfying slices of ritual and other nods to an ancient paganism, and the masterful, charismatic Chukwudi Iwuji as the good (if at first naiive) Edgar. Plus — perhaps this goes without saying — there is nowhere but Shakespeare in the Park where you can see this level of Shakespeare for free.
Yet a production of King Lear with anything less than a thrilling Lear is disappointing. Lithgow showed more nuance toward the play's end, but the damage was done. The comic touches were delightful. The one-note fury, less so.