The Leakiest Gas Pipes In The Nation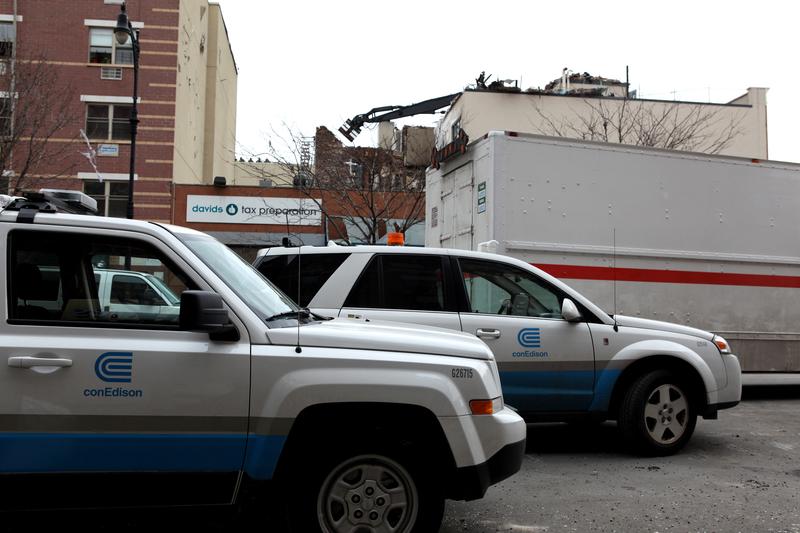 The Consolidated Edison Company of New York's 4,300 miles of gas mains leak more than any other system nationwide with at least 100 miles of mains, according to a WNYC analysis of the most recent data from the Pipeline and Hazardous Materials Safety Administration.
The company fixed 92 leaks for every 100 miles of gas mains it operated in 2012. That's more than double the rate at all but a handful of operators across the country.
The company also happens to have one of the oldest systems – with the largest proportion of pre-1940 gas mains of any large utility nationwide.
WNYC analyzed the data after a gas explosion earlier this month in East Harlem killed eight people and obliterated two tenement buildings. The National Transportation Safety Board is still investigating the cause of the explosion. They have so far found a leak in the gas main adjacent to the site, although the cause and role of that leak are unknown. Much of that main is cast-iron from 1887.
The data is self-reported by the utilities and it is possible large numbers could signal an aggressive approach to finding and replacing leaks. The same data also shows Con Ed lost about 2.2 percent of the gas from its system in 2012, which is less unaccounted for gas than a number of other companies reported.
Experts say the high number of leaks could be due in part to the system's age. Older pipes are often made of cast or wrought iron. For years, federal safety experts have been warning that such pipes are likely to corrode and leak, posing a danger to the public. New York State has the most miles of cast or wrought iron pipeline of any state except for New Jersey.
But while regulators have warned of such hazards, there is no actual requirement at the federal or state level for when gas distributors need to replace such outdated mains.
New York State's Public Service Commission "requires utilities to perform continuous risk assessments of all pipes, regardless of material composition. This includes cast iron mains," according to a prepared statement from the department. "The Commission encourages the accelerated replacement of leak prone pipe."
Con Ed operates about a third of the mains in New York City and serves Manhattan, the Bronx and parts of Queens. The company also has mains in Westchester County. National Grid serves the other two-thirds of the city. Its system is also one of the oldest and leakiest in the country, data shows.
Con Ed has been working to replace its outdated cast iron gas mains. But the process has been slow. The utility reduced its inventory of cast and wrought iron mains by 132 miles from 2004 to 2012 – less than 20 miles a year, data shows.
The company spent an average of $33 million a year on its leak-prone cast iron replacement program from 2010 through last year, records show. The company spent additional money for other main replacement work.
Some context: Company chairman and chief executive officer, Kevin Burke, who retired last year, made about $15 million in 2012. The company paid about $700 million in dividends to shareholders last year – the 40th straight year dividends increased.
A company spokesman said Con Ed operates a gas, steam and electric system – spending about $2 billion a year on infrastructure. He added that dividends attract investors, which can keep borrowing costs low and help with capital projects.
Con Ed has ramped up its replacement efforts and now plans to replace at least 30 miles of cast or wrought iron mains a year. The company plans to spend $110 million a year to replace leak-prone mains including cast iron.
Even at that rate it could take 40 years to replace all of the old cast iron pipes.
It's hard to move faster given the cost and realities of working in New York City, according to the company. New mains need to maneuver a subterranean tangle of electric conduits, sewer and water pipes, old trolley track and subways. On a recent morning, workers on a main installation project in the Chelsea neighborhood said they were able to install about a block worth of main every two weeks.