The Soundcheck Blog
'I Felt Like I Was Getting My Life Back': After Brain Surgery, Leah Shapiro Reflects On Her Recovery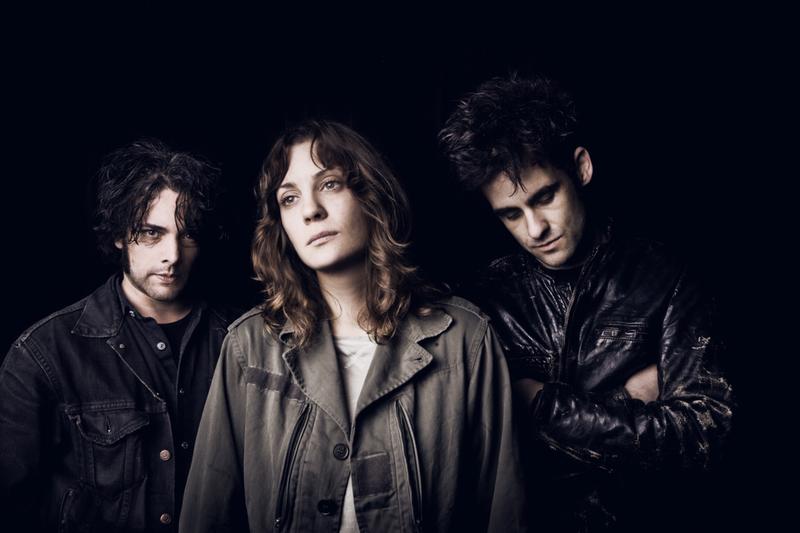 For a long time, Leah Shapiro's biggest challenge was the onslaught of touring on the road. "One summer tour my hands literally fell apart," says the Denmark-raised drummer. As the rhythmic backbone of the loud veteran rock trio Black Rebel Motorcycle Club, shows were physically taxing, and tours seemingly never-ending. Shapiro says was able to look past those blisters and and bloodied hands because of the adrenaline rush that music brought her.
But last October, Shapiro started a battle that was much more serious than a rigorous schedule when she announced she had been diagnosed with a brain condition called Chiari malformations, which causes problems with balance, muscle strength, and other life-altering symptoms. As a result, she was forced to step away from the band and her beloved Sonor drum kit while she prepared for surgery and months of recovery.
Luckily, with the support of her fans and bandmates -- Robert Levon Been and Peter Hayes -- the BRMC community responded by raising over $33,000 for her brain surgery in November 2014. They sold "I Want To Beleah" t-shirts to help cover Shapiro's rising medical costs. And they flooded BRMC's Facebook page with messages of support, and closely followed Shapiro's post-surgery updates.
Now, after an extended hiatus, rest and rehabilitation, Shapiro is a survivor, and is preparing for Black Rebel Motorcycle Club's upcoming summer tour. She is also is rediscovering her passion for playing music again and realizing how much playing in a band matters to her. In a conversation with Soundcheck, Leah Shapiro looks back on her experiences -- from the initial diagnosis, surgery and recovery, to her physical regimen for staying healthy and getting back on the drums, to her gratitude towards her bandmates and her fans' endless support.
---
Imade Nibokun: When you discovered you had Chiari Malformations, what went through your mind?
Leah Shapiro: I didn't even know about this condition, so it was, of course, quite a shock when I got the results and I found out what this really meant. I have been injured before, but this was a much bigger deal. So the fear of losing what I love to do, more than anything, became very real. At that point, my life became all about doing research: learning everything I could about the treatment options and differences in how the surgery was done; what kind of tests I needed to see how far my condition had progressed; how the recovery process would be post-surgery; what kind of a team I would need to have in place for recovery [and] rehabilitation; risks and benefits of doing the surgery and whether to do it now or wait; what questions to ask potential surgeons; and most importantly, finding the best surgeon for the job. These are all very important things to consider and extremely difficult choices to make -- since a misjudgment could potentially have a very great impact on your life.
In addition to the struggle of the diagnosis, surgery, and recovery process, it also occurred to me that some of the issues I had experienced during the Specter at The Feast tour now made sense in a whole new way. I remember some unusual problems during this touring cycle related to both my coordination and balance, but also the way I reacted to the lighting during the shows. It felt as if though something wasn't quite right, it felt like a loss of control, balance and a confused mental reaction to the lighting.
To put it in perspective, it sometimes felt like I was riding a crazy roller-coaster that would spin up, down, around, and flip upside down. I figured what was really going on was a bad case of me over-thinking things; I thought I was being a bit obsessive about perfection. But now, of course, it all makes more sense and I believe it was due to my Chiari. That's why I felt it was necessary to act immediately, to not risk the symptoms intensifying or potential irreversible nerve damage. My Chiari was discovered at a time where the condition had progressed to a point where surgery was absolutely needed, but still early enough that the issues I experienced were likely to subside after surgery.
IN: What did you learn about yourself after stepping away from playing drums with the band?
LS: A very different appreciation for my health, a different understanding and awareness of how quickly that can all change. A different gratitude for having been able to turn a passion into something I can do for a living and being so lucky to get to share it with two people who I respect and love as musicians and friends. Many musicians [and] bands say this, but I think in our case, it is true and it carries a different meaning: The BRMC community who shares the music and live shows with the band, [is] an amazing gang to say the very least.
Even before I played drums in this band, I thought the interaction, energy, and kindness between the band and people who are fans of the band was very unique and really not something I had seen in that way before. Experiencing the support I received during all this chaos in my life was very touching, and I never would have thought that I would get the level of support that I did. Everyone really went above and beyond, it's something that will always stay with me.
IN: What role did your band members and fans play in your recovery?
LS: I feel very blessed because of all the people in my support system -- friends and family, the extended BRMC family, and the music community -- have been beyond amazing during the entire process. Through the band, I was actually able to talk to quite a few people who had this condition and had gone through surgery and everything else that comes along with this condition. Hearing firsthand from my fellow Chiari warriors what their story and experience was, talking about what to expect, and getting incredibly valuable advice on all things related to Chiari really saved me.
I was so stressed about the whole thing and I felt really lost at times. Getting information, encouragement and the perspective of people who were [or] are in the same boat as me really helped. Without this, I have a really hard time imagining how on earth I would have gotten through -- I certainly wouldn't of felt as confident that I was making the right choices, both leading up to the surgery and post-surgery recovery.
Rob [Levon Been], Peter [Hayes] and our whole team have been so incredible during the entire process. I have no clue what I would have done without their friendship and support. They have all been so supportive and with me every step of the way. I feel really lucky to be in a band where we look after each other like that. Not wanting to let my band and our community down was such a huge help in getting me through the low moments. That is something that I really want to make known and a very huge thank you for this help on top of all the other help I received is definitely in order.
IN: How did it make you feel when you realized your medical expenses were being paid for by the BRMC community? 
LS: That was a pretty emotional experience for me. I couldn't quite believe it. The way our fans and the music community helped me was just so generous, beautiful, and inspiring. It was, and still is, very humbling, and I hope to be able to pass on the care and generosity that was given to me. It's incredible -- for me, sometimes hard to believe it's real -- that people cared and acted with so much compassion. It's a very inspiring way to be as a person.
Honestly, I still get somewhat speechless when it comes to this part of my Chiari journey. And it's really hard for me to truly articulate what my reaction was and how I felt, because I feel like no matter how I try to explain it, my words just fall short. I can't seem to really find the words that really capture or express my gratitude and how much this meant to me.
IN: Can you describe your training process to begin playing again?  
LS: When I first began getting back on the drums, I was doing [physical therapy] three times a week and osteopathy once a week -- plus going to the rehearsal studio roughly six days out of the week. So it was a pretty big handful, and I would be lying if I said there weren't some days when I felt frustrated and defeated.
My surgeon actually happened to be a fan of the band, so he knew all the songs. Because of that, he was able to put together a great program, complete with song recommendations and everything. It was a little bit of a struggle mentally to remove myself from how I know myself to normally be able to play and accept that it was going to be a long process to get back to playing the way I know I can. That has to do with of course physical stamina, muscle memory -- and actually remembering songs and all the little details in the drum parts.
Getting used to the volume of the drums took some time -- and the same thing happened again when we started full band practice, which of course can be quite loud even though I use in-ear monitors to protect my ears. I definitely messed up a few times by overdoing things during practice, but that comes with a pretty unpleasant price, so I am getting better at not getting impatient and not forgetting that I am recovering from a major surgery. There are times when I feel strong and feel like everything is normal and that's when my mind tricks me into believing that nothing ever really happened. Both Rob and Pete are really great at reminding me to take breaks when we rehearse and to do my stretches and all the things that are now a part of my "staying healthy" regimen. Thankfully I have a great [physical therapist] and osteopath who I still work with and they have been incredibly helpful in keeping me on track, and also talking me through any physical or mental problems that sometimes come up.
Normally if I have to get in shape for a tour, I have a drum boot camp program that gets me fit and ready, but that of course doesn't work for this particular situation. Now, I also have a whole new set of things that I need to be aware of and remember to do on tour both before and after shows to make sure I don't create any physical problems or re-injure myself. So there are obviously many new things that are now a part of touring and playing drums, but I think I have learned a lot and taking care of my body and staying healthy is never a bad thing. And who knows, maybe one day I can be of help to other drummer friends because I had to learn all these new "drummer maintenance" tricks.
IN: Was there a moment when you rehearsed with the band and thought, "I'm officially back." What did that feel like?
LS: When we first began full band rehearsals I was actually pleasantly surprised at how well it went. I wouldn't say that I am 100 percent back to where I know I can and should be, but it definitely feels like I am in the process of getting there. I finally felt like I was getting my life back; it was such an incredible feeling and it was a huge rush of being happy and feeling all this energy re-appear that hadn't been there for a while.
For a pretty long time my life mainly revolved around recovery and rehabilitation, doctor checkups. It was pretty intense and because it also lasted for quite a few months, it really required a lot of focus to stay connected to the reason why I was doing it. As soon as we played our songs together as a band and jammed out a bit I started feeling so much better. Some of the exhaustion I had struggled with went away and I started feeling a lot happier. 
IN: How have you changed as a drummer? And what does BRMC's music mean to you now?
LS: My appreciation for being able to play drums -- and more importantly, play drums in this band -- has changed. Being aware of how important it is for me to stay healthy and fit has also changed. There is no guarantee that I will be physically able to do this forever, but whatever I can do to make sure I can stay behind my drums for as long as possible I will do.
When I was a bit younger, and without any injuries, I definitely thought I would be strong and fit forever and of course I would never have any physical problems that would get in the way of what I wanted to do. I used to never bother warming up, stretching, or anything like that. Obviously, this has completely changed for me -- and I'm still pretty young-ish. I am happy to do all the extra work to make sure no injuries or issues flare up because I want to be able to enjoy when we play, and playing with a lot of pain or playing while it feels as though the body doesn't really feel up for doing what it's supposed to isn't that fun. I want to be able to do this for a long time and I want to have fun doing it.
Drums [have] always been a way for me to get out of my own head and to silence all the noise in there -- I guess it's my meditation in a way. Thinking I could maybe lose this really scared me. I am very lucky to both be able to play and have that outlet, and to be in this band and play with the two guys I work with. 
IN: What are your hopes for this upcoming tour?

LS: I really just want to play the best I can, enjoy it as much as possible, and try my best to give anyone who comes to one of our shows a good experience. I'm pretty excited to be going back out again and even though there are a few things that of course make me a little nervous the excitement to get back out beats the nerves and any fears I might have. We all really like the experience of playing live shows and the ability to share our music. The hope is that the music and/or shows can also be something meaningful and positive for people to experience.
Black Rebel Motorcycle Club is set to tour Europe this summer. Check out full schedule here. The band's three-disc set, Live In Paris, collects music and video from its performance at Theatre Trianon, and a documentary film, 33.3%.