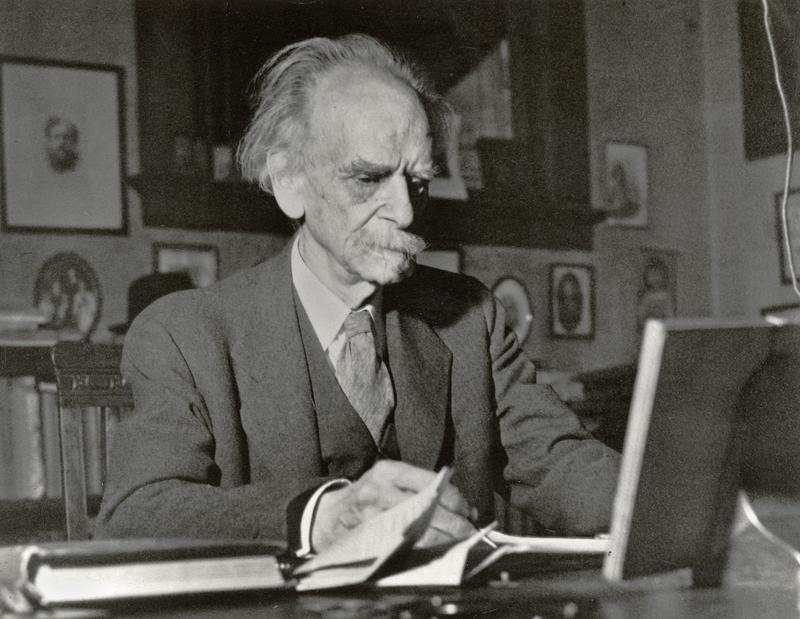 "American scientists and educators are fully aware of the dangers involved in the mounting spirit of oppression, which dominates life in many foreign countries. We do not flatter ourselves that this spirit is absent in our own country. And we feel that we can no longer shut our eyes to what is going on."
Franz Boas, "On Democracy and Freedom of Thought"
WEAF, WHN & WNYC February 11, 1939
With Fascist storm clouds gathering over Europe and isolationist fervor on the home front, distinguished anthropologist Franz Boas headed up an organization whose goal was to confront these challenges and their negative influences on American democracy. Part of this effort was a broadcast series over WNYC called Give Me Liberty, from which he spoke on May 3, 1939.
The three part series focused on the importance of intellectual freedom, of educating the nation's school children about the dangers of racism and fascism, and of vigilance in guarding American democracy from internal political threats. On August 7, 1939, the Committee and WNYC rebroadcast, Democracy and Education.
Franz Boas (1858-1942), a central figure in the development of anthropology in the United States, was a life-long advocate for individual freedom and social equity. Born in Minden, Westphalia into a middle-class Jewish family, Boas took up residence in New York City in 1887, became a U.S. citizen in 1892, and taught anthropology at Columbia University from 1896 to 1936.  In the 1930s, as the world descended into the doom of Fascism, particularly in the dreaded garb of Nazism, Franz Boas used his scientific knowledge to give voice to reason and to combat hatred and ignorance. As he expressed it, "I cannot keep out of the fight between individualism and the attempt to subjugate all reason to an emotionally fomented group consciousness." [1]
By late 1936 and into 1937, Boas and other faculty organized to address the increasing international threats of fascism and assaults on intellectual freedom. First they formed the Columbia University Faculty Committee for Aid to the Spanish People and then the University Federation for Democracy and Intellectual Freedom. In an address to the Columbia faculty on "Freedom of Science" (1938), Boas asserted, "Our first fundamental question is how can the scientist safeguard the freedom of his researches and insure that the fruits of his work will be applied in a socially useful manner." [2] Boas joined with colleagues from universities, medical schools and hospitals to launch the Manifesto on Freedom of Science, a campaign to garner signatures from scientists across the country.[3] Boas wrote,
 "Our manifesto declares that we scientists have the moral obligation to educate the American people against all false and unscientific doctrines, such as the racial nonsense of the Nazis. The agents of fascism are becoming more and more active, and we must join with all men of goodwill in defending democracy today if we are to avoid the fate of our colleagues in Germany, Austria and Italy." [4]
Successful in gathering over 1500 signatures from scientists across the country, Boas and City College classicist Moses I. Finkelstein, along with others, moved to form a national organization. On February 12, 1939, Boas gave the address on "Democracy and Intellectual Freedom" at the Waldorf Astoria Hotel, to announce the Lincoln's Birthday Committee for Democracy and Intellectual Freedom. Scheduled to coincide with Abraham Lincoln's birthday on February 12, even the footer for this committee's stationary reflected the significance: "' ...THAT ALL MEN EVERYWHERE COULD BE FREE' --Lincoln." [5] As the "master meeting," with twenty-six similar gatherings held throughout the country on the same day, the event was broadcast live over the NBC network with portions over WHN, WNYC and WQXR. [6]
 The American Committee for Democracy and Intellectual Freedom was founded "to protect and extend intellectual freedom, to strengthen our precious heritage of American democracy, to combat propaganda for racial and religious discrimination and intolerance, to help make our schools fortresses of democracy."[7] Boas worked closely with Moses Finkelstein; Ned H. Dearborn, dean of the division of general education at NYU; Harold Urey, professor of physical chemistry at Columbia; Leslie C. Dunn, professor of genetics at Columbia; and Robert Lynd, professor of sociology at Columbia. Noting his regret that other "men of rip maturity and status" were reluctant to take a stand, Lynd expressed his gratitude to Boas: "It is profoundly heartening to a younger man like me to feel your leadership in the perplexing problems we are all of us facing." [8]
With an enduring belief in the dignity and equality of individuals and of their rights to freedom of thought, Franz Boas remained, as Bernard Stern noted, "Throughout his life. . . an obdurate and valiant fighter for human liberty."[9]
Letter to Professor Franz Boas from Moses I. Finkelstein. (Courtesy of the American Philosophical Society, Franz Boas Papers).
_____________________________________________________
[1] American Philosopical Society (APS), Elsie Clews Parsons Papers, Boas to Parsons, 11 Sept. 1936.
[2] APS, Boas Papers (BP), 30 Jan. 1938.
[3] For members of the committee, see Peter J. Kuznick, Beyond the Laboratory: Scientists as Political Activists in 1930s America (Chicago: The University of Chicago Press, 1987), p. 186.
[4] Kuznick, p. 186, quoting APS, BP, Boas to Cattell, 8 Dec. 1938.
[5] APS, Finkelstein to FB, 3 Feb. 1939.
[6] I thank Andy Lanset for calling my attention to the following article: "Nation Will Offer Homage to Lincoln," New York Times, 11 Feb. 1939.
[7] APS, BP, American Committee for Democracy and Intellectual Freedom [1939].
[8] Kuznick, p. 189; BP, Lynd to FB, 12 Dec. 1937.
[9] Bernard J. Stern, "Franz Boas as Scientist and Citizen," Science & Society 7(4[1943]), p.318.