In 'The Layover,' a Canceled Flight Leads to an Affair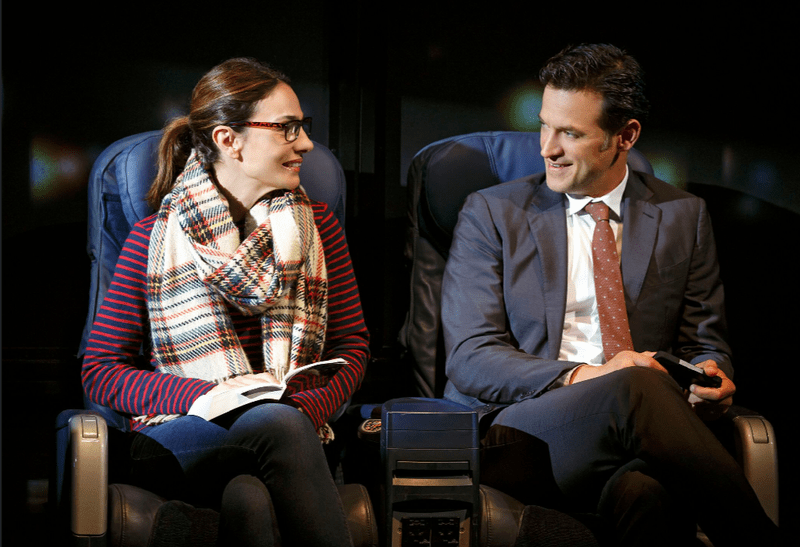 If you have a wife, or a fiancé, or a boyfriend, there's a point in any casual conversation with an attractive stranger that you should mention it.
If you don't — then you've crossed a line. Maybe you're hoping the conversation will lead to something. And maybe it will.
That's how Leslye Headland's new play at Second Stage starts, with that kind of line-crossing. In "The Layover,"  Shellie (Annie Parisse) and Dex (Adam Rothenberg) are seatmates on a Thanksgiving flight that's supposed to end up in New York. But it's cancelled, and after some runway flirting where both of them fail to immediately mention significant others, they meet up again at the airport hotel — and then in Dex's hotel bed.
Did he want something to start? Did she? Was it a temporary escape from the small cruelties of their everyday lives, or the beginning of something more serious? What lies are OK to tell to strangers?
These are all interesting questions, made crisply exciting by Trip Cullman's sleek direction and Jeff Sugg's projections of noir film clips. But while Headland touches on them briefly, she doesn't look at the "whys" in depth. Instead, "The Layover" is part dark comedy, part murky thriller. We know something bad is going to happen because of some heavy foreshadowing (Shellie is reading a crime novel; they discuss the murders in the Hitchcock classic "Strangers on a Train" in depth; amputation is mentioned). But when that something bad does happen, it's neither unexpected nor revelatory. The violence is simply not earned.