Lawyers Warn More City Immigrants Will Need Their Help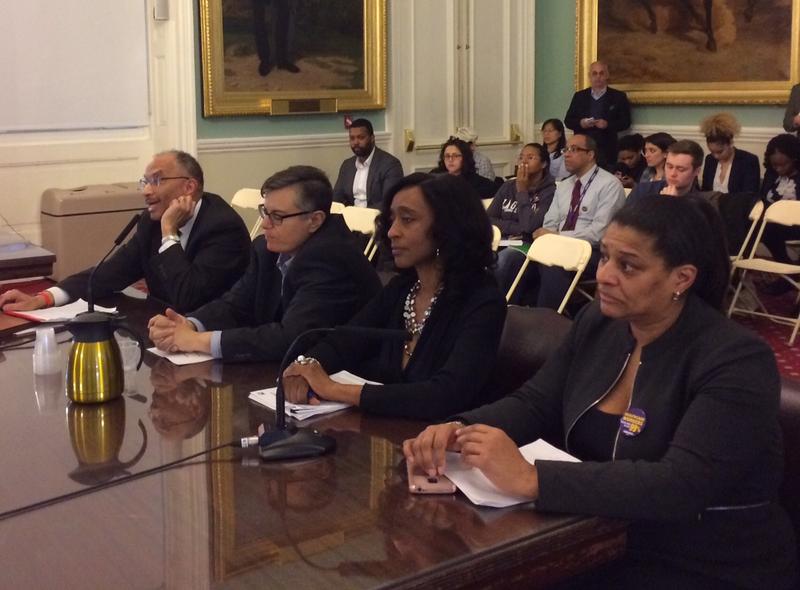 The Legal Aid Society warned that New York City's unique program for helping detained immigrants going through deportation hearings will need $12 million in the next fiscal year, nearly twice as much as its current budget.
Adriene Holder, the attorney in charge of the Legal Aid Society's civil practice, said the program was already taking more cases than expected toward the end of President Barack Obama's administration.
"So we know with the commitment of stepped-up enforcement from this new presidential administration that it can conceivably be much worse," she explained.
Holder testified on Tuesday before the City Council's courts committee. Her organization is one of three legal service providers that have partnered together through the New York Immigrant Family Unity Project to serve immigrants held in three detention centers in New York and New Jersey.
Immigration courts, nationally, have been backlogged for years because of a growing caseload and a lack of judges. Judges and immigration lawyers worry President Donald Trump's first executive order on immigration, signed in January, will further strain the legal system because it authorizes immigration agents to detain people accused of crimes in addition to those with convictions.
Brooklyn City Councilman Carlos Menchaca appeared sympathetic to the need for additional funding for legal services for immigrants at Tuesday's hearing. He thanked the Legal Aid Society and other groups for organizing an information hotline within 12 hours of Pres. Trump's travel ban. The New York Immigrant Family Unity Project is funded entirely by the Council.
The Legal Aid Society also warned that the city will need to double the money its budgeting for criminal trial services, to $316 million next year. Tina Luongo, the attorney in charge of the criminal practice, said her staff members are already stretched to the limit, and would be taking on homicide cases under a restructuring by City Hall.
But Sarah Solon, Deputy Director of the Mayor's Office of Criminal Justice, said the city has increased spending on indigent defense by $57 million over the last five years and is currently in the process of negotiating new contracts for all providers to "ensure that funding matches need and that we are able to continue providing high-quality representation and vital wrap-around services."
Earlier Tuesday, Department of Social Services Commissioner Steven Banks told council members that efforts to provide more lawyers to low-income tenants facing eviction are paying off. In 2016, he said 27 percent of tenants facing eviction in housing court had counsel, adding, "that's up from just 1 percent in 2013."
He also said evictions by marshals have dropped by 24 percent in the same time, and that only 11 percent of families seeking shelter had gone through court evictions, compared to more 20 percent three years ago.
The city is planning to spend an additional $93 million over the next five years to give more tenants in housing court access to lawyers. But Holder, of Legal Aid, said providers would like to see more partnering with the city to make sure it's up to the challenge.