A Lawyer Corps for City Immigrants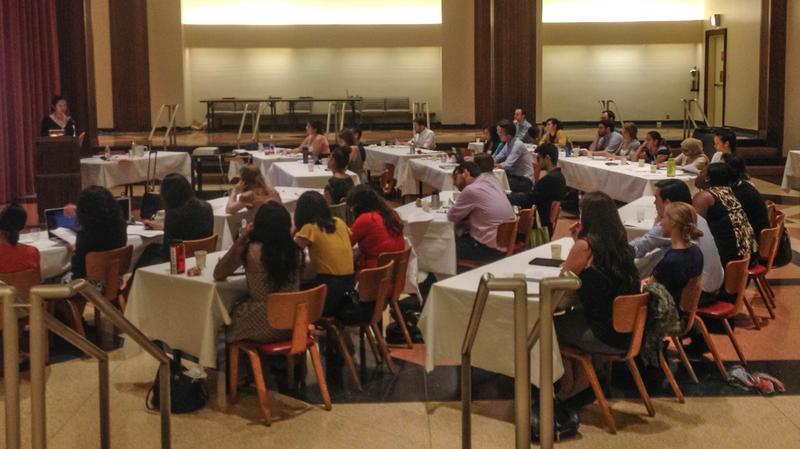 In the basement of Temple Emanu-El on the Upper East Side, the inaugural class of the Immigrant Justice Corps was getting trained in the nuts and bolts of immigration law on a recent day.
Borrowing from the handbook of the Peace Corps and Teach for America, IJC has an ambitious goal: reshaping immigrants' access to justice. 
These 25 law school graduates and 10 college graduates were selected from a pool of 500 applicants from across the country. Trained by some of the city's top immigration attorneys, they'll fan out across the city in October to work at non-profit organizations.
IJC is the brainchild of Robert Katzmann, chief judge of the U.S. Court of Appeals for the Second Circuit, which covers New York, Connecticut and Vermont. He convened a group of legal experts to come up with ideas to address the problem back in 2008. Six years later, Katzmann said he expected the young lawyers to make a big difference.
"They will save lives; families that would have been torn apart will be able to stay together," he said. "Non-citizens who have lived life in the shadow will be able to come out of the shadow."
The task is huge. There are 55,000 cases pending in immigration court in New York City, but only 200 attorneys provide regular pro bono services, according to Rachel Tiven, the executive director of the Immigrant Justice Corps.
"You have no right to a lawyer in immigration court if you can't afford one," she said. "That means that every year thousands of New Yorkers are detained and deported without a lawyer."
Tiven said the new Corps will dramatically reshape the field, adding 100 lawyers and paralegals over the next three years. The program will cost $4 million this year and is funded by foundations and private donors.
Some IJC fellows born outside the U.S., like Gloria Chacon, said they want to help their clients avoid the situations they found themselves in. She came to the U.S. from Honduras at 15 and says she spent three years here illegally because of her attorney's lack of expertise.
"I want to be a good attorney, who really is able to help guide my clients through a very difficult and intimidating process," she said.          
Chacon, 26, became a citizen last year.