SchoolBook
Teacher Tenure Fight Comes to New York City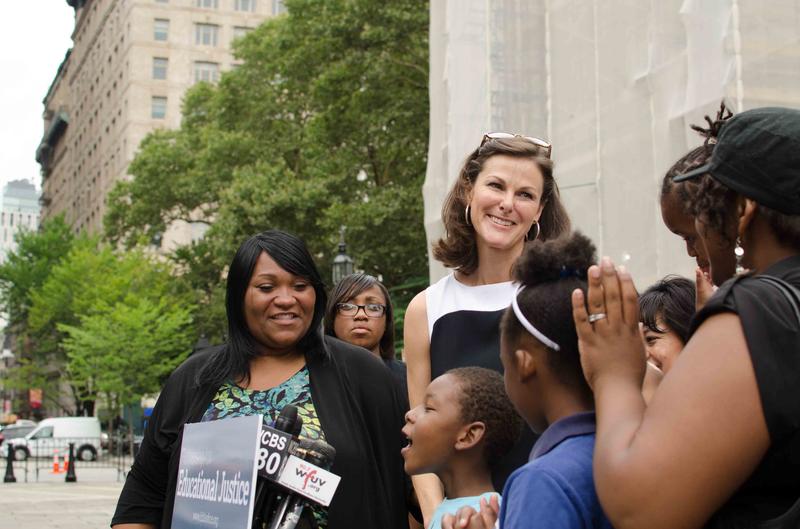 Seven parents filed a lawsuit with New York State Supreme Court on Monday seeking to overturn teacher tenure laws that they said prevent their children from receiving a "sound basic education" that is guaranteed by New York State's constitution.
"Having bad teachers who can't be removed, having a rating system which makes a mockery of a legitimate rating system for teachers, these are all systematic deprivations of the right to a sound education," said attorney Jay Lefkowitz. His firm, Kirkland and Ellis, is working pro bono for a new group called the Partnership for Educational Justice founded by former TV anchor Campbell Brown. They note that more than 90 percent of the state's teachers were rated effective or highly effective in 2012 but only 31 percent of state students were proficient on their math and reading tests in 2013.
The suit follows on the heels of the controversial Vergara ruling in California against tenure protections in June. Of the seven plaintiffs named in the suit, five are from New York City and two from Rochester.
Bronx resident Angeles Barragan said her daughter fell behind due to an incompetent teacher who didn't assign homework and didn't help her child learn to read. Now Natalie is repeating second grade at Kings College School P.S. 94.
"What I'm looking for is changes. I'm not looking for them to get rid of anybody," Barragan said in Spanish. "I'm looking for changes so that teachers in classrooms really want to teach children."
Another plaintiff, Nina Doster of Queens, said her soon to be second-grader isn't reading on grade level at P.S. 140 because of his classroom teacher. "She didn't put the effort into it," said Doster, who is also an organizer for the group StudentsFirst, which helped gather several dozen supporters to announce the lawsuit outside City Hall.
"I am so inspired by what these people are doing," Brown said, tearing up during her brief appearance at the press conference. "This is not going to be easy and they are so incredibly brave to be taking this on."
The suit claims the awarding of tenure, plus complicated disciplinary proceedings and seniority protections for teachers all violate the state constitution's guarantee of a sound basic education. But while it's modeled after a similar suit in California, there are big differences between the laws in the two states. In California, tenure kicks in after only 18 months. In New York, it takes three years — and in New York City, almost half of all eligible teachers have had their tenure deferred for an extra year since former Mayor Michael Bloomberg cracked down on the process. New York also started a new teacher evaluation system.
These are a few of the reasons why skeptics believe the suit is likely to fail. Michael Rebell, who runs the Campaign for Educational Equity at Teachers College at Columbia University, is familiar with the state's "sound basic education" provision. In 2003, he persuaded the state's highest court that New York's funding formula was unconstitutional because it left city schools with outdated textbooks and crumbling facilities
"That the courts are willing to take a stand on," he said, adding a challenge over tenure is something courts are more likely to leave with the legislature.
Critics see the latest suit as part of a growing assault on tenure by groups opposed to unions. They also say tenure is not a job for life but a guarantee of due process.
"Tenure protects all teachers from nepotism, favoritism, discrimination, patronage and other forms of arbitrary dismissal," said Karen Magee, the president of New York State United Teachers.
The city's teacher union questioned the motivation of Brown and her supporters who include critics of unions such as StudentsFirst and the hedge fund billionaire David Welch. The firm Kirkland and Ellis also worked on California's "parent trigger" law that helps convert failing schools into charters.
"Campbell Brown may be tearing up, but her secret hedge-fund supporters will be crying all the way to the bank if she succeeds in her mission to undercut public education and privatize our schools," said Michael Mulgrew, president of the United Federation of Teachers. "Parents know that attacking teachers is not the answer to the problems of New York's public schools."