SchoolBook
Lawmakers Tackle Specialized High Schools Admissions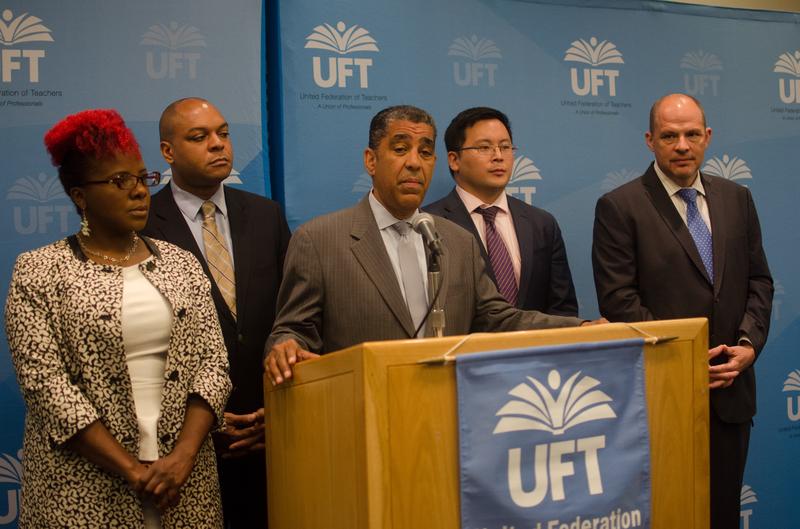 State lawmakers introduced a bill to the assembly on Monday that would change the way students are admitted to New York City's eight specialized high schools, which include Stuyvesant and Brooklyn Tech. Instead of just using the specialized high school admissions test, the legislation would require these highly competitive schools to also consider a combination of grade point average, school attendance and state test scores.
"You cannot use one measure to identify students of merit," said Brooklyn Assembly member Karim Camara, who is backing the legislation. "Harvard realizes that, Yale realizes that, other top high schools in our country realize that. It's time we do that here in New York State."
Students often spend years cramming for the high-stakes Specialized High School Admissions Test. Many lawmakers, including Mayor Bill de Blasio, have questioned the disproportionately low numbers of black and Latino students getting seats. The test is also the subject of a complaint to the U.S. Department of Education by the NAACP Legal Defense and Education Fund.
Nearly 70 percent of the city's public school students are black or Latino. Yet, of the 14,900 students enrolled in specialized high schools this year, Department of Education data show just nine percent, combined, are black and Latino. Asians make up almost 54 percent, and whites account for almost 30 percent.
"How are we going to overcome the achievement gap if we're sending a message to all the children in the city of color, these schools really aren't for you," said Michael Mulgrew, president of United Federation of Teachers.
Schools Chancellor Carmen Fariña signaled she was on board, too.
"As the chancellor has said before, a student is more than the result of one exam," said her press secretary, Devora Kaye. "This legislation represents a real opportunity to attract excellence and achieve a more diverse student body in our city's specialized high schools."
But the powerful State Assembly Speaker, Sheldon Silver, has not yet said where he stands. A spokesman only said the matter is under discussion. And while many agree that the under-representation of black and Latino students at specialized high schools is alarming, critics argued that modifying admissions criteria may not be the answer.
Larry Cary, the president of the Brooklyn Tech Alumni Foundation, worried about the open-ended nature of the legislation because it doesn't say how much weight should be given to the Specialized High School Admissions Test, compared to grade point average and other factors. As a result, he said it might end up chipping away at "the finest education you can get in New York City."
His group issued a position paper.
Stanley Ng, whose three children all attended or currently attend a specialized high school, also worried about changing the criteria. "Kids currently getting in may not be able to going forward, if the changes come about," he said.
Ng is a member of the city's Community Education Council for High School parents, and he noted that 36 percent of specialized high school students come from Queens, which has a shortage of ninth grade seats in its high schools.