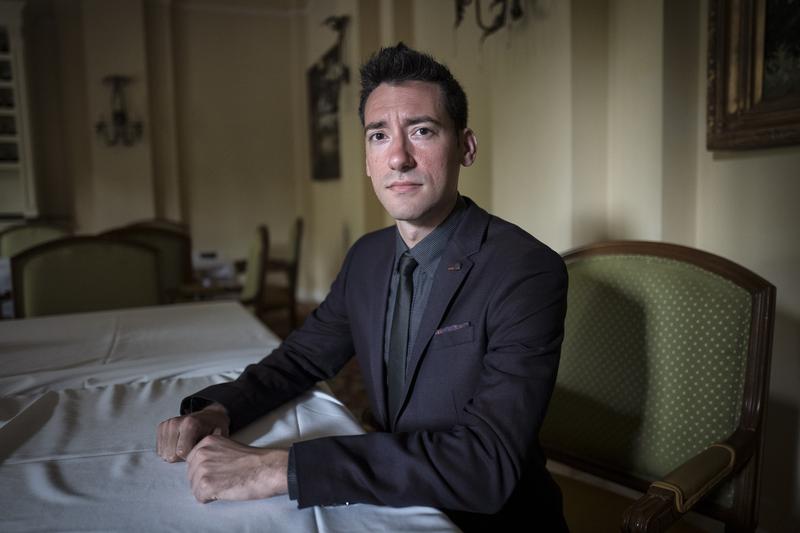 Summary
This week, a Houston grand jury charged with investigating misconduct by Planned Parenthood instead indicted the two anti-abortion activists from the Center for Medical Progress -- David Daleiden and Sandra Merritt. Using fake identification, the pair had covertly filmed officials discussing the procurement of fetal tissue. The Center's defense? Their recordings and videos were works of undercover journalism, and therefore protected speech. But can a journalist ever lie in pursuit of a story? Does a public's 'right to know' ever matter? Jane Kirtley, professor of Media Ethics and Law at the University of Minnesota, tells Brooke how the law has answered these questions in the past, whether we can expect any new precedents this time, and why this case is a media law professor's dream. 
Transcript
BOB: This is On the Media, I'm Bob Garfield.
BROOKE: And I'm Brooke Gladstone. This week, some news out of Texas that can really only be described one way:
[CLIP MONTAGE]
NEWSCASTER 1: A twist in the continuing story of an anti-abortion activist and his group, the center for medical progress in their undercover videos claiming to expose illegal activity by NEWSCASTER 2: Planned Parenthood. Planned Parenthood was cleared of any wrongdoing by that grand jury in Texas. But there's a twist!
NEWSCASTER 3: In a twist, the grand jury decided instead to indict two of the anti-abortion activists who were involved with making the videos.
BROOKE: The activists had claimed to be employees of biomedical firms and secretly filmed meetings with Planned Parenthood representatives in which they discussed fetal tissue transfers from abortions. David Daleiden, the director of the Center for Medical Progress, said the covert videos -- which he began posting in July -- showed that Planned Parenthood was trying to profit from the fetal tissue donations.
In August, the Texas Lieutenant Governor, Dan Patrick, an abortion opponent, asked a District Attorney in Harris County to look into one of the videos that had been filmed there. Instead they indicted Daleiden and another activist on a felony charge of tampering with a government record, a fake drivers license apparently, which could carry a sentence of two to 20 years. Plus: a misdemeanor charge of attempting to buy human tissue, filed against Daleiden.
Harris County DA Devon Anderson announced the indictments this week:
ANDERSON: I believe abortion is wrong, but my personal belief does not relieve me of my obligation to follow the law… Twelve Harris County citizens have spoken and I respect their decision even if it conflicts with my personal beliefs. [Anderson_comment]
BROOKE: All along Daleiden has claimed the videos should be protected as works of journalism:
DALEIDEN: CMP follows all applicable laws in the course of our investigative journalism work, and really it's just kind of a cheap political tactic for Planned Parenthood to try to describe any and all undercover journalism as unethical. I think that most people agreed that those kind of tactics are an important part of both journalism and law enforcement.
KIRTLEY: Trying to procure body parts I think is something would not typically be something that journalists would do (laugh)
BROOKE: Jane Kirtley is professor of Media Ethics and Law at the University of Minnesota. Daleiden claim, she says, taps into an unease about undercover work, and could have a real impact on media law:
KIRTLEY: There was a belief, and I would argue there still is a belief in the media community that the role of a journalist is to gather the news, not to create the news. And certainly not to entrap people to commit illegal acts,
BROOKE: Really people are of two minds; going back to the famous Food Lion case. Refresh our memories about the particulars.
KIRTLEY: Back in the 1990s ABC had gotten a tip that there were problems with food safety at Food Lion grocery stores, so they sent in a couple of producers who applied for jobs so that they would be able to observe meat wrapping and other food handling practices.
BROOKE: And it was gross.
CLIP
They take that pork that's already starting to get a slime to it, green tinge to it, and they take it and they put it in the grinder with sausage mixture as fresh, homemade sausage. And it's rotten.
KIRTLEY: They went in with hidden cameras, hidden microphones.They videotaped what they saw, they recorded some of the other employees and when they went to do the story Food Lion did not sue them for defamation but they did sue them for a whole variety of what we often call trash torts, such as trespassing, aiding and abetting, basically defrauding the employer. When journalists deceive to get a story, there are going to be consequences. If they're lucky I suppose the only consequence will be that their readers or viewers may find the deceptive reporting techniques so offensive that they discount the story. Otherwise, of course, they could actually have legal ramifications.
BROOKE: David Daleiden, who's the director of the Center for Medical Progress, said that he was using the same undercover techniques that investigative journalists have been using for decades. But being a journalist it's not a get out of jail free card, and he seems to think it is.
KIRTLEY: That's right. And there are journalists out there who are operating under the same illusion. The courts have said that laws that apply to everybody, apply to the press just the same except in very limited circumstances where you're able to show that the story you're doing is so important and could not be gotten any other way that it might justify allowing the journalist to get away with it. you can count those cases on the fingers of one hand.
BROOKE: Those circumstances have to do with the public interest, right?
KIRTLEY: Yes.
BROOKE: Give me an example or two from when the courts have decided that we'll give this journal is a pass on breaking the law because he has done so much in the public interest.
KIRTLEY: Well one example from about 12 years ago I guess, involves a case called Bart Nicky versus Vopper that went to the US Supreme Court. In this case, a telephone conversation between two teacher's union's activists had been surreptitiously intercepted. This tape found its way to a radio talk show host. he had not done anything to elicit the tape himself. People who were on the telephone conversation brought a civil lawsuit against him claiming violation of the federal wiretap law, which prohibits not only interception but dissemination of intercepted telephone conversations. The activists had been making threats, is what it was. it sounded they were making threats although they claimed it was all hyperbole. But because they were on the face of it making threats, the supreme court said that because the journalist did nothing to record the conversation himself, and because this was a matter of public interest and concern. This was not something for which the journalist could be held liable. But there are many other examples where that hasn't been the case.
BROOKE: This Harris County grand jury in Texas found no wrongdoing on the part of Planned parenthood, actually I think it's been 11 states that have looked into planned parenthood and found no wrongdoing so far.
KIRTLEY: Right. So the argument that I'm exposing criminal conduct doesn't take you very far if every state that has looked at it so far has concluded that there was no criminal conduct.
BROOKE: What if it was determined that Planned Parenthood had broken the law? Do you think that the the Center for Medical Progress would still be indicted?
KIRTLEY: I don't know the answer to that question, and I think it's an important one because looking ahead it's fair to ask ourselves whether the courts are going to be making these determinations based on what's ultimately a pretty subjective evaluation of whether wrongdoing has occurred, whether public health and safety are involved and so forth. Do two wrongs make a right? Is surreptitious recording for example justified if what you're exposing his criminal misconduct. That's a perpetual kind of conundrum that courts have to try to balance.
BROOKE: Let's talk about prior restraint. A biotech firm called Stem Express, that's the broker which buys the human tissue samples and then resells them to researchers, that was also filmed by the Center for Medical Progress. It wanted to quash the Centers tape because they said it would cause irreparable harm. One California court agreed with Stem Express, that there should be prior restraint, and then another court overturned that. Your former organization, the Reporters Committee for Freedom of the Press sided with the Center for Medical Progress, saying that they were concerned about the potential chilling effect. What do you think?
KIRTLEY: I agree. The Supreme Court and other courts have said repeatedly if the damage that's going to result is damage that could be compensated with money, then it's not irreparable harm. Whatever harm is caused to you, can be compensated by bringing a lawsuit after the fact. On the other hand, if you restrain the distribution of this information that causes irreparable harm to the first amendment interests of the public who have a right to receive this information. therefore the irreparable harm is on the side of public knowledge, not in the private interests of a company.
BROOKE: But what about the argument that Planned Parenthood and the doctors who provide abortions are at risk because it increases the rage, and sends the crazies into the street?
KIRTLEY: What they're basically arguing I think is an incitement theory. And one of the things that the Supreme court has said many times about incitement is that this calls into only a very limited amount of speech, because people say incendiary things all the time. And if we were going to be allowed to gag them because somebody somewhere might decide to take a criminal action in response to it, we wouldn't have much discourse left.
BROOKE: Are you familiar with the action that Planned Parenthood is taking against the Center for Medical Progress? It seems to have wrapped up all of its complaints into a single lawsuit based on the RICO act - which is the federal racketeering and corrupt organization act?
KIRTLEY: That's exactly right, and also includes violation of the California state wiretap and surreptitious reporting laws. In California, there are very strict criminal laws against surreptitiously making video or audio recordings. Most states don't require all party consent, but California does. so if I had been asked by the Center for Medical Progress what state should i do my surreptitious recording in, I would never have said do it in california. I would say based on what we know now, California would offer planned parenthood a very favorable venue.
BROOKE: So you teach media ethics and law. And I just wonder, where would you file these cases? The RICO case, the prior restraint case, this grand jury indictment in Texas that was supposed to go after Planned Parenthood and went after for the Center for Medical Progress instead?
KIRTLEY: This really is a professor's dream for an essay question for an exam because it has everything. it has a highly charged political issue, it has a righteous group of advocates who are out to right a wrong and will use any means to do that, including deception and breaking other laws. You've got an organization that provides services but now there's a question about whether they're breaking the law in the process of doing that. Are they culpable? Or are they being smeared? And what does all of this have to do with the public right to know? What I worry about is that the courts will use this as an opportunity to basically denounce what I would call legitimate newsgathering practices because they're so offended by what occurred here.

BROOKE: So a fantastic essay question, but not multiple choice.
KIRTLEY: Not a chance.
BROOKE: Jane thank you very much.
KIRTLEY: Thank you, my pleasure.

BROOKE: Jane Kirtley is professor of media ethics and law at the University of Minnesota.