At Latino Church, Faith as an Investment Strategy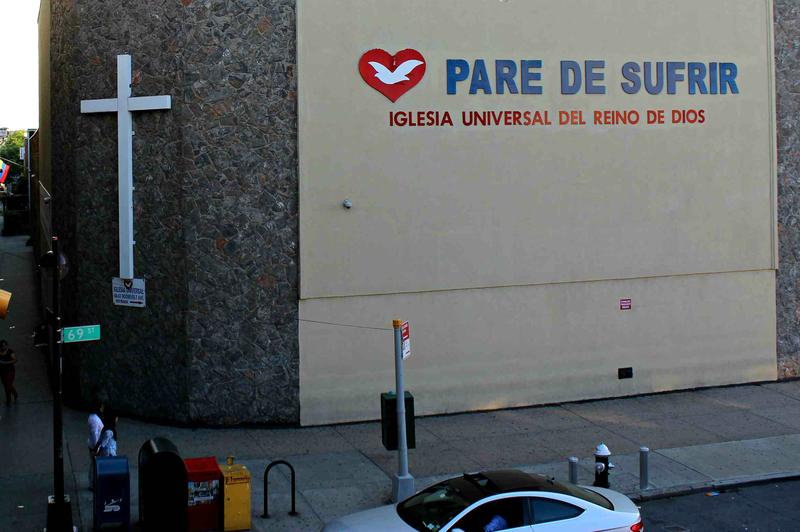 The Iglesia Universal del Reino de Dios in Woodside, Queens takes up almost an entire city block. Inside, a smartly dressed pastor addressed his congregation, speaking Spanish with a thick Portuguese accent.
"Tell yourself this: I'm going to make myself rich," he preached, his voice choked with emotion. "I won't be poor, I reject being poor. Is it a sin for me to say, God, I want to have a lot?!"
It's part sermon, part self-help seminar, but with one crucial difference: after the pastor's speech, churchgoers lined up with envelopes stuffed with cash they were donating to the church.
The Iglesia Universal teaches that a donation is an investment strategy: the more money you give to God, the more God will give you back. This idea is often called the "prosperity gospel." It may be particularly attractive to Latinos – especially newer immigrants, said Tony Tian-Ren Lin, a scholar at the Institute for Advanced Studies in Culture, who researches the topic.
"Instead of staying in the margins looking at the American Dream, the prosperity gospels gives them their own way forward," said Lin. "So the glass ceiling that they had, because of their undocumented status or whatever it is, God is going to break it for them."
The prosperity gospel is a central part of Iglesia Universal. Based in Brazil, the church is believed to be the largest Pentecostal congregation in the world, with over 6,000 churches spread all over the globe. In the United States, they minister mostly to Latinos. There are about a dozen branches in New York City alone.
The church has come under fire for the way it handles its parishioners' money. In Brazil, its leaders are currently being charged with diverting hundreds of millions of dollars of donations into private businesses for their personal gain. Here in the United States, the church's New York treasurer plead guilty in 2011 to accusations of falsifying documents in connection with $22 million in mortgage loans.
"Everything was about money," said Victor Velasquez, a former pastor from the Bronx who left the church after six years. He said the church operated as a business, pressuring poor immigrants who are desperate for miracles into making large, risky donations.
"Nobody in this church's life changes. It's a lie, a deception. People don't understand that to have success, you have to work hard. You have to invest," said Velasquez.
Iglesia Universal leadership did not respond to repeated requests for comment.
Churchgoers, however, insisted that the Iglesia Universal works for them. "I might have nothing, and after I give my offering, a week later, I have double that amount. I don't know how it happens," said parishioner Candida Vargas.
There are some documented cases in the United States of church members going broke from making outsize donations. In 2000, a woman in Brooklyn filed for bankruptcy after giving almost $80,000 to the church over three years. She donated almost three-quarters of her income in one year alone.
Tony Tian-Ren Lin said most prosperity gospel church-goers don't go to such extremes."They know they're not going to magically receive money, but they're in the pursuit of hope. They want the hope that their children will do better than they did. And in these churches, they are told they can have that hope," Lin said.
This story was first reported for NPR's Latino USA.