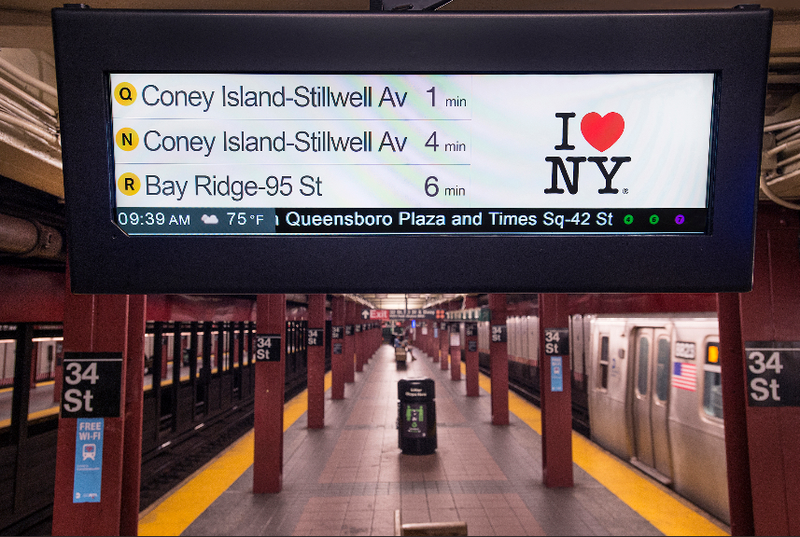 Numbered subway lines (known as the IRT to New Yorkers of a certain age) have had countdown clocks for years. But the lettered lines have lagged behind. That's because of how the subways were built. What most people think of as a unified system was actually built by three different entities. While the IRT (and the L) got a signal upgrade that makes real-time arrival information possible — which means countdown clocks — the lettered lines have yet to get that technology.
Someday they will get the tech they need, in the form of Communication-Based Train Control (CBTC), which is an even more modern signaling technology being installed systemwide. But that will take years. (Want to know why? Watch the video at the end of this story.) Because the MTA has long linked CBTC to countdown clocks, their arrival on the lettered lines has seemed perennially remote.
But now the MTA is testing a workaround.
Gov. Andrew Cuomo — who in his State of the State called for an "expedited rollout" of countdown clocks — announced Thursday that the agency is piloting them at eight stations on the N/Q/R line in Manhattan.
Here's how it works: the platforms will have bluetooth receivers that use station Wi-Fi to communicate with beacons on subway cars.
"As the train enters a station," said MTA spokesman Kevin Ortiz, "the system uses its arrival and departure time to estimate the time at which the train will reach the next stop in the line."
That (almost-but-not-quite-real-time-arrival) information will then be transmitted to LCD screens on platforms at 23rd St., 28th St., 34th St.-Herald Sq., Times Sq.-42nd St., 49th St., 57th St.-7th Ave., 5th Ave.-59th St. and Lexington Ave.-59th St. (The screens are an upgrade from the LED clocks currently in use on the numbered lines, by the way. Compare the above photo to the below.)
The MTA will test the countdown clocks for 90 days. If they work, the pilot will be expanded to more stations.
Here's one thing the pilot won't do, though: allow the MTA to run more trains. That will have to wait...for the installation of CBTC.