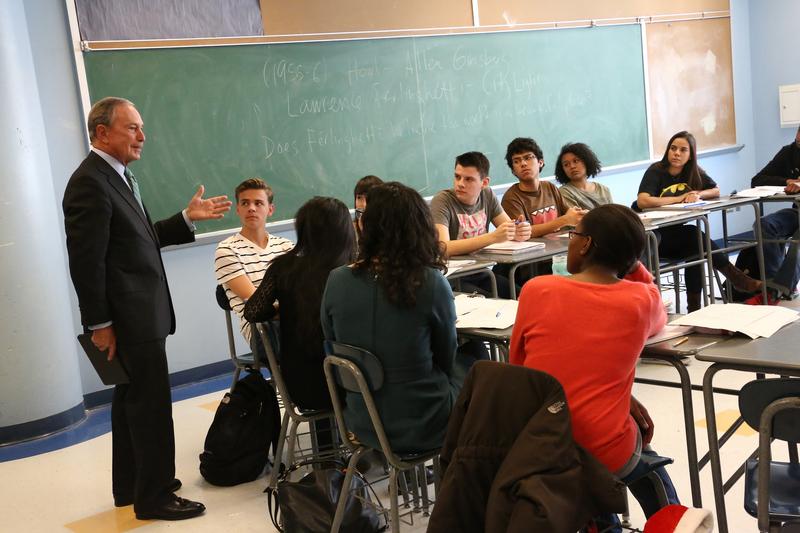 It was Queens day for Mayor Michael Bloomberg who has spent this week highlighting his administration's successes on a five-borough tour, and he used Friday's stop to tout  his education legacy. 
Schools Chancellor Dennis Walcott, on his own farewell tour of five schools in his home borough of Queens, met up with him at Bard High School Early College II in Long Island City.
"I couldn't think of a better way to spend the day," Walcott said. 
The mayor and chancellor highlighted Bard in Queens as a successful school that's much in demand. The school opened in 2008. Most students complete high school coursework within the first two years of school and then earn about 60 college credits over the second two years, leaving high school with the equivalent of an associate's degree.
"Not everyone is lucky enough to have the opportunities or recognize what's in front of them and seize those opportunities, and some day some of those are going to look back and say 'I should have, I would've and I wish I had," said Bloomberg to dozens of students who sat in on his press conference in the library. "But in your case, you are here. Enjoy it and use it."
Walcott called his last day visiting schools and students "bittersweet" because of how much he has loved his job. When asked if he would go through withdrawal without his typical multiple school visits per week, he said he would make a gradual transition.
"One of the things I'll be doing is seeing how I can always stay involved without stepping on the toes of the next chancellor," he said, like volunteering.
After his stop at Bard, the chancellor continued his Queens tour with a stop at his alma mater, Francis Lewis High School, followed by Queens Metropolitan High School and I.S. 192 The Linden, his former middle school. He started his day walking his grandsons to school at P.S. 36 Saint Albans School.