Last Chance Foods: Talking Ramen with Ivan Orkin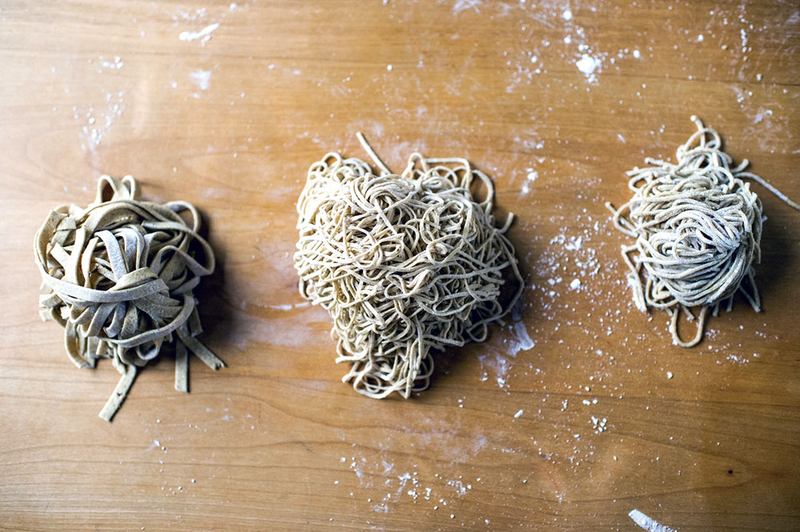 In the past few years, ramen shops seem to be popping up everywhere from Harlem to Flushing. Chef Ivan Orkin, who just opened Ivan Ramen Slurp Shop at Gotham West Market and published the memoir/cookbook Ivan Ramen, says that the reason ramen has gotten so popular is because it's the ultimate comfort food.
"It's all in one bowl — it all gets eaten together," he says. "There's a lot of different flavors. There's fat and salt. And I think it just hits all those different points we need to make us feel good. And it's simple."
Orkin opened his first ramen shop in 2007 in Tokyo, and went on to launch his own instant ramen brand. Not bad — for a Jew from Long Island.
Orkin says being an outsider in Japan had its advantages. "You have.. the obvious hook," he said. "You slide open my little aluminum doors and there's a white guy standing behind the counter, which certainly didn't hurt. I won't lie."
One of his specialties, noodles made with rye flour, had less to do with all the rye bread he ate growing up and more with the simple stuff that inspires him.
"The flour is very different in the United States than in Japan," Orkin explained. "It's milled a lot more finely there. And here, you know, I ended up using rye. I do use rye in Japan but not in every one of my noodles. In some of my noodles I use toasted corn, in some I use whole wheat."
(Photo: Ivan Orkin and Amy Eddings at WNYC/Ivan Orkin)
He only uses a small percentage of rye flour, though, because it doesn't bind well. "It's just enough to give a little bit of an aromatic punch," he said.
Orkin, a self-described geek who makes up noodle recipes in his head, confessed that he doesn't remember his own cooking instructions line for line. So when it came time to take photos for the cookbook, he had to go about it like any home cook.
"I opened up the book, and I read the recipe," Orkin said. "I didn't have any kansui on hand [so] I made it with Harold McGee's recipe. And the [noodle] recipe really, really works. I mean, it's dauntingly long and yet if you read it slowly and carefully, you can do each component one at a time." Some parts can be made ahead of time and refrigerated.
As for where to source the various Japanese ingredients, Orkin recommended heading out to the Japanese supermarket Mitsuwa in Edgewater, New Jersey. There's a food court there with ramen and rice bowls to make the trip particularly worthwhile. Mitsuwa also holds seasonal ramen events with guest chefs flown in from Japan.
Orkin may just be distracting the hungry masses by sending them to Mitsuwa for the moment. In addition to the 20-seat Slurp Shop, his storefront restaurant at 25 Clinton Street is set to open early next year, though he wouldn't specify a date.
"I've given up giving dates because I've been getting chastised," he said. "Apparently, one person Tweeted that I've redefined the word 'soon'... Touche, touche."
If you're not willing to wait, try your hand at reproducing Orkin's ramen noodles at home. Here's the recipe.