Last Chance Foods: Mastering Maitake Mushrooms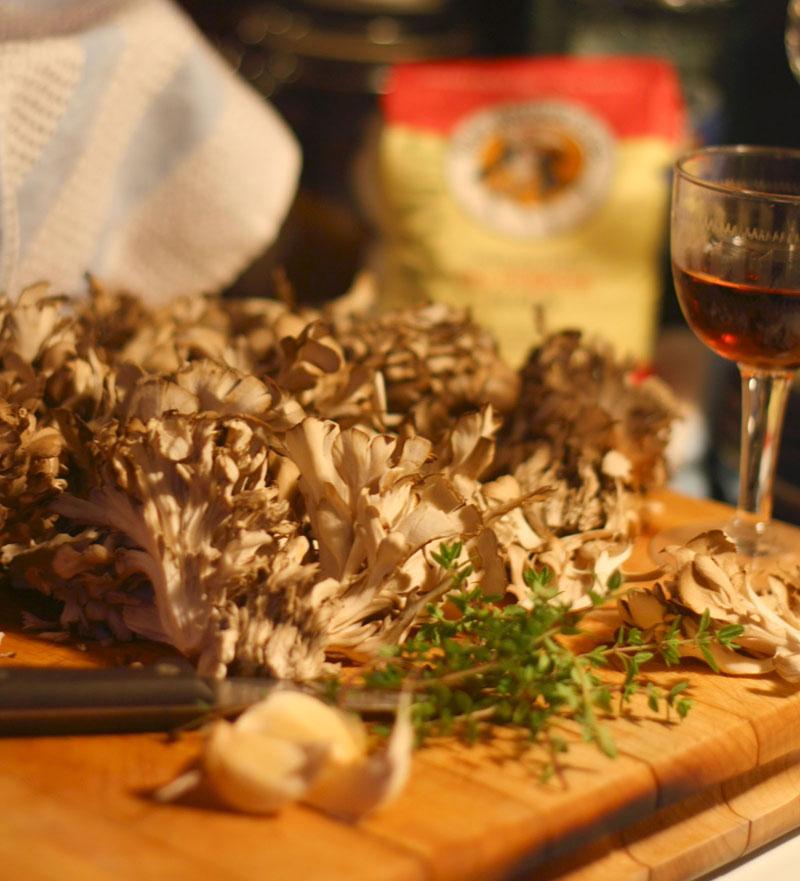 If you're out wandering the woods this weekend, you might want to keep an eye out for a ruffled mass of mushrooms stuck to the bottom of a hardwood tree. It could well be a maitake, or hen of the wood, mushroom. The fungi is delicious and has a meatier, more assertive flavor than average button mushrooms.
"Their English name 'hen of the woods' is as such because they look a little like a slightly ruffled mother hen sitting at the base of a tree with her feathers all fluffed out," explained Marie Viljoen, the author of the new book 66 Square Feet: A Delicious Life, One Woman, One Terrace, 92 Recipes. "So those 'feathers' are the part that you eat. Those are the caps of the mushroom."
Plucking the mushroom off of the base of an oak or beech is helpful for the tree, since the fungi is parasitic. For those interested in foraging for maitake, a few necessary words of caution: Never eat a mushroom you can't identify with 100 percent certainty, and always thoroughly cook wild mushrooms. (In fact, you should probably always cook all mushrooms, regardless of the source. That's because they're not very digestible raw, explained Mycophilia author Eugenia Bone in a past Last Chance Foods episode.)
One advantage of maitake is that you can also find them in gourmet grocery stores or at farmers markets. Viljoen pointed out that the commercially grown specimens require less work to clean.
"If you buy them, they really come pretty clean because they were grown in very sterile conditions," she said. "The store-bought mushroom is also slightly more delicate than the enormous, slightly tougher foraged version."
(Photo: Marie Viljoen/Vincent Mounier)
Viljoen also quickly debunked two mushroom myths: First, you don't have to carefully wipe mushrooms. Go ahead and wash them. "I find that if you wash them well, submerge them in slightly salty water, and then take them out and pat them super dry between really clean kitchen towels, your mushroom is just fine," she said.
Second, contrary to rumors, mushrooms are nutritious. "Maitake are quite high in potassium," Viljoen said. "They contain niacin. They're full of folates. They're filled with antioxidants, so this is a mushroom you want to be eating. They're good for you."
To break down maitake, she recommended snapping off the caps and using them as you would a regular button variety. The base, which is woodier, can be saved for low-heat drying over the course of many hours. "I tend to use the base cut up, sliced and dried," she added. "The dried mushroom is delicious to make the base for a broth or a risotto."
Another way to use the entire mushroom is to make it into a soup, which Viljoen did and then brought into the WNYC studio to share. "The soup is very simple," she said. "You start off with an onion base, sauté that, add the hen of the woods…. When they're caramelized and brown, add whatever broth you prefer… and then puree the soup, and then that's it."
Tune into the full audio above for her quick explanations for making maitake paté, as well as maitake butter.
Also, check out a recipe from Viljoen's new book for wild mushroom pizza.
(Photo: Wild hen of the woods/Marie Viljoen)