Last Chance Foods: Lidia's Common Sense Risotto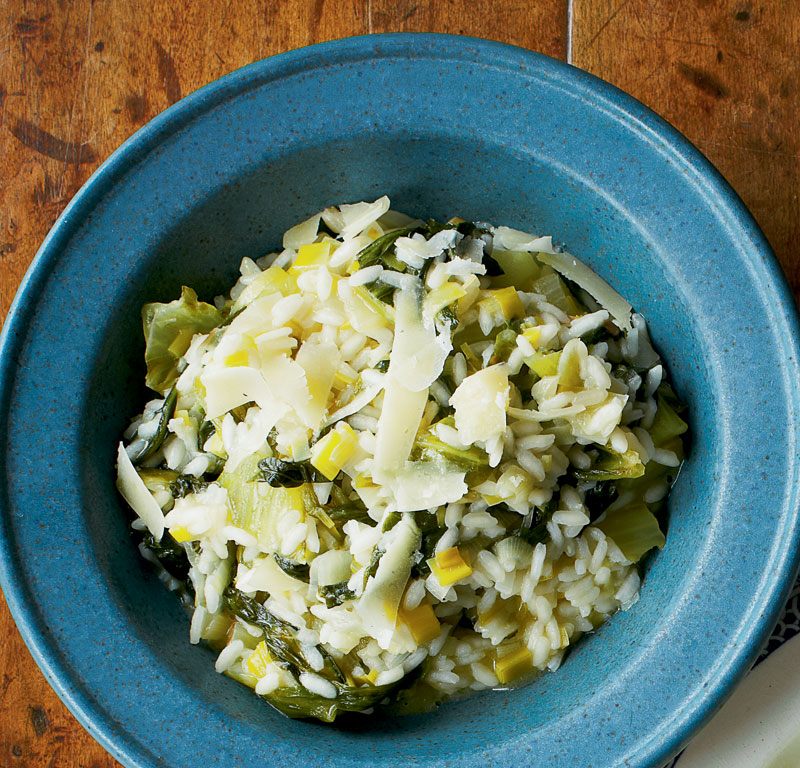 The sizzle of onions, the clicking of toasted rice, the whoosh of wine added to a hot pan, and the viscous burble rice cooking in stock — these are the sounds of making risotto. Cookbook author Lidia Bastianich listens for these audial cues when making the creamy rice dish, and lets her five senses guide her through each step.
"Cooking is about the ingredients and responding, but risotto specifically is about the technique," said Bastianich, whose most recent cookbook, Lidia's Commonsense Italian Cooking, is out this week. Instead of being intimidated by a long list of instructions or ingredients, the Emmy-award winning television host said that the key to mastering risotto is understanding and perfecting the basics.
First, be sure to use a wide, heavy-bottomed pan to ensure even distribution of heat. Then begin building a flavor base by sauteing onions, scallions, or leeks, softening them with a little stock. Once the liquid is evaporated, toast the short-grain rice so that the kernels form a protective casing. This prevents the short-chained starches found in risotto rice (Arboria, Carneroli, and Vialone Nano) from leaking out too quickly and becoming mush.
"It doesn't get toasted like toast, that color… you just hear that clickity sound," Bastianich said. "You're stirring it almost like a dry stir-fry with onions and the oil."
Then splash in good white wine — the rule of thumb is to never cook with something you wouldn't drink. "You let that sort of fizz and dehydrate and then you begin the… periodical addition of this flavored stock," she added.
The stock (or even water) should be hot so that it doesn't impede the cooking of the rice. Risotto has a reputation for being notoriously time- and labor-intensive because the stock must be added a few cups at a time. Added all at once, the rice breaks down too quickly and becomes mush. Lidia estimated that the addition and cooking-down process should take between 8 to 10 minutes.
(Photo: Lidia Bastianich/Diana DeLucia)
"When the rice is done to your [liking], taste it," advised Bastianich. "You take it off the heat and you — mantecare is the process — you whip in some room temperature butter. Whisk it in vigorously. Then you add the grated grana padano and then you whisk it again and you serve it immediately."
The heat from cooking breaks down the flavinoids in the butter and cheese, so adding those fats at the beginning of the cooking process is less effective. It may flavor the rice a little and create a delicious aroma, but the rich taste will be mostly lost. Instead, as a finishing step, mantecare maximizes the flavor, possibly even allowing you to use less butter and cheese.
Once you get the hang of those steps, adding ingredients to star in your risotto is simple. Just incorporate them in depending on how long they take to cook.
"Shrimp take two minutes to cook," said Bastianich. "You add them toward the end… You like a venison risotto? You need to cook that about an hour before, make a good venison sauce, and then add it into risotto as it is cooking."
Feel free to use whatever happens to be in your pantry or refrigerator. Bastianich said the only rule might be to stay away from sweet concoctions. Otherwise, go for it.
"That's the beauty of risotto," she said. "You can make it any flavor you want. It's a great carrier."
Below, try a recipe for Lettuce Risotto from Lidia's Commonsense Italian Cooking, which Bastianich wrote with her daughter, Tanya Bastianich Manuali.
LETTUCE RISOTTO
Risotto alla Lattuga 
Risotto is always a delicious option for dinner, but for those times when you have nothing to flavor your risotto with, look in the salad bin of your refrigerator and make a great risotto with your salad greens. Lettuce is recommended in this recipe, but another great, economical version is with the tougher outer leaves of any salad green you have in the refrigerator. Use the tender, heart part of the greens to toss a green salad that you can serve alongside the risotto. You will have a balanced and delicious meal, and you will have found a use for everything, wasting nothing. I feel a great sense of accomplishment when I use every morsel of food. I hate waste.
Serves 6
7 cups or more hot Chicken Stock, preferably homemade (page 55)
Kosher salt
¼ cup extra- virgin olive oil
1 cup chopped onion
1 cup chopped leek, white and light- green parts only
2 cups Arborio rice
1 cup white wine
8 ounces outer lettuce leaves (romaine, Bibb, etc.), shredded
2 tablespoons unsalted butter, cut into pieces
½ cup grated Grana Padano or Parmigiano- Reggiano
Bring the chicken stock to a simmer in a medium saucepan, and season with salt.
Heat the olive oil in a large, shallow, straight- sided pot over medium heat. Once the oil is hot, add the onion and leek, sauté for 1 minute, then ladle in ½ cup hot stock to soften the vegetables. Cook until the vegetables are tender and stock has evaporated, about 5 minutes. Raise the heat to medium- high. Add the rice all at once, and stir continuously until the grains are toasted but not colored, about 2 minutes. Add the wine, and cook until the liquid is almost absorbed. Add the shredded lettuce, and cook until wilted, about 2 to 3 minutes.
Ladle in about 2 cups of the stock, stir, and cook until almost absorbed, about 5 minutes. Ladle in 1 more cup of the stock, and again simmer until the liquid is almost absorbed. Continue cooking and adding stock in this manner until the rice is cooked al dente but still with texture, about 15 to 20 minutes in all. When the risotto is creamy, turn off the heat. Beat in the butter, stir in the cheese, season with salt if necessary, and serve.
Excerpted from LIDIA'S COMMONSENSE ITALIAN COOKING by Lidia Bastianich. Copyright © 2013 by Tutti a Tavola, LLC. Excerpted by permission of Knopf, a division of Random House, Inc. All rights reserved. No part of this excerpt may be reproduced or reprinted without permission in writing from the publisher.