Last Chance Foods: How to Pick the Best Italian Olive Oil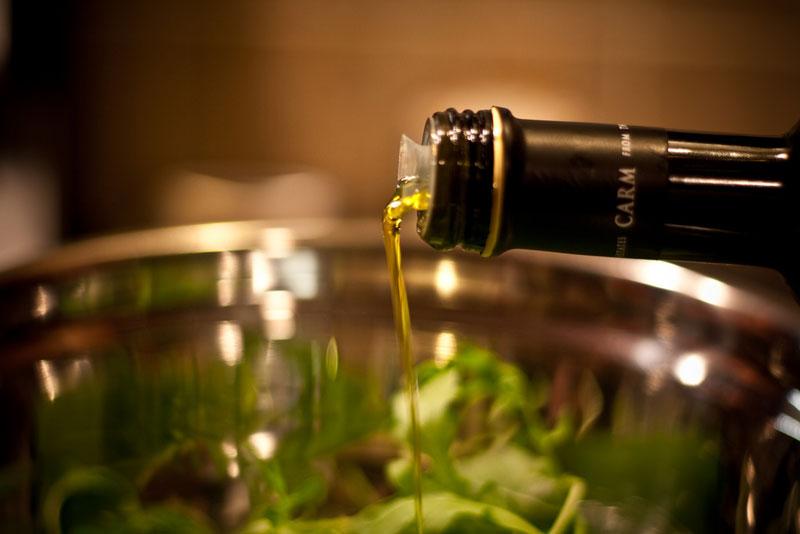 From 2012 to 2013, Americans consumed an estimated 294,000 metric tons of olive oil, most of which was imported from Italy. But how do you know if Italian olive oil is really Italian? A New York Times report recently claimed that a lot of Italian olive oil actually comes from countries including Spain, Morocco and Tunisia. What's a home cook to do when looking for an authentic Italian olive oil?
Restaurateur Lidia Bastianich offered some characteristically sensible advice for choosing an olive oil: Trust your sense of taste.
"We have an apparatus, which is our mouth, which is quite telling," said the Emmy-winning television host. "To each of us, it tells a different story because we have a different story. So I think it's pretty safe to say that everybody should sit down, and taste the olive oil, and look for the aroma, the intensity in the mouth, the viscosity in the mouth, and what they love."
While Bastianich admitted to having a veritable apothecary of Italian olive oils in her own pantry, she said that the average home cook only needs about three types — one from each region of Italy.
"I would take one from the north of Italy — from Liguria, the lake regions, Friuli, where I come from — and because of the climate, the olive oil tends to be buttery and lighter in that area," she explained.
Central Italy, around Tuscany, is known for producing olive oils with robust, peppery flavors. "Unless it burns the back of their throat, those Tuscans don't like it," she said. "And what that oil is really good for is for tomatoes, grilled stuff — kind of on the grill, off the grill steak, chicken."
(Photo: Lidia Bastianich/Diane DeLucia)
Then in Southern Italy, near Sicily, olive oils tend to be grassy, herbal, and intense. Bastianich, the author of Lidia's Commonsense Italian Cooking, recommends those for soups.
In addition to region, the grade of olive oil also matters. She explained that extra virgin olive oil has the lowest amount of oleic acidity, making it more aromatic and smooth. "It means the tannins are less, there's less residue, the acidity is less because of the tannins, and it just tastes better," Bastianich said.
And because heat breaks down the flavonoids that give extra virgin olive oil its delicate, balanced flavor, "you should alter it as little as possible," she said. "You should really use it as raw." That's also why cold-pressed olive oils are always better.
If you're purchasing lower grades of olive oil, which are marked "virgin" or "regular," save those for high-heat applications like braising. Bastianich said that she sometimes uses lower-grade olive oils to sear or saute meat initially. Then she removes the food from the used olive oil and finishes the dish with extra virgin oil. That's also a more judicious application of the more expensive, high-grade oil.
Once you've selected the olive oils that you like the best, be sure to store it in a way to maximize freshness. "Olive oil is molecularly unstable so therefore it oxidizes very quickly," Bastianich explained. "That's why it's good for us — because it has a hydrogen that looks for oxygen." That quality also means that it will also go rancid if stored improperly.
"Even if you buy [olive oil] in a big bottle, put it in smaller bottles, where the bottles are full," she advised. "[Put it] in a green bottle or dark bottle or keep it in a dark place... and in a cool place."
Once you've selected the flavor of olive oil that you like the best, try it out in Bastianich's recipe for olive oil and rosemary spaghettini, which is below.
OLIVE OIL AND ROSEMARY SPAGHETTINI
Spaghettini all'Olio e Rosmarino
This is a perfect example of a minimal- ingredient recipe that is delicious and easy. It's based on one of the primary flavors in Italian cuisine: rosemary. You will often see rosemary used in flavoring meats and roasts, because it has such an intense and rich fl avor. But in this recipe, cooked in some butter to release its aroma, it makes a perfect sauce for spaghetti. Be sure to top it with some grated cheese. This is a great dish!
Serves 6
Kosher salt
1 pound spaghettini
2 tablespoons extra- virgin olive oil
3 tablespoons unsalted butter
2 bushy rosemary sprigs, needles stripped from the stems (about 3 tablespoons)
6 tablespoons chopped fresh Italian parsley
1 cup grated Grana Padano or Parmigiano- Reggiano
Bring a large pot of salted water to a boil. When you begin preparing the sauce, begin cooking the pasta. In a large skillet, over medium- high heat, melt the butter in the olive oil. When the butter is melted, add the rosemary, and cook until the needles are sizzling and the rosemary is fragrant.
Ladle in 1 cup of pasta water, and simmer to reduce by half. Stir in the parsley. When the pasta is al dente, remove with tongs directly to the skillet. Toss to coat the pasta with the sauce. Remove the skillet from the heat, toss with the grated cheese, and serve.
Excerpted from LIDIA'S COMMONSENSE ITALIAN COOKING by Lidia Bastianich. Copyright © 2013 by Tutti a Tavola, LLC. Excerpted by permission of Knopf, a division of Random House, Inc. All rights reserved. No part of this excerpt may be reproduced or reprinted without permission in writing from the publisher.