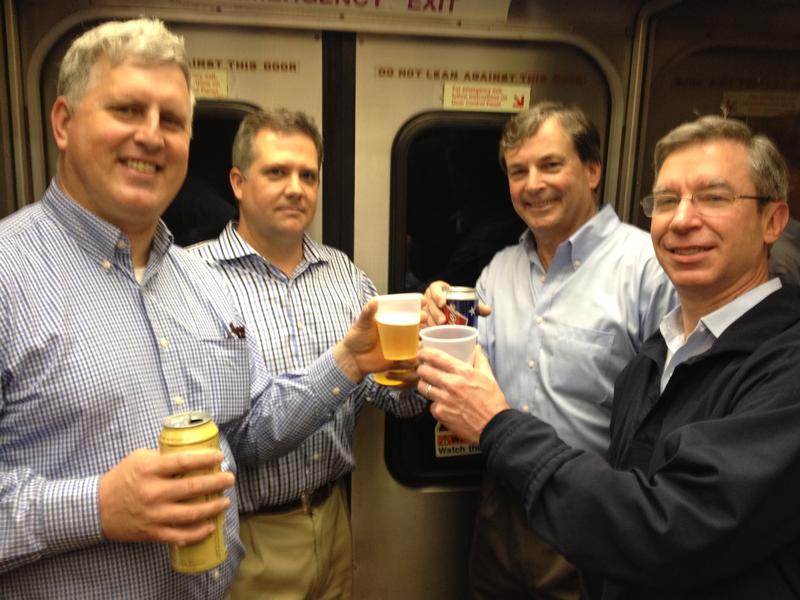 Monday is the the first time in at least 50 years that riders on New Haven Line trains will not have a bar car in which to gather and raise their spirits. That is less of a change as a practical matter -- riders can still buy booze at dozens of carts at Grand Central Terminal and then drink on the train -- than in what it says about a fading incarnation of New York.
Insofar as the rat race had a splash of conviviality: that's now gone.
Doug MacDonald, a banker who has been patronizing the bar car for more than 20 years, said he's not looking forward to rejoining the general population and spending his commute with quieter riders. "These cars are so social versus if you go sit in the rest of the thing, it's a friggin' library," he said.
The bar cars on Metro-North trains between Manhattan and Connecticut made their final run Friday after decades as a gathering place for commuters who played dice, found jobs and had annual Christmas parties with a jazz band. On the 5:26 to New Haven, riders chanted, "Danny, Danny!," in honor of train conductor Danny Piroscapo.
"I know a lot of them," Pirascarpo said of the regulars as he leaned out the train cab and yelled encouragement at the late-arriving passengers sprinting down the platform. "And they know me."
Two of his passengers in the standing-room-only bar car said they worked in Midtown Manhattan in advertising, like modern-day Mad Men. Except they're women. "We are Mad Women of the 2000s!" shouted Erica Campbell about herself and her friend, Alix Giroux, both of whom gripped sweaty cans of beer.
Moments later, conductor Pirascapo cried, "Last call for alcohol!" and eased his train down the track. With it went a whisper of connection to what author John Cheever -- no stranger himself to the sorrows of gin -- called "a long-lost world when the city of New York was still filled with a river light, when you heard Benny Goodman quartets from a radio in the corner of the stationery store, and when almost everybody wore a hat."