La Morada: At the Intersection of the Old and New Mott Haven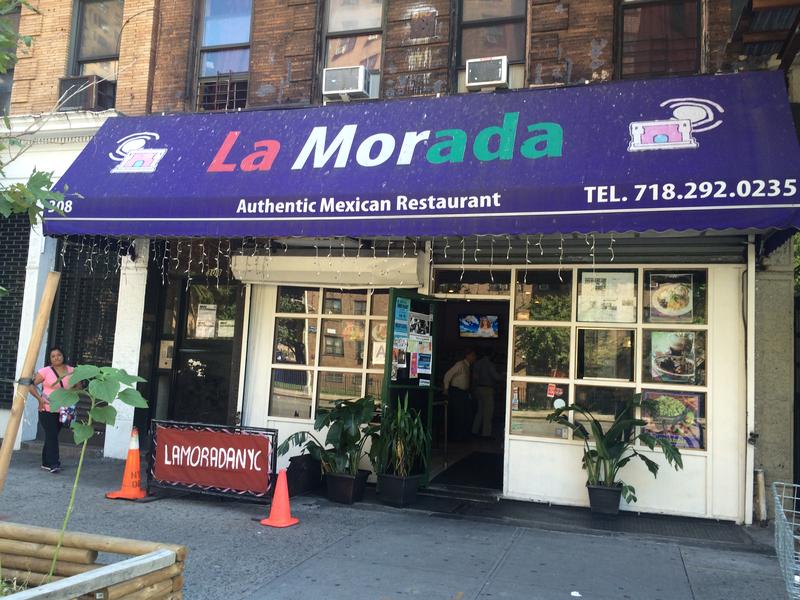 WNYC is taking a close look at New York City's affordability crisis, one neighborhood at a time. We're starting in Mott Haven in the South Bronx. It's an area that's struggled for decades with poverty and crime. But now it's gentrifying, and that's creating new opportunities and pressures in the community. At La Morada, a Oaxcan restaurant on Wills Avenue, those issues are on the front burner.
Natalia Mendez and her husband Antonio Saavedra were farm workers in a small town in Oaxaca, Mexico before they moved to New York in the early '1990s, undocumented and looking for a better life. Their older kids, Claudia and Marco, crossed the border as toddlers; their youngest, Carolina was born here. They opened their restaurant  — which they run and pay taxes for — through an LLC.
Critics have raved about the food, including its six kinds of mole, and the restaurant is a hub for the community.  But the community at La Morada, like Mott Haven in general, is changing. Fancy residential towers are coming to the waterfront, new people are moving into the neighborhood, and longtime residents with rising rents are leaving.
Marco Saavedra is the restaurant's head waiter and the family's lead activist. He's a member of the Dream 9, a group of undocumented youth who crossed the border from Mexico in 2013 to request asylum. His case is up for a hearing next year. He says the influx of new customers at La Morada means business is better than ever. But he's conflicted about what the changes mean for the community.

"We were initially displaced from Oaxaca, Mexico because we couldn't find a livelihood there. And so we had to immigrate here to New York City and travel without papers," he said. "We know it's a heartbreak when you can no longer either find a source of living or afford where you used to live and so we don't want to replicate that to someone else."
Meanwhile, the family is concerned about its own fate. Now that rents are spiking all around them, they're worried they may not be able to hang on to their space much longer.
"We know that some landlords will seize this opportunity to bump up prices and people will be priced out," Marco Saavedra said.

We want to hear from you. Join the conversation by letting us know what you think, and using the hashtag #MottHavenSpeaks.