Properties Owned by Trump's Son-in-Law Now Targeted by Jersey City Activists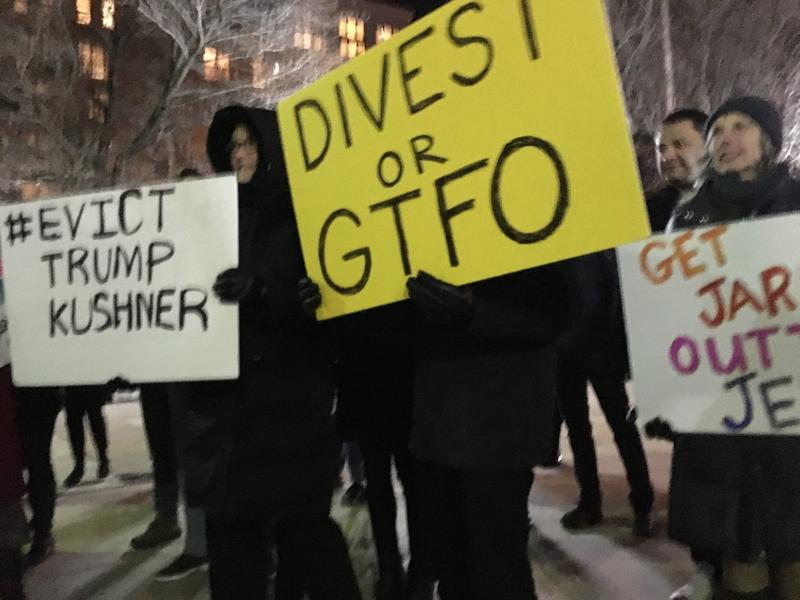 Jared Kushner may have stepped down as C.E.O. of his family real estate empire, but a new anti-Trump group in Jersey City wants him to fully divest. Kushner Companies has a new, 50-story apartment building downtown, which licensed the Trump name. Another large development next to the Journal Square PATH station has been approved.
"Jared Kushner has chosen to keep his ownership interests in Kushner companies — he has not answered basic questions about how he intends to recuse himself," said James Solomon, an organizer of the group Evict Trump Kushner. "It's extremely disturbing, because you don't know if they're in the White House serving the people or serving themselves."
The group rallied outside City Hall in Jersey City Wednesday, a windy, frigid night, before heading into the City Council meeting where they had signed up for the public comment portion of the agenda. They're asking the council to pledge not to give the Journal Square project a 30-year-tax break, which developers often receive from the city.
There is no actual proposal for a tax break for the new development, but it's early in the process. This is an election year, and the activists are asking each member of the city council to pledge now to refuse to give Kushner Companies one. After they spoke, City Councilman Michael Yun jumped in to assure the group he wouldn't be supporting any tax breaks for Kushner or Donald Trump.
This is the second action taken by Evict Trump Kushner. Last month, the group protested in front of Trump Bay Street, the new residential tower with retail storefront on it's ground floor. The group says it will boycott any business that leases the space.
Trump's false allegation that thousands of Jersey City Muslims celebrated on 9/11 — or his harsh rhetoric about undocumented Mexicans — has not been forgotten. 
"Can you imagine after raising all those divisions, all those racist sentiments, all those anti-immigrant statements, anti-Muslim statements, and now they want to come and profit from their development in the city?" said Oscar Velez, who grew up in Jersey City and is now a principal at PS 22. "Well, sooner or later, some of us have to just stop and say enough is enough."