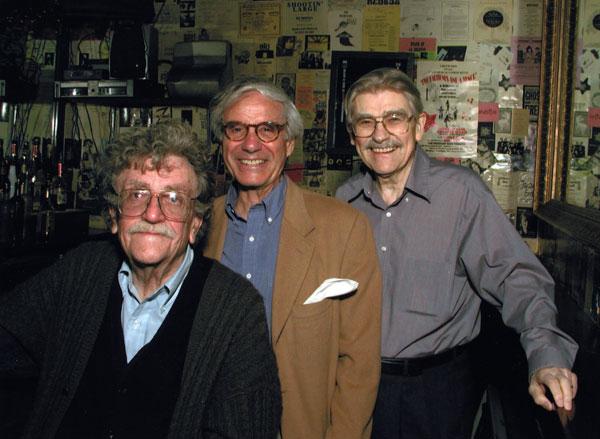 This second of four interviews Walter James Miller conducted with Kurt Vonnegut for WNYC took place on October 25, 1976. Vonnegut's novel Slapstick had just come out, but it received withering reviews in the Village Voice and The New York Times.  Here Miller takes on the critics in defense of Vonnegut's strange sci-fi tale of fraternal twins who are brilliant when they can interact with each other but only "dull normal" when separated. In the interview Vonnegut reveals that his portrait of these fictional twins was based on his deep real-life bond with his only sister, Alice.
A brief outline of this lesser-known novel's plot will help the listener better understand the interview. Even as children, protagonist Wilbur Swain and his twin Eliza are monstrous in appearance: freakishly tall, awkward, sporting six fingers on each hand, possessed of "Neanderthal features." Their distressed parents at first consider them of subnormal intelligence, and remain ashamed of them even after the twins reveal their precocious theories about gravity, evolution, and extended families. The parents soon take the advice of an obviously twisted child psychologist and separate the twins. They are of course bereft without each other, but get back together as adults to publish a book on good child rearing. (Vonnegut reveals to Miller that his model for Wilbur Swain was Vonnegut's friend Dr. Benjamin Spock, of baby-book fame.) Long into the future in a decaying U.S.A., Wilbur runs for president under the slogan "Lonesome no more." He wins and takes office, but his creation of artificial extended families for every American can't stop the demise of a society under a twin assault by microscopic Chinese, who have found a way to shrink themselves so they can invisibly invade the U.S. , and by microscopic invading Martians who, when inhaled by humans, give us a disease called the "Green Death."
For Miller, who ignores all the spacey space opera in the novel, the "twin metaphor" is the most insightful trope in Vonnegut's literary canon, one reflecting the Jungian animus and anima idea of modern man's "divided self" and thus perfectly diagnosing our "national disease" of loneliness. While this iffy observation may have some truth to it, the sci-fi excesses and thematic dead ends of the last half of Slapstick clearly reveal a writer at the lowest creative ebb he would ever reach in his career—even by Vonnegut's own admission. In his nonfiction collection Palm Sunday Vonnegut gave grades to his work: Slaughterhouse-Five got an A, and Slapstick a D. But this interview nevertheless shows how Vonnegut struggled to deal with being largely undervalued by "serious" critics, even at the height of his international fame, and that even his lesser works have considerable humor, psychological insight, and levels of invention.
As always in an interview with Kurt Vonnegut, the ideas fly out like sparks from a bonfire: film is the ideal medium for "people who have never developed an imagination," "prostitutes and pimps exist because of loneliness," "the secret of unity in art is writing as if you're speaking to one person." In Vonnegut's case, that one person was his sister Alice, with whom he shared slapstick humor until her death from cancer in 1958. Freakishly, her husband had died just one day earlier when his commuter train plunged off an open drawbridge into the Hudson River. Kurt and his wife Jane reacted to this family disaster by adopting Alice's four children despite already having three kids of their own. It's not surprising Vonnegut so often wrote about the importance of extended families since as a child he had lived in one and then created one himself as an adult. Perhaps the most notable thing about Slapstick is that it was, as Vonnegut confesses in the book itself—"the closest thing to an autobiography I'll ever write."
Special thanks to Mary Hume, Donald Farber and Ana Maria Allessi at Harper Collins for making the release of these broadcasts possible.
Walter James Miller was affiliated with the NYU Program in Liberal Studies.