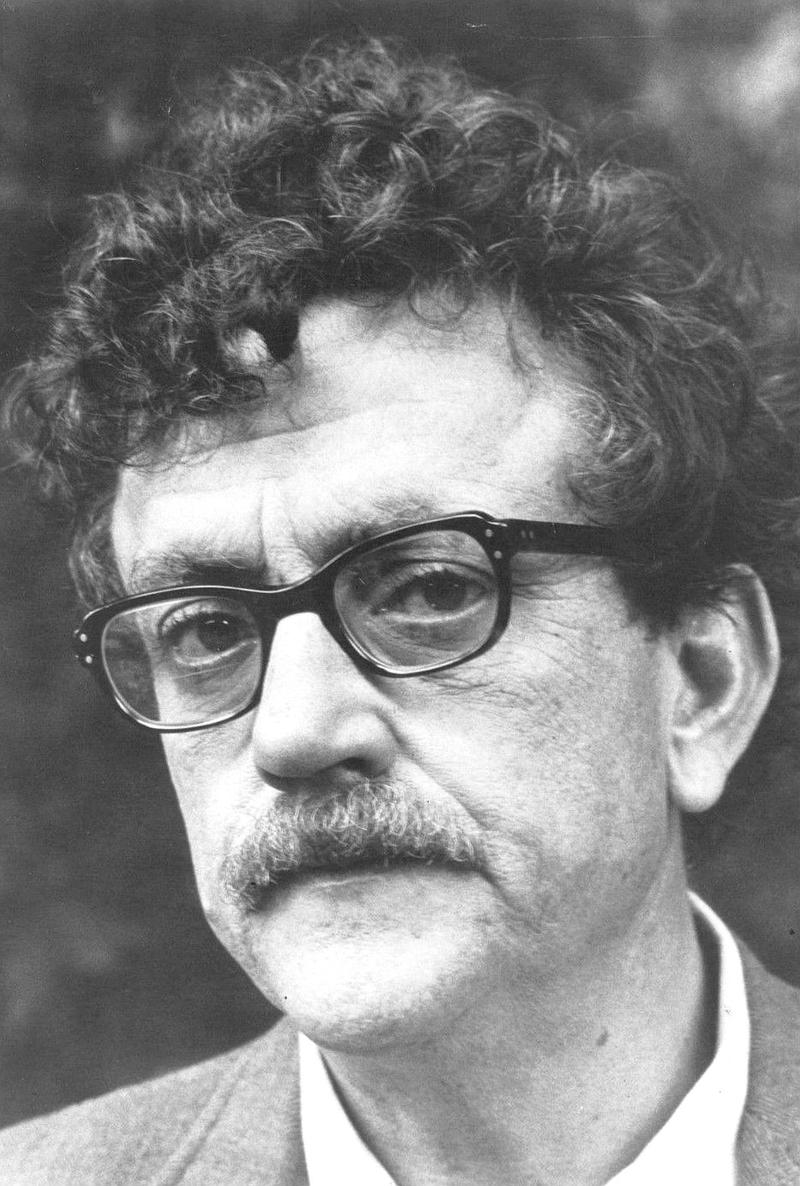 Nearly forty years ago, Walter James Miller, host of WNYC's "Reader's Almanac" program, conducted five interviews with Kurt Vonnegut.
The first one took place on June 30, 1974, soon after Vonnegut had published Breakfast of Champions, the follow-up to his most famous and probably most accomplished novel, Slaughterhouse Five. After years of obscurity in the 1950s and early 1960s, Vonnegut now found himself one of the handful of most-talked about writers in America. This interview reveals him at the top of his game—confidently proclaiming the novelist's ability to "make up new myths that people will believe," easily dealing out anecdotes about Twain, Hemingway, and James Jones, freely moving from topic to topic with élan and self-deprecating humor. It's an impressive performance, especially considering the fact that Vonnegut's personal life was just then coming apart under the intense pressures of divorce, loneliness, the wild admiration and expectations of millions of readers, and the persistent voices of some critics denouncing him as a hack.
Miller's interview begins by setting up a question about Breakfast of Champions being a retelling of the Book of Job, with car salesman Dwayne Hoover as the sufferer of all sorts of undeserved catastrophes. But when Vonnegut begins to talk, it's not about Job but about the irony of his teaching students how to write conventionally, despite his being such an experimental writer. Next, Vonnegut proposes the idea that the conventional presentation of "major" and "minor" characters in fiction is unrealistic, and probably the result of our persistent belief in the class system—the common notion that some people are just inherently less important than others. Next, he theorizes that our brains don't just see people and fictional characters in a faulty way but reality itself when we imagine it's divided into past, present, and future.
Finally, he explains that as a writer he wants to comfort people with the idea that their loved ones who have died are really still alive—in what we call the past. So it seems that Vonnegut in his round-about way has answered the initial question about the relationship of Breakfast of Champions to the Book of Job after all: Job could have been comforted over the loss of his family if he'd known about the idea of the simultaneity of past, present, and future presented in Slaughterhouse-Five and Breakfast of Champions. Presumably, in that way, Job's wife and children could have been rescued from their Biblical fate as minor characters.
And this rollercoaster ride of ideas happens in the first few minutes of the interview. Listen for yourself to learn what happens in the rest of the conversation. As the punch line of one of Vonnegut's favorite jokes puts it: "Keep your hat on—we may end up miles from here!"
Special thanks to Mary Hume, Donald Farber and Ana Maria Allessi at Harper Collins for making the release of these broadcasts possible.
Walter James Miller was affiliated with the NYU Program in Liberal Studies.