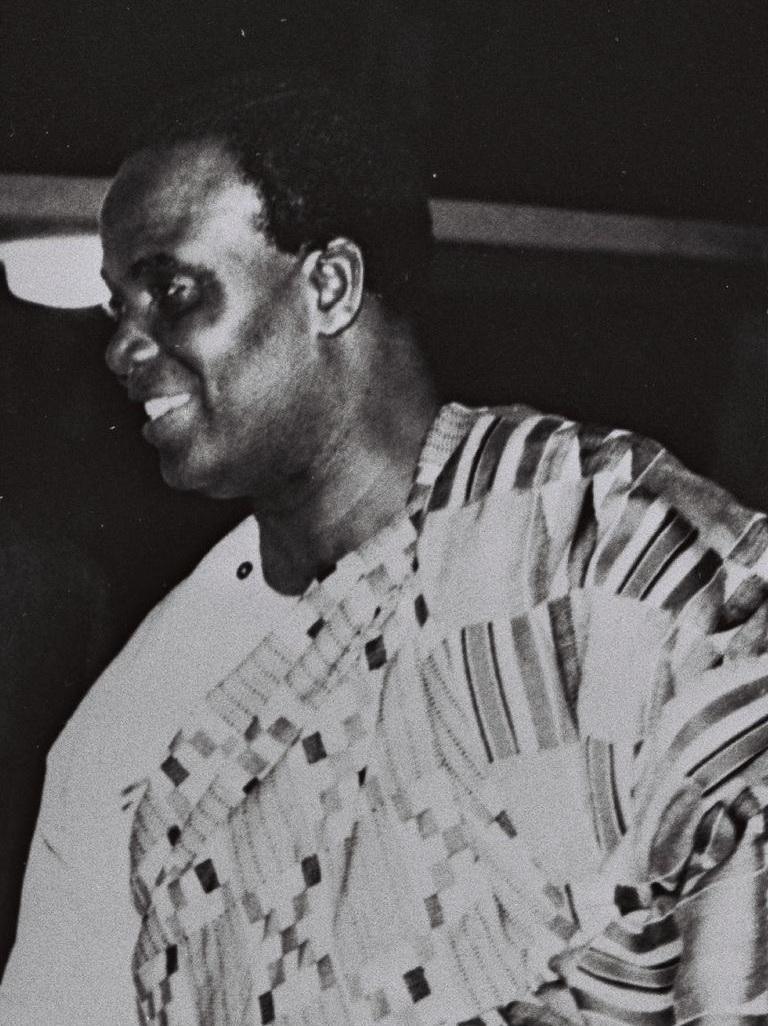 Summary
This episode is from the WNYC archives. It may contain language which is no longer politically or socially appropriate.
From card catalog: Foreign Minister Kojo Botsio of Ghana talks about his country's viewpoint concerning Africa's relationship to the United States, USSR, and Communist China. He also discusses Africa's aims and aspirations and gives Ghana's views on specific situations. Question and answer.

As a result of World War 2, vanquished and vanquishing countries got mixed up and created Western (Washington) and Eastern (Moscow) blocs for the Cold War. Consider There is no difference between Moscow and Peking, just as there is no difference between France and the United States.

Everybody is terrified by nuclear warfare. Disarmament and world peace are inexorably connected. We are all interested in the question of disarmament and world peace.

National liberation movements.

General instability comes from independent nations that have not achieved a high standard of living. Haves and have-nots. The gulf between advanced and developing countries is widening. Something must be done if the world is to have peace and prosperity.

The UN is considered by them as the best organization in the world to serve all nations, developed and developing.

Aspirations of Africa: 35 independent African states in a quest for a higher standard of living, divided in to factions. Work of OAU (Organisation of African Unity) to establish African personality, fight for a high standard of living. Africa cannot remain half slave and half free. Peculiar system of colonialism, white minority leaders in charge. Without the opportunities for economic advancement, life is not worth living.

Question and answer led by Julie Andrews. Why did the negotiations over the Congo break down? The commission was not allowed to do its work. Legitimate government of the Congo? They'll talk about that tomorrow. Ghana does recognize the current government of Congo. Financial crisis with the UN? Part of the Cold War business; every member of the UN is duty-bound to pay as agreed to by all. Complicated by the Congo issue.
Audio courtesy of the NYC Municipal Archives WNYC Collection
WNYC archives id: 70409
Municipal archives id: T573
Transcript
This is a machine-generated transcript. Text is unformatted and may contain errors.
It's my very great pleasure as president of the Overseas Press Club to welcome our distinguished guests here today Africa is very much in the center of the minds of all of us and it is indeed a not a for us to be able to present such outstanding representatives of African opinion and African responsibility without further ado it is my pleasure to present to this audience the foreign minister of gunna Mr Kojo but C.E.O.. Ladies and gentlemen. I'm very delighted to be here with you this afternoon. In order to have a short chat with you about this very interesting topic that has been presented to us. And that is gonna viewpoint concern in Africa's relations with Washington. I'm picking well with a short time out our disposal I'm going to go to deal very briefly where the topic and I would therefore need touch. On the main train. Regarding the topic that we have to deal with in this respect I would like to. Undertake a very brief summit so I was two. And the correct perspective. I would first of all like to see the weld set especially with regard to the position of Washington Moscow and became And this whole business. With Africa. And aspirations. And of course with regard to the relations. Effect in Moscow. And Washington and then finally and with viewpoint the world. Kind. And considerate this reconstructed from the end of the Second World War you know at the end of the wrong the Western Allies imagine victorious and of course. Where Germany. Japan and other allies. It so happens that soon after the end of the war the vanquished vanquished got rather mixed up because of the imagines of the Cold War which resulted in a force. As a result that some of the vanquished. Got aligned with the vanquished and then others through got in a separate division as you're all aware. Of that we have a measure of the Cold War blocs the Western dark and Eastern bloc the western block led by Washington and the Eastern bloc led by Moscow and the suspect I would like us to consider the position of. Saying Where. In this connection we see that there's really no fundamental difference between. Moscow and picking in this era where there is no fundamental difference between. France and. The United States though we have the intend. To sessions some of them and in very virulent. Attacks on one another but we find that ideologically France and United States belong to the Western group and. China and the Soviet Union are also in one group so we'll find out in this connection. I'm Law School in one group and then Washington or so or in another we'll find that the cold war has progressed to such an extent that everybody has become terrified by the idea of any nuclear and nuclear warfare that might mean because it's a question of the whole world whether you throw it or you don't you may be the victim of a general Holocaust because of. The terrible idea of a new nuclear war for the whole world is now obsessed or rather taking taken up the idea of seeing to the. Abandonment of any idea of any international law. Of nuclear warfare and even the case of general disarmament now the general disarmament and well. Connected all of us whether we belong to the eastern block or western block whether we are neutral of or otherwise we are all interested in. The question of disarmament and peace. Time and again. For Hans reiterated that especially developing countries those of us in Africa. We have a vested interest in peace because without it we have no chance of survival we have no chance of even catching up with advice countries we have no chance of a better life a high standard of living to people that are. Around. And. In poverty another. And potent face of. The WELL situation is a question of the national liberation movements during the war we all had time and again one of the most fascinating. Games of the war the fight for freedom and to the development countries those countries never forgot that. That very very absorbing slogan as a result of there has been a terrific up sick of the people in the colonies of the people who defended traitors for their freedom and therefore the National Mission movement. Consists of the struggle for independence of the various colonies House also been a great factor in more than world situation. Now so many of the colonies so many of the territories that were dependent. On the war. The second world war emerged independent traitorous But then you find that there is so much instability due to various factors one of which I should say the most important is if you do. They have not got the things for which they were struggling for that the better life a higher standard of living a higher standard of education and of education and pressure of development and therefore the struggle. Or saw the struggle between the House and to have nots. And Ahmad and such are. Interesting to note in this connection not as a result of various discussions I was Aleutians in that ignitions Assembly and other foreigners last April there was held in Geneva. The conference the World Conference and. Conference on Trade and Development which took place during that period the only sure one of the Great of the great. Of the people of the developing countries we see today that the gulf between the advanced and the developing countries is rather widening. We see the standard of education and culture our tenement between the two between the two groups it's also. Indifference and therefore it is very important that this fact or. Motivator spirit in the new countries should also very well appreciated the. Results. Of this conference in Geneva. I should say was quite good but time and again those of us from countries feel that we did not get to know a lot of that though we are prepared to take that as a beginning but we'll find that because of this gap this increasing gap between these two. Under development countries between. The old their territories and the new ones is getting so white that something must be done if the world is to have peace and prosperity in the world is to have. That which which will make everybody feel that he citizen of the world and is getting the best. We can give and therefore the role which the United Nations has played today is of paramount importance. The United Nations. Considered by us as the best photo as a best organization in the world which can serve all of countries which can serve auditions developed and developing the Odes and the new. It is this photo of that house that in fact that has helped the world to be a piece I'm not. Disintegrate into any water infractions. Well with this. In a background I would like to trudge very briefly to on the and aspirations of Africa and the relations between Africa and. Washington more school and became really front war. Many independent territories for the signing of the United Nations charter and Francisco forty five there were only two independent African states to deal with the addition of one and Zambia I thought of five independent African states the African states themselves in their quest for a higher standard of living and their quest to satisfy the people who have struggled for independence. Tended. To divide themselves into various factions according to the. Philosophies and ideas and other. Into various groups. At one time the more of your group a group other smaller groups like the brother and whatnot but then everybody felt that was unsatisfactory and. Was. Standing. In. The US established for the first time or the independent African states together to fight for a higher standard of living for the. Establishment of the African personality. And. Certain principles policies and programs for the attainment of the great objective. To be summarised briefly as follows First of all the African countries undertaking to fight for the total liberation and unity of the African continent Africa. And have seen on how three Africa cannot. Continue or consist of dependent on independent voters especially when you consider the fact that across the borders you find people of the people of the same tribe sometimes father and mother living on both sides of the French or. In West Africa to talk to all over all over Africa and it is very dispiriting to find that Africans are still under the domination of foreign powers and therefore the first objective of the Organization of African Unity as the total liberation and your father can continent who are very happy that the United Nations resolution has been subscribed by or nations to the effect that this is incompatible with the existence of. Of course again as and therefore the objective of the Organization of African Unity that all Africa should be free has deceived international mission and not just one of the basic policies of that organization now the other run is that one of the sins which is really Suppan they live blood. Of the African. Official discrimination. Africa is look the African is looked down upon in his own territory you have a right racial minorities. Of others so we have the. Opportunity an Africa where. Section of a section of the world community right minority. Rights minority groups lauded each of the others not as having. Not been practiced by outside powers but by by minority groups within their treachery such as exists in Southern Rhodesia and in South Africa but Africa in the concentration. Of. The world in. Trying to establish a philosophy for the sexes and also for its behavior in international bodies has come out with the positive policy of neutrality and on alignment sometimes it is taking that this is a sort of sitting on the fence or something of that nature but you find from various features. And writers such as you find you know such a force Africa must unite on questions is there is a positive for us or. For the policy of neutrality our non-alignment I would like to call it positive neutrality I'm not I'm and it does not mean that we sit on the fence but that in the context Africa has to take its own interests and of course the interest of humanity to concentration and therefore when you see a scrap of Africa percentage of Rights in accordance with the possible of their determination to judge it according to according to what it's in spaced for each location. In this respect this policy is inconsistent with. The alignment of force. Africa in pursuance of this policy of course is the tragedy non-alignment cannot be. Aligned with a Western dog or the Eastern Bloc cannot be aligned with Moscow or with Washington or for that matter with. But then go find that. There is the need there is a need for something much more than that for political considerations the. Depends on Corporation on goodwill and mutual understanding among all the peoples of the world irrespective of color or creed or race. The country corporation culture corporation even more to cover licious such as existence of diplomatic exchanges dramatic. Exchanges between the various churches that are so many African countries that have got rid of representation in Washington in picking in more school is because of its policy of non-alignment and positive neutrals and now this is what Africa police were contributing to world peace and progress. Which is desired by everybody irrespective of his ideology irrespective of his color. If we cannot live and this world in peace if we do not have the opportunities for advancement. Wife life is not worth living now with this. Too as a background I would like to speak briefly about your part we have often heard that. From the very beginning of our lives. As an independent nation our leader. Initiated that principle that Korea. Or what is a policy of Ghana that is gonna see dependants is meaningless unless it is linked up with the liberation and unity of the African continent we find therefore that for subscribes to the basic policy. Precipice and program of the Organization of African Unity I'm gonna post to any actions or policies that are opposed to these principles of the under their course you mission in the establishment of a unity government of Africa what are the conclusions therefore. In Ghana that these presuppose some policies of the. US and strand in the charter of African Unity which permits free relations between Africa Washington Moscow M P Can I proper and regular and pushed to any part of. Any foreign party or military intervention and the officer for Africa such as exists in the Congo at present. Post to Peter's M M M M. Or to racial discrimination and therefore. And therefore we. Fully subscribe to the existence of. Onto the ship of countries with all these. Capitals with Washington more school and picking the I don't much care differences or other differences that bring about the Western understood blocs really do not do not affect us in our relations with these countries we are friends with and. I thank you. Thank you Foreign Minister but you know it's my great pleasure to turn the mike over to you. We've gotten some good questions some very lively questions already and we're hoping for more and I have absolutely no concern about our distinguished guests because they have already and long ago demonstrated their ability to handle themselves in the clinches. We're going to start by asking the table if they have any questions to ask in person then we will take the written questions and finally we'll open it to the floor first the press table. Why did the negotiations break down over the negotiations over the Congo break down in view of the fact that foreign minister can young Kenyan who with such a distinguished person was attempting to hinder. This. Because Florida vision did not allow you guys. Or problems the Democrats are to be out of commission to do its work. Whether you know as well as I do that. The ad hoc commission or rather the the oh you Legion in Nairobi set up the ultra provision to carry out the decisions taken out of us about and one of the the basic plank of that decision was that there should be a cease fire now the cease fire has not taken place because the Americans and the Americas have supplied the planes in the arms of the foreign minister messengers and gates there and other forces are all in pitched in the place so that the cease fire has never taken place in fact our kind. Of our commission all the all the people who go to the place read our bombs know that since flying over their heads so this is this is the difficulty and that is why that is why the outro commission decided some months ago to send a delegation to Washington about it and deplete of the delegation was out at least during the time of the negotiations no offense or should be given to either cite either the government or the nationalists by way of claims or ops sort of a police there to try quality for the commission to do its work that's how the whole t