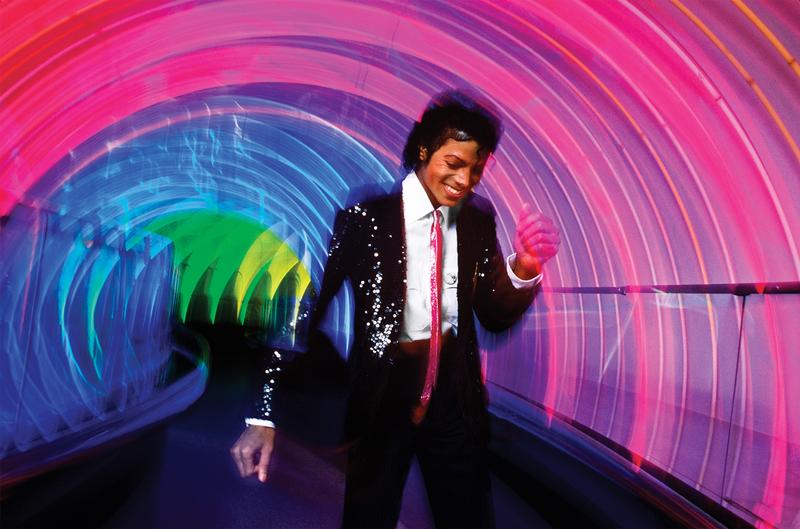 A year and a half after Michael Jackson's death in June 2009, Sony and Epic Records released the first posthumous album of previously unreleased tracks from the pop star, called Michael. It was a somewhat controversial move, disputed by some of his family members and close associates, who asserted that the perfectionist Jackson would never have wanted his outtakes and unfinished song sketches to go public. 
Now, four years later, we're on the brink of a second posthumous release of never-before-heard MJ material -- this one called Xscape, due out May 13. And this time, the world feels a little more ready. Last night at the iHeart Radio Music Awards, the first single from the album -- a smooth dance floor demo from 1983 called "Love Never Felt So Good" -- made its public debut. Perhaps most surprisingly, the song is being released as a duet with someone who owes quite a debt to the King of Pop -- Justin Timberlake, whose vocals were added to the song during the making of the album. 
Some of the Soundcheck staff gave the new single a spin and had these initial responses to share -- including one rather unimpressed haiku from host John Schaefer. Got an opinion? Tell us your knee-jerk reaction in the comments below. 
I've always heard the boop-boopy-doop synth layers in "Rock With You," and the syncopated cowbell and ratchet sounds on "Don't Stop 'Til You Get Enough" as belonging to a larger subset of Dr. Seuss-ian musical instruments that Quincy Jones commissioned expressly for MJ. A first listen to "Love Never Felt So Good" had me imagining some poor latter-day producer pulling all the widgets out of a dusty closet and hollering over his shoulder, "Anybody know what this thing does?"
As a mental image of how they pieced this "new" song together, it's way more fun than the reality. Upon discovering that this is essentially a bunch of (pretty golden) tracks laid down in 1983, the only question left to ask is: Why bring in JT at all? From what I can tell, he inquired with the Jackson estate thusly: "Got anything I can pant over?" Still, it is a restrained panting, from a master of the form, which means that we essentially hear a "new" and ridiculously danceable tune… even if producer Paul Anka did borrow a few of Quincy's jingtinglers and floobfloobers. (Dan O'Donnell)
Heard this on TV
But a baseball game was on
So I turned it off. (John Schaefer) 
I didn't watch the iHeart Radio Music Awards last night, because I didn't know that was a thing. So I had to hear about this a whole 12 hours after it happened -- and my initial reaction was, "Oh man, this better not be one of those hologram things, because those give me the willies." Needless to say, I was feeling grumpily skeptical of a lot of things this morning.
But I gotta say, this song is... really good! Even with MJ's clearly demo-ed vocals, the full, bassy, disco production around his voice provides a sonic cushion that warms everything up nicely. I could maybe do without the heavy breathing from Mr. Timberlake in the beginning of the song, but then again, he did learn it from the best.
I'm not sure why the album's producers felt the need to add JT in on the track – but I have to say, I feel like he does a good job of paying soulful homage to his idol and also blending his vocals with Michael's pretty seamlessly. The track really does sound like an almost finished product -- and way better than anything on JT's highly anticipated and majorly disappointing most recent album(s). (Katie Bishop)