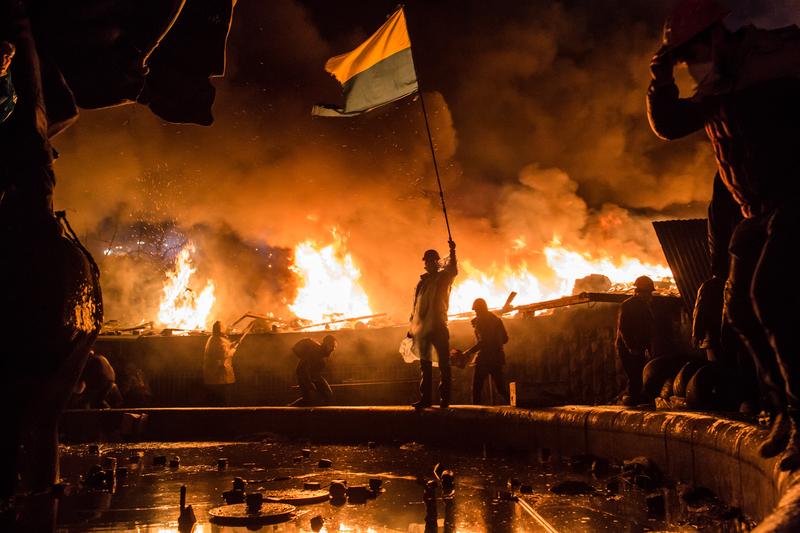 Kiev is smoldering after a night of violent fighting between government forces and protesters in Independence Square.
Dozens are dead and hundreds are injured in Ukraine's capitol city. Yesterday fires lit up as thousands of protesters violently clashed with riot police in a desperate attempt to turn the tide in the battle over the future of reform in Ukraine.
Zenon Zawada, political analyst at Concord Capital investment bank and writer for The Ukrainian Weekly, is in Kiev and was at the protests last night. He gives us an update on the situation on the ground.
John Herbst, former Ambassador to the Ukraine from September 2003 to May 2006, weighs in on what the violence means for the future of Ukraine.
"This weekend there was an attempt at compromise, and the opposition actually offered some concessions," says Zawada. "However, the government was not very responsive to those concessions and the protest that was planned for yesterday was planned as a peaceful march, but things got out of control very quickly."
Zawada says that protesters tried to occupy the parliament building and that's when the violence began and things "spiraled greatly out of control." Once the initial conflict erupted, Independence Square—the main location where protests have taken place—was taken under siege by riot police, who fire bombed the Square and even used molotov cocktails themselves, according to Zawada. 
In the weeks leading up to yesterday's violent clashes, Zawada says that opposition leaders had been trying to avoid violent flair ups.
"There are several reasons for this," he says. "One of them being that they are fearing having to face criminal responsibility for any violence. Also from a moral point of view, they don't want to take moral responsibility for leading people into violence. I would argue that they've been doing their hardest to prevent people from reacting this way, but the protests to a large degree has been beyond their control."
When looking into the future, Zawada says that the current outlook for a possible resolution is bleak.
"There's very thin signs of a peaceful resolution," he says. "The government is highly inflexible and it's hostile to the opposition. There's not much hope for a way out. European diplomats are on their way, but so far the solutions being proposed by the West have been inadequate."
A Strategy of Aggression 
Since the opposition and the government have been unable to reach a state of compromise, the current chaotic state will likely continue, says Ambassador Herbst.
"[President Viktor] Yanukovych's strategy has been to fluctuate between offering halfhearted concessions and repression, which he can't quite pull off," says Ambassador Herbst.
Ambassador Herbst says that over the weekend both sides offered concessions—the government offered amnesty for the protesters and the protesters offered to withdraw from government buildings. While those steps were taken, it didn't stop violence from erupting again in Independence Sqaure.
"It looks like the protesters may have crossed a red line of the government by moving towards the parliament," says Ambassador Herbst. "But then the government responded with much too much force—with disproportionate force—leading to reports of 25 dead and many hundreds injured."
The strategy of aggression being pursued by the government is deliberate and intentional, according to Ambassador Herbst.
"I think Mr. Yanukovych's preference was to use force to fix his problems," he says. "It's worth remembering that the initial protests were just about Yanukovych's decision to walk away from an agreement with the E.U. But then when he cracked down, protests of tens of thousands turned into protests of hundreds of thousands. Of course many people in Ukraine are fed up with the authoritarian policies of Mr. Yanukovych. But while he tried repression, each time he's tried it, he's failed. It's not clear that he has the forces to really repress the protesters."
Ambassador Herbst says that this crisis was made in Ukraine and will be resolved by Ukraine, despite outside actors.
"Russia is the most influential outside actor, and by and large it has used its influence for deplorable purposes to push the Yanukovych regime to use force," says Ambassador Herbst. "The E.U. is the next most influential actor because they remain a vision for Ukraine and a possible partner."
In December, Russia tried to thwart the growing Ukrainian dived and exert its influence by throwing the nation a massive financial lifeline by agreeing to buy $15 billion of Ukrainian bonds and lower the cost of natural gas. Yet, these efforts have failed to sway the Ukrainian populace.
"Yanukovych thought back in December that the gift from [Vladimir] Putin in the form of lower gas prices and $15 billion of loans would solve his problems—that was foolish," says the ambassador. "The protesters are not going to find gifts from Russia—if in fact they are gifts because we don't know what kind of hidden price there may be with those gifts—as a reason to back away from its protests against the authoritarian policies of the Yanukovych government."
Can sanctions against the Yanukovych government help quell the violence? Listen to the full interview to find out.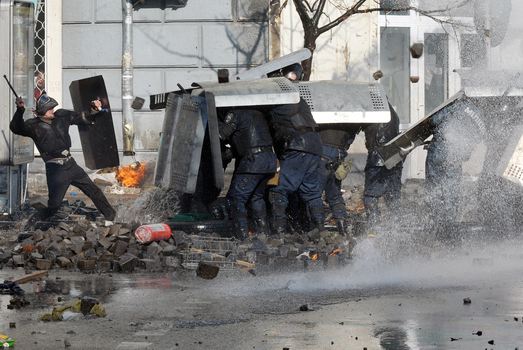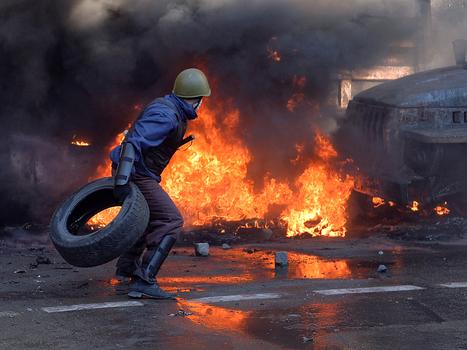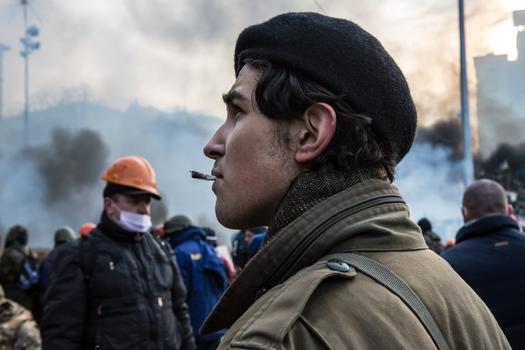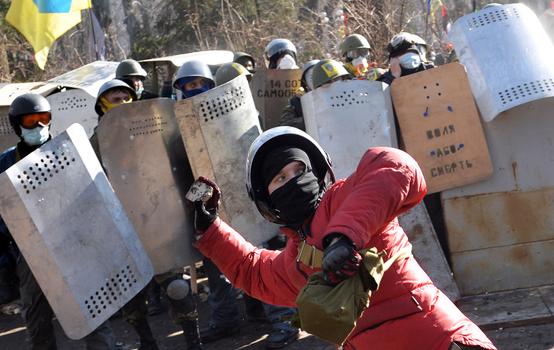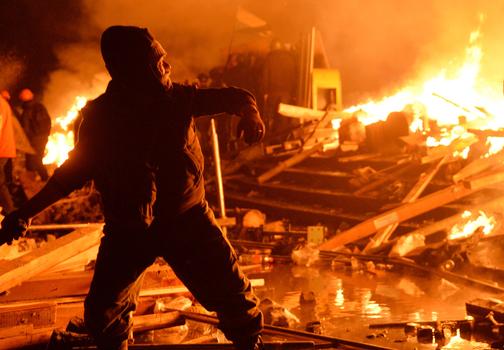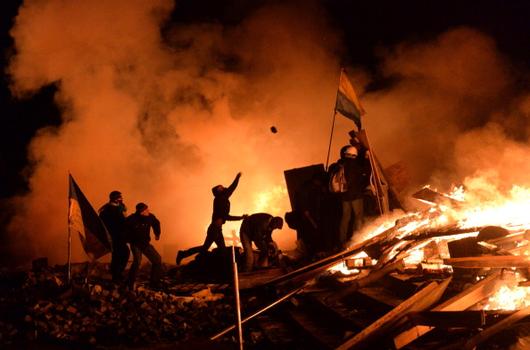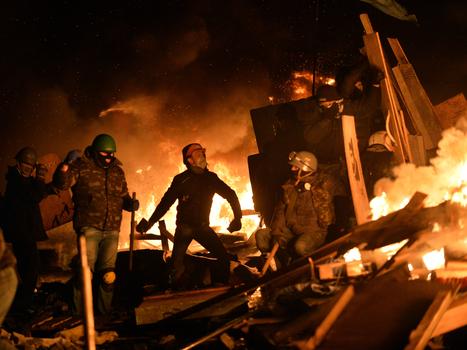 Anti-government protesters clash with the police on Independence Square in Kiev early on February 19, 2014. Protesters braced on February 19 for a fresh assault by riot police in central Kiev after a day of clashes left at least 25 people dead in the worst violence since the start of Ukraine's three-month political crisis. As dawn rose over Kiev's battered city centre, protesters hurled paving stones and Molotov cocktails at lines of riot police that had pushed into the heart of the devastated protest camp on Independence Square. 

( SERGEI SUPINSKY/AFP )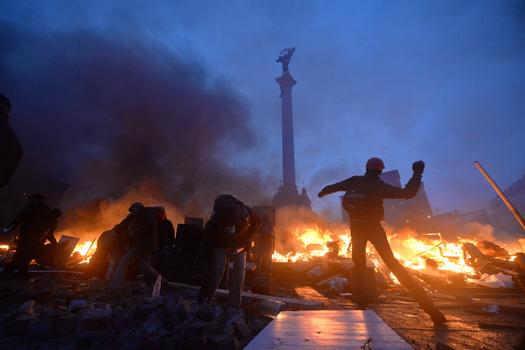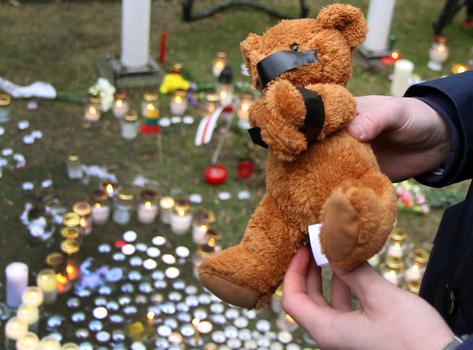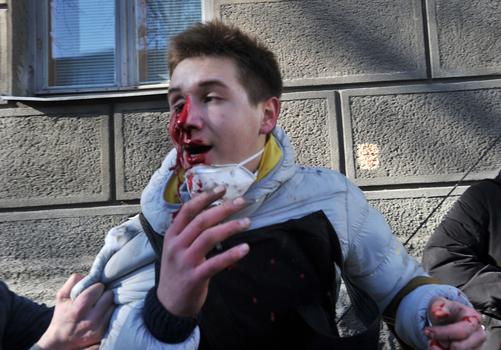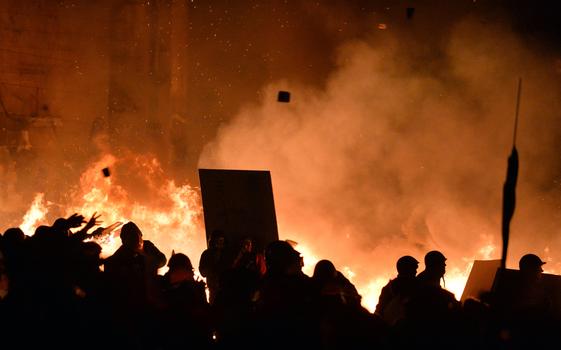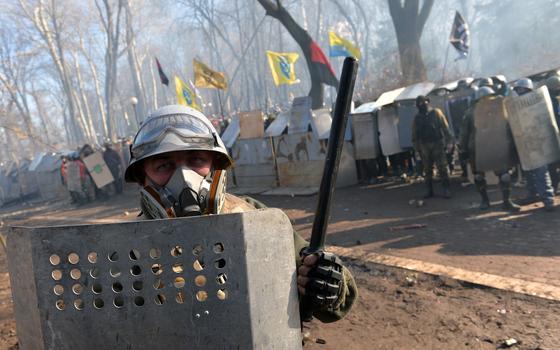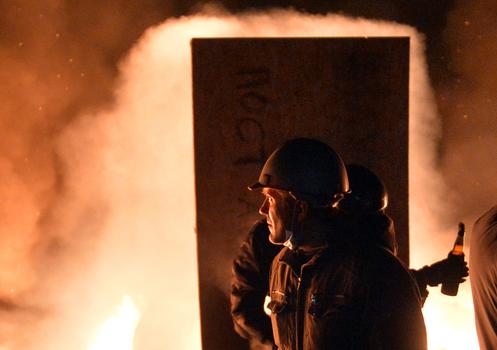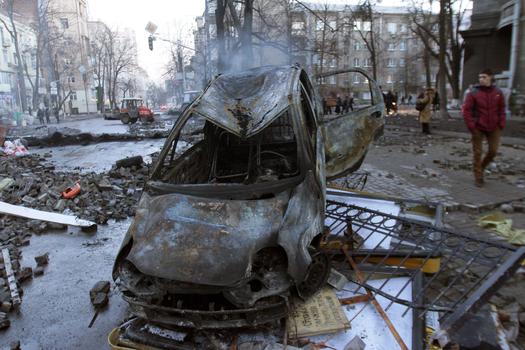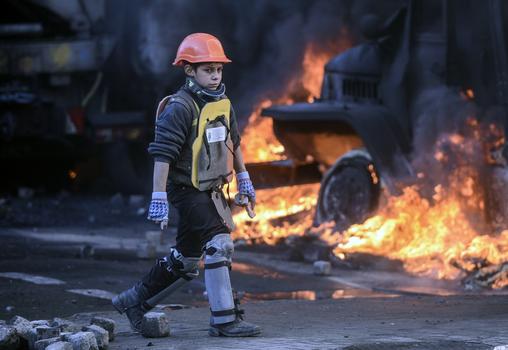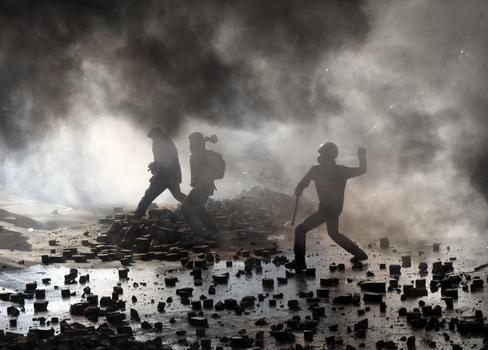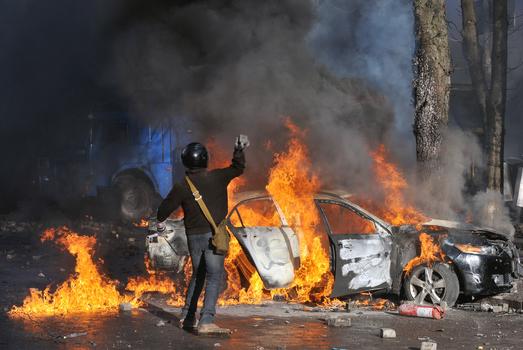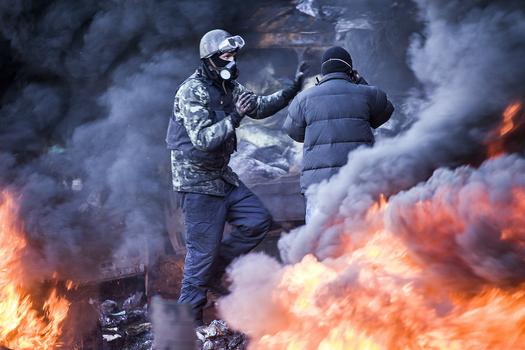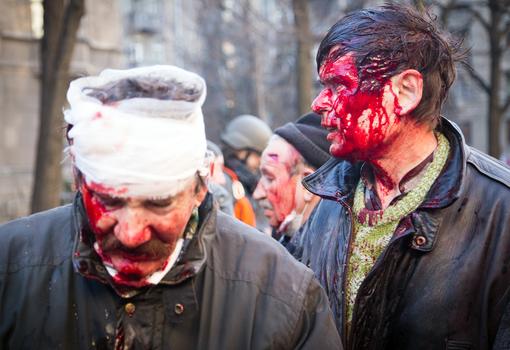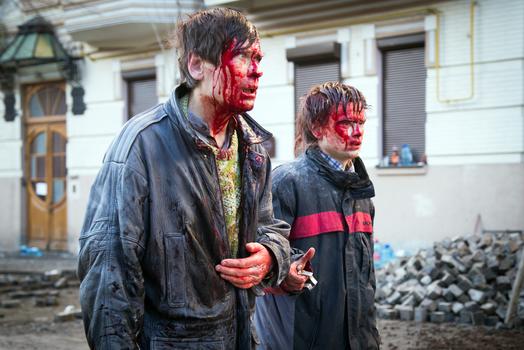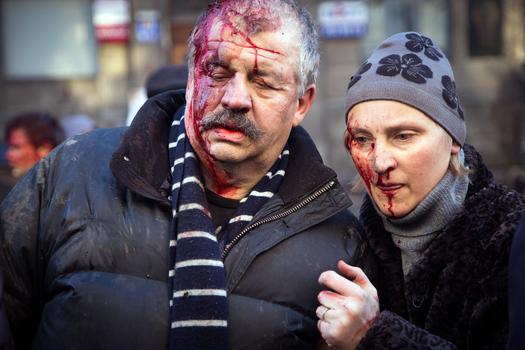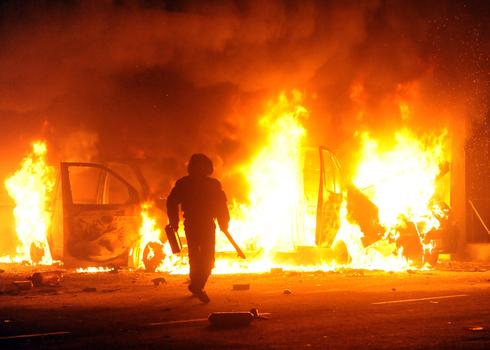 of