Kids in Prison: Guards with Helmets vs The Jolly Lumberjack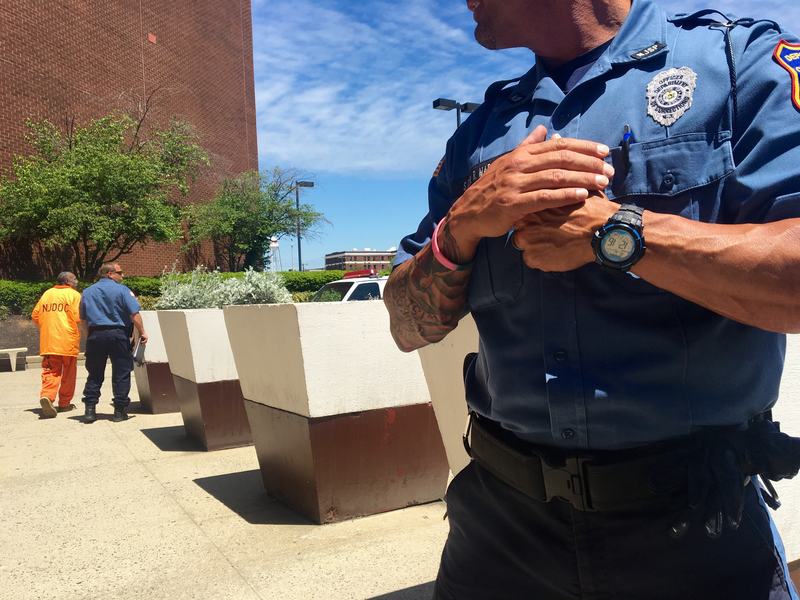 When Jamal arrived at an adult prison in New Jersey when he was 15-years-old, he said guards taunted him.
"They'll all be lined up, sitting there with their gloves on, stretching their gloves out, holding on to their maze cans or their batons," Jamal said. "They'll say stuff like, 'Oh look these effing juveniles, they want to be tough now they're in a big boy prison. Let's see how tough they really is.'"
Jamal is doing nine years in an adult prison for two armed robberies and a carjacking he committed when he was 14.
If he was in another country — like Germany, which WNYC visited for this story — Jamal would have never gotten that long of a sentence for robbery. And he would have never been sent to an adult facility. In Germany, people who commit crimes under age 21 can be treated as juveniles for incarceration purposes, and often inmates as old as 24 remain in juvenile prisons. 
In New Jersey, Jamal was kept away from adult inmates until he turned 18. He's now with adults. But it's not inmates he's worried about. It's the guards. 
"They'll say stuff like, 'We'll take care of you here,'" Jamal said. "'Aint no cameras' and stuff like that."
All the inmates interviewed for our story asked we keep their identities confidential.
Adult prisons are supposed to be punitive. And the divide between inmate and guard seems to start during training.
"You're blue, they're khaki," said Perry Shaw the third, a former corrections officer in the state. He says they are taught to intimidate the inmates.
"Because if I fear you, I'm going to respect you," Shaw said. "But I think the way we do it is wrong." 
(In Part 1 of WNYC's series, we found that close to 90 percent of the children prosecuted as adults in New Jersey are black or Latino kids. In Part 2 of our series, inmates tell us of what its like to be a minor in an adult prison in New Jersey, and we compare their experiences to the experiences of minors in Germany. In Part 3, we explore the long sentences that juveniles serve.) 
Becoming a Corrections Officer
Becoming a corrections officer in New Jersey takes 16 weeks. In videos of the New Jersey Department of Corrections training academy, those training to become guards put on boxing gloves and fight each other, and they learn how to shoot a gun. Trainees wack dummies with batons and get pepper prayed.
"These inmates do nothing but eat sleep and work out," said a corrections officer in the video who trains new guards. He says guards are assaulted "at the very least 3 times" in a 30 year career. 
"I'm not going to send you out there if you can't protect yourself," he said. "I'm not going to send you out there if you can't go to the code and help somebody else. That's your job. That's what you get paid for." 
In an email, the New Jersey Department of Corrections said the training "includes seven days of firearms training, seven days of defensive tactics and three days of first aid training. The remainder of the time a trainee spends at the Academy is on course study and physical fitness."
Courses include cultural diversity, stress management, suicide awareness, inmates with special needs, inmate manipulation and mob dynamics. 
"In all instances, psychology and communications skills are emphasized, along with professionalism and de-escalation of potentially confrontational or dangerous situations," said a spokesperson for the New Jersey Department of Corrections. "Trainees are taught to understand that this approach may be challenging when dealing with individuals who are incarcerated and are given the skills and preparation for dealing with this unique population."
It's a Stressful Job
Research from Columbia University Law School shows young people in adult prisons experience more fear than young people who get to serve their sentences in juvenile facilities.
It's a stressful job. Shaw says guards feel locked in too.
"Look how everybody looks when they're coming out the prison and they're leaving to go home," Shaw said. "They come out, look up, they stretch. They're taking off their shirts, taking off their vests and breathing freedom."
Guards at New Jersey State Prison, a maximum security facility, put on helmets and take out their batons whenever inmates leave their cells.
The corrections officers union in the state says New Jersey's 5,800 prison guards need protection. The union president said 11 guards were taken to the hospital in August; one with a fractured skull and another with a fractured cheek bone.
And most guards don't get weapons. They get shank-proof vests and a whistle. Only some ranking guards get maze, batons and handcuffs. But at maximum security prisons, guards also wear helmets and carry batons whenever inmates leave their cells. 
Guards in Germany Train Differently
In Germany, officials say giving guards any weapons changes the dynamics in a prison.
Becoming a corrections officer there takes 2 years. Its paid schooling that's heavy on written and oral exams on law, psychology and theory.
And guards in Germany don't get shank-proof vests, or batons or whistles or handcuffs or maze. 
 "We think demonstrating power is the wrong way," said Joerg Jesse, a psychologist and the director of prisons in the German state of Mecklenburg-Western Pomerania. "Demonstrating violence is even worse. Demonstrating that 'we are the ones who are the tough ones,' that's the language that the prisoners know. That's what they know from the streets."
In Germany, the role of the corrections officer is to rehabilitate inmates.
And there are no maximum security prison in Germany. All inmates are housed together and get the same privileges.
It's a prison system with short sentences and low-recidivism rates, where inmates have access tools that can be used as weapons, like electric saws and hammers. They have darts in their rooms and metal knives and glass. 
There is more staff at Jesse's prison for juvenile and young adults than there are inmates. And if one of them ever comes back — if they ever re-offend — the guards get together to talk about how they failed the inmate.
Jesse says about 30 percent of Germany's juveniles and young adults go back to prison within three years. In New Jersey, more than 85 percent of its juveniles return to court or are re-arrested.
Jesse comes to the U.S. often to consult on prison reform. I asked him what the U.S. could do to reduce its recidivism rates. He said the first step would be to re-imagine the role of a corrections officer. 
"We are not magical. We don't think that our treatment and our behavior and our way to handle these highly problematic persons are the only reasons why they offend or re-offend," Jesse said. "They are responsible for their life, of course. But on the other hand, we are the professionals to work with these problems."