From Marching to Running (for Office): Keeping Up the Momentum of the Women's March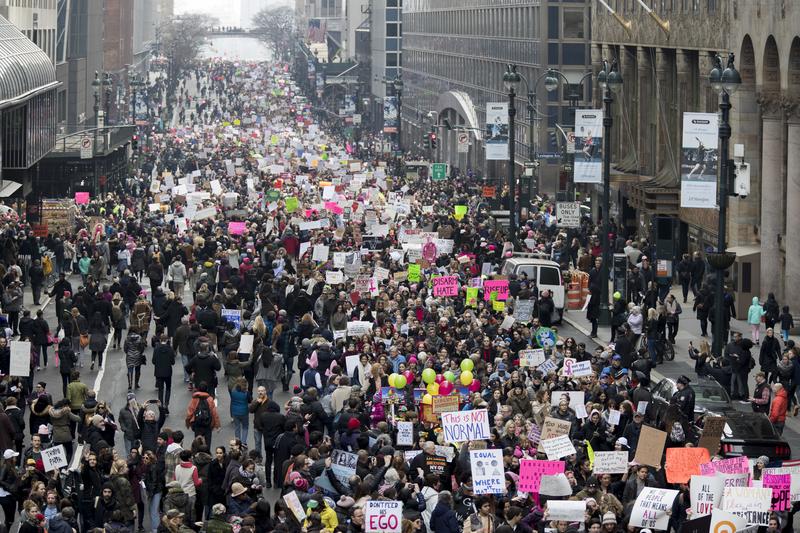 Gays Against Guns stages actions they describe as "weapons of mass disruption": part protest, part performance art. At the Women's March in Washington, D.C., members dressed in white from head to toe, each holding a plaque with the name and story of a female victim of gun violence.
Their cause is serious — but they mix humor in, too. They sang parodies of well-known songs with anti-Trump lyrics.
Less than a week later, dozens of members, including some new ones, met at the LGBT Center on West 13th Street. They tossed around ideas including doing a "drag Trump in a giant orange ball gown," for example, to help bring attention to their cause. Member Kevin Gotkin said that the time to fight for gun restrictions is now.
"He would rather target entire kinds of people than target the machines of death we know will kill about 91 people every day in this country," Gotkin said.
Gays Against Guns is doing what groups across New York City are doing — trying to figure out how best to capitalize on the anger and energy that marked the women's marches across the country.
Christina Chang of Planned Parenthood of New York City said it's important to provide new activists with different levels of engagement, from taking part in social media campaigns to protesting in public. She said her group is offering training to New Yorkers on the finer points of activism, like how to lobby local lawmakers.
For other women, like Bedford-Stuyvesant resident Kathleen Daniel, the marches have sparked an interest in actually running for office. Daniel plans to run for New York City Council. She's getting support and resources from the group VoteRunLead, which grooms women for political campaigns. Founder Erin Vilardi said the number of women interested in running has spiked — 48 hours after the election, more than 1,000 registered for the first web class. 
For these women, it's about getting equal representation in office. But Vilardi said like the women's march, it's also making a more fundamental point. "We're here, we're going to be seen and heard, and actually we're going to take it even a step farther," she said.
Click the audio link above to find out how different groups are harnessing the momentum of the women's march.