SchoolBook
To Retain Community College Students, CUNY Postpones Enrollment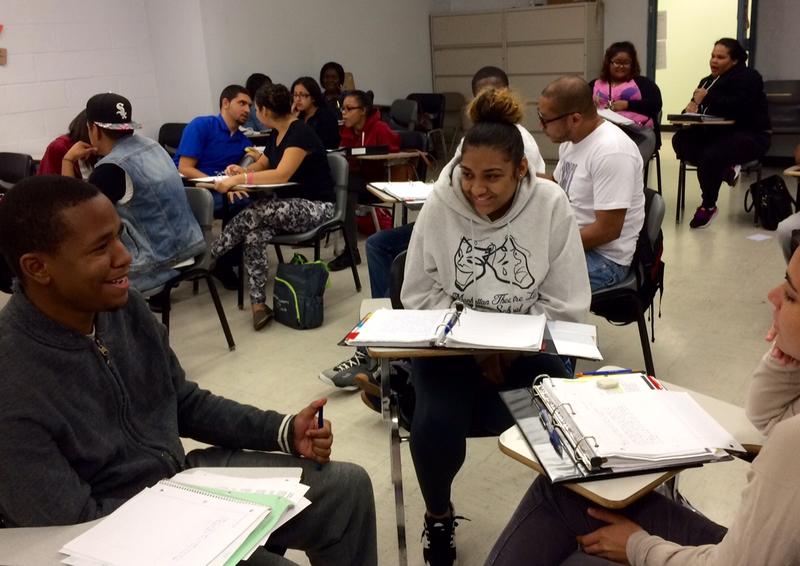 Remedial classes, while routine at U.S. community colleges, often undermine students' ability or desire to stay in school, defeating their purpose of guiding students towards a college degree. In response to this dilemma, the City University of New York community college system, has developed a program that is showing some promise.
First, the problem: nearly 80 percent of CUNY students needed at least one catch-up course because they failed a placement test in math or English. Those courses were expensive and often dull.
"They would be using their financial aid or paying out of pocket for those classes," said Donna Linderman, a CUNY dean. "They may fail a class and have to take it a second time. So this could become a very expensive endeavor for a student."
But what if incoming students could get those classes out of the way, before paying full tuition? That's the premise behind CUNY Start which Linderman oversees. For $75, students take only remedial classes, instead of spending 24-hundred dollars for a semester (or $4800 per year) to take regular courses along with remedial ones.
The program started in 2009 with just a few hundred students who needed at least two remedial classes. Linderman said they did so well, it's now being offered at all nine CUNY campuses that grant associate degrees, and was on track to serve about 4,000 students.

As of 2014, 51 percent of the students who went through CUNY Start didn't need any more remedial classes after one semester. CUNY said that's a greater success rate than four-year college students who also needed to pass at least two remedial classes. And it is a percentage rate that captured the attention of community colleges around the country.
"These are students that if they were put right into college-level classes would most likely fail and not come back to college," said Karen Stout, a former Pennsylvania community college president who now runs Achieving the Dream, which works to help the community colleges raise their completion rates. "So this is very impressive work."
What those involved in CUNY Start said set it apart from other support programs were the schedule and cost, condensing the remedial work into one $75 semester. Also, the faculty and staff. The program has about 200 of its own teachers, administrators and advisors who also developed a specialized curriculum.
Twenty year-old Gimy Arzu is now enrolled full-time at Hostos after completing CUNY Start. He said the extra support made all the difference.
"They had my back 24/7," he said. "No matter how stressed I am, no matter how tired I am, no matter how hungry I am. They just help me a whole lot. And that's why I'm able to pass my writing and my math and I thank God for that."
Despite the program's strong track record, Stout said it would be difficult for other colleges to replicate.

"What they wouldn't be able to do is figure out a way to charge $75 and make it sustainable," she said.
She said New York State was unusual because it had a continuing education fund, separate from regular college aid, which enabled CUNY to recover most of the costs. The actual cost per student was about $2100, nowhere near $75.
Still, CUNY Start is undergoing a rigorous study by outside experts looking for ways to emulate its success.