Kara Walker's Black Sphinx Is Made of White Sugar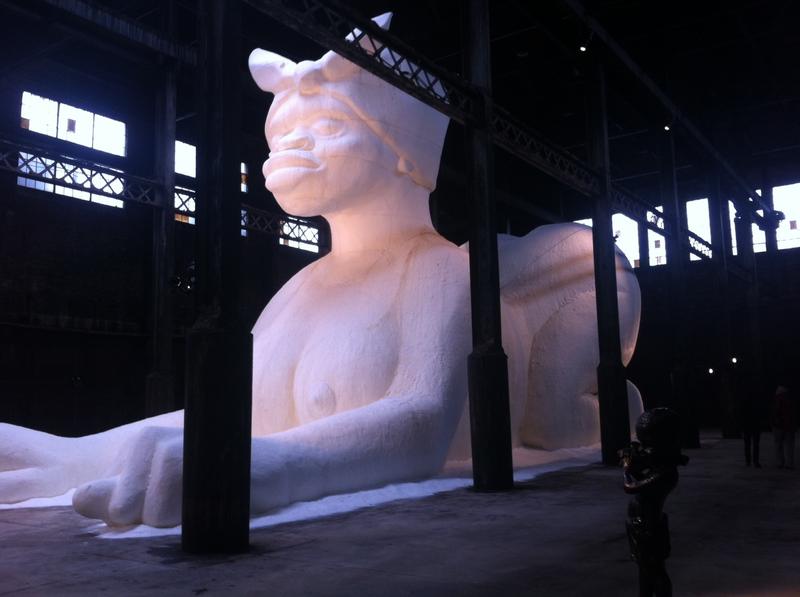 Ten years after it stopped refining sugar, the Domino sugar factory in Williamsburg is now home to a large sphinx made of sugar, thanks to New York artist Kara Walker.
The sphinx is modeled after a black woman; she is being attended to by 15 candy or molasses boys, some carrying baskets or bananas. Each one is African in appearance, and they are all shirtless.
Walker said the sphinx is a riddle, who asks questions instead of answering them. "Where does sugar come from, why is sugar produced at such large quantities, why do we desire the sweetness of refined sugar?" she asked. "At what cost is it being produced? I believe that in parts of the Caribbean where many Americans get their sugar, some of the labor conditions are the equivalent of what they were 100, 150 years ago."
Kara Walker giving her piece some final touches. (Gisele Regatao)
The sphinx, is 75 feet long and 35 feet high, is made of blocks of polyester foam and covered with about 40 tons of sugar. A team of 10 people spent eight weeks constructing the piece.
Walker said the hardest part was to get the hard-candy boys right. They were made with a candy solution that was poured into a mold. "It was so hot, and it took so long to cure, and then sometimes they didn't quite cure and then the first one came out he looked just like the boy, but he eventually droop, droop, droop, droop into this terrifying-looking puddle with a head and arms," she said.
Kara Walker's work is often provocative; she is best known for cut-paper black silhouettes that comment on power and repression. She received a MacArthur Foundation "Genius Grant" award in 1997.
Her public art piece at the Domino sugar factory was commissioned by the non-profit Creative Time. It offers the public one of the last chances to visit the site. The future of the factory has been in dispute for many years, and the de Blasio administration is now attempting to turn it into housing.
Walker's piece is on view on Fridays from 4 to 8 p.m., and Saturdays and Sundays from 12 to 6 p.m. until July 6.