Justice Sotomayor Sees Little Dramatic Change in Supreme Court Demographics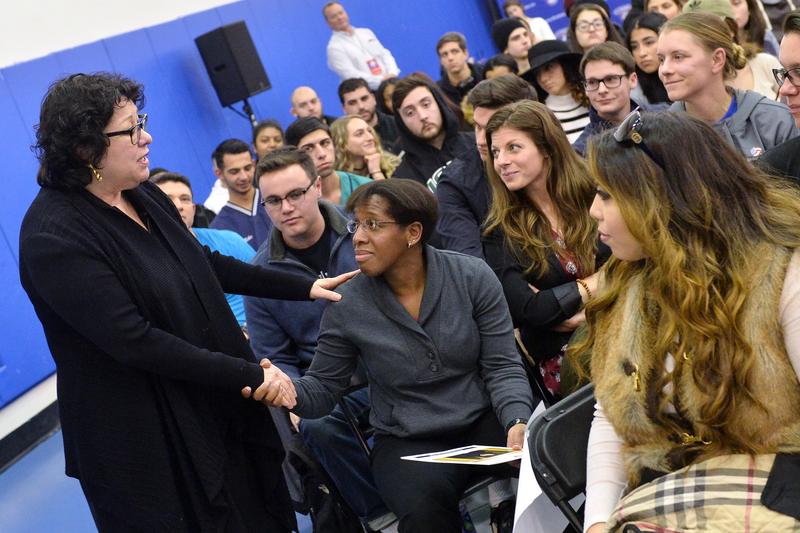 She didn't talk politics.
Justice Sonia Sotomayor used her afternoon discussion at St. Francis College in Brooklyn Heights on Thursday mostly to give career advice to an audience of about 400 college students, plus faculty and invited guests.
But when asked how she sees the composition of the Supreme Court changing in the next 20 years, the Bronx native and first Latina to serve on the nation's highest court spoke about diversity.
First, she predicted, the court wouldn't change a lot. "We're there for life," she said, dryly. "It's a very long time."
"And so in your lifetime, the likelihood of the court changing completely more than once is unlikely," she elaborated.
She noted that President Trump's nominee, Neil Gorsuch, is 49 years old and — if confirmed — could serve 30 or 40 years. And while she did not refer to the ages of the eight current justices, three of them are between 78 and 83-years-old.
"Some individual faces will change," she explained. "We hope that there will be more diversity, not just in gender, ethnicity, but I hope that there's more diversity in professional experience."
Currently, she said the court is filled with former prosecutors. Ruth Bader Ginsburg was a civil rights lawyer, but there are no former defense attorneys, immigration lawyers, or environmental lawyers.
"I think it's our hope that people will come in over time with some of that experience," she said. "But if you're looking for a radical change to the face of the court, from the backgrounds that exist today, don't think you're going to find radical changes."
Plus, she added, all of the justices and the new nominee come from the Ivy leagues.
The justice was invited to speak at the college by one of her former clerks, Sparkle Sooknana, who graduated from St. Francis in 2002 and has a degree from Brooklyn Law School.