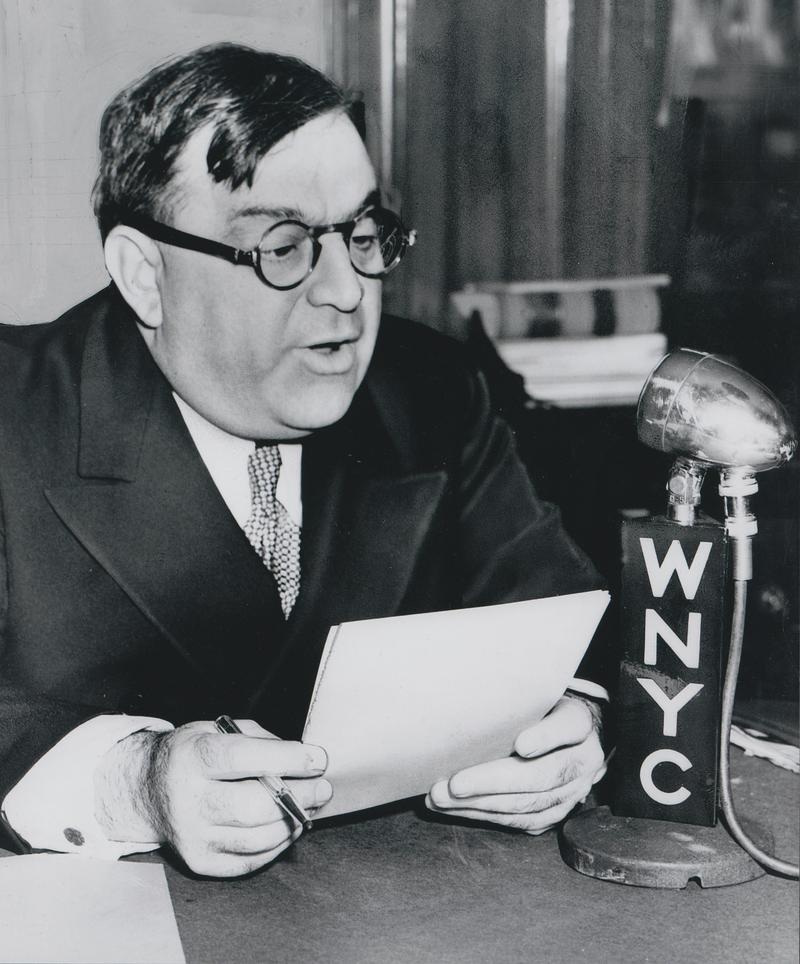 Summary
This episode is from the WNYC archives. It may contain language which is no longer politically or socially appropriate.
Expression of sympathy to families of victims of accident at Empire State Building. [Plane crash] Letter from Lt. Gen. Deputy Commander of US Air Force. Memorandum of agreement for the construction of the Colonial Houses. Board of Estimate approval for construction of wholesome fruit terminal market. Tropical and contagious disease hospital. Idlewild leases are ready to be signed. Sharkey Bill. British elections. Role of labor in reconversion. The science of forecasting weather.

Concludes with WNYC reporter.
Audio courtesy of the NYC Municipal Archives WNYC Collection
WNYC archives id: 71033
Municipal archives id: LT2545
Transcript
The original text of the WNYC radio broadcasts are the property of the New York City Department of Records/Municipal Archives. This digital edition is made available for research purposes only. The text may not be duplicated or reproduced without the written permission of the New York City Department of Records/Municipal Archives 31 Chambers Street New York, NY 10007

FOR IMMEDIATE RELEASE SUNDAY, JULY 29, 1945

CITY OF NEW YORK OFFICE OF THE MAYOR

TEXT OF MAYOR F. H. LA GUARDIA'S SUNDAY BROADCAST TO THE PEOPLE OF NEW YORK FROM HIS OFFICE IN CITY HALL, SUNDAY, JULY 29, 1945, BROADCAST OVER WNYC AT 1:00 P.M. FOLLOWS:


Patience and fortitude.


EMPIRE STATE BUILDING DISASTER

As Mayor I extend my sympathies and those of the people of the city of New York to the families of all who so tragically and suddenly lost their lives yesterday in the Empire State Building. I extend my sympathies to the War Relief Services of the National Catholic Welfare Conference and to all who one way or another were related to these unfortunate victims. The Army feels very badly about this. This morning I was visited by General Schneider and General Kane, representing the Army, who extended the sympathies of the Air Services to the City of New York. They left with me a letter from General Ira C. Raker, which I will read to you:

"in General Arnold's absence from the Country, I am writing to you immediately to express the concern of the Army Air Forces for the unfortunate accident which occurred at the Empire State Building this morning and our deepest sympathy for your citizens who were killed, injured, or disturbed by the disaster. Brigadier General M. F. Schneider, Air Inspector of the Army Air Forces, is bringing this letter to you. He will be accompanied by other members of General Arnold's staff who will do everything within their power to cooperate with you and other Government agencies to insure a complete and thorough investigation of the circumstances. *** It is our keenest desire that everything humanly possible be done for those who have suffered in this unfortunate and regretable accident and we shall leave nothing undone which lies within our power to that end.

Sincerely,
IRA C. EAKER, Lieutenant General,
U. S. Army, Deputy Commander,
Army Air Forces."

Yes, these accidents are the more regretable because they are avoidable.


COLONIAL HOUSES

Well, we had a busy week last week. We accomplished a lot. Yes, a lot that has great bearing and importance upon the future of our City. Several presidents of Savings Banks gathered here in my office, along with the Mayor, the Comptroller, the President of the Council, and Mr. Salmon and Mr. Moses of the Planning Commission and representatives of the F.H.A., we all signed a Memorandum of Agreement for the construction of a middle-cost housing project at Coogan's Bluff. These houses will be known as Colonial Houses. The matter will now proceed to the Planning Commission, and then to the Board of Estimate. The old dirt should be flying as soon as material and labor are available.


PRODUCE TERMINAL MARKET

And that isn't all! The Board of Estimate, by a unanimous vote, approved the preliminary plans of the great Wholesale Produce Terminal Market. That will be the largest market of its kind in the entire world. Without a negative vote, approval was given to proceed with the project without delay by accepting the advance of $750,000 from the United States Government for plans. The contract for the final construction plans was also approved without a negative vote.


TROPICAL AND CONTAGIOUS DISEASE HOSPITAL

The Board of Estimate also by unanimous vote approved the Government advance for permanent plans - the construction plans of a Tropical and Contagious Disease Hospital, which I told you about last week.

So don't you see how we are going along.


MANHATTAN CIVIC CENTER

The Planning Commission has moved for consideration, my plans for the enlargement and embellishment of the Civic Center here in Manhattan. It is going to be beautiful, and not only large. I have an idea for a public building which will be on the West Side and take the entire length of the Park. Oh, yes, it is going to be costly, and I suppose I will be criticized for it, but twenty-five or fifty years from now the people of New York will be very happy to have that Civic Center as we plan to make it.


IDLEWILD AIRPORT LEASES

What's more, the Idlewild leases are now ready to be signed. Late last night Commissioner McKenzie of the Department of Marine and Aviation informed me that at a conference with Comptroller McGoldrick, final agreement was reached and all details worked out, even to the locations of the hangars. Just one company alone will have $25,000,000 and another company $17,000,000 of hangars. The amount that we are going to spend for this should not frighten anybody, and I want to take this opportunity of expressing the thanks of the Mayor and the people to Comptroller McGoldrick who so patiently and long worked on the most difficult details of the involves leases. So it will only be a few days now before they will be signed.

You know, things of this kind are what make up for the headaches and heartaches of this job, but when you know you are doing things, things that are permanent and things that will make life better and happier, it's worth while. You know, during the last twelve years, it is things of this kind that have been my "L.D.T." to keep me from being annoyed by the political cooties.


OPA ENFORCEMENT

I want to announce that after the broadcast I expect to sign the OPA Bills. There is division of opinion among lawyers as to their validity and such a division that I think it should be settled by the courts. Far be it from me to usurp the responsibilities of courts. Sometimes they do it so well. Well, I want to announce that no undue advantage will be taken and that at the very first opportunity a test case will be presented to the court for decision.


BRITISH ELECTIONS

The election in Great Britain caused more discussion in our country than the results of our own last election. The British election will have its influence on the internal affairs of several countries in Europe. It may directly affect the future of many of the countries of Europe, as well as the colonies of the British Empire of Commonwealths. I can name three young men who had better start looking for new jobs. One is Prince Humbert of Italy and the others are young Peter of Yugoslavia and Michael of Romania. That the monarchy was bolstered in two of these countries by the forceful Churchill is a matter of record. The Labor Government will have a wholesome and beneficial influence in shaping the immediate destinies of the liberty loving people of France. I think DeGaulle will feel more freedom of action. The people of Belgium will soon decide their ultimate fate, and in all likelihood it will be along true democratic lines.

Now let us look at Great Britain itself. First it must be said, and history will forever record, that friend and foe, supporter and opponent, and all the people of the United Nations had and have the greatest respect and admiration for Winston Churchill. There isn't a Britisher alive but admits a debt of everlasting gratitude, for he was the man who saved Great Britain. He was an inspiration to us all. With any other man in his position at the time the history of the world might have been different. Every American owes a great deal to Winston Churchill, for if he had not grimly held out, the Nazis would have gone through and we might have been pushed around for a time along our own Eastern Coast.

The people of Great Britain are not as emotional as we are; they are not as sentimental; they are not as temperamental. For all intents and purposes the great pressure of the war is over for the British Isles. The war program in the Pacific was not an issue. The British vote in no way indicates any disapproval or opposition to the active conduct of the war - past, present, or future. The people of Great Britain simply say, '"Thank you, Winnie, Old Chap, you have done a fine job. We must now carry on. We have problems of peace. We have our own ideas of the economy of our country and the social well-being of our people. We don't think that you agree with us on that, and hence we are going to make a change." Nothing sudden or violent will happen in Great Britain. I believe that the effect of the Election will soon be seen in the other countries. If we in the United States do not heed the lesson in our country before the next national election, we too will see real big changes.

It is well that Americans should know that the Labor Party of Great Britain is the Progressive Political party of the country. It is way to the right of what we describe as extreme radicals in our country. It is somewhat to the left of the Progressives of 1912, and not much to the left of our Progressives of 1924. It is in about the same position as the New Deal of F.D.R. of 1932. There is this difference, however, in our political systems, and I believe the British system is far more effective - the Labor Party or Progressive Movement is a permanent, non-compromising national political party, unlike in our country, where we find some real true, sincere, staunch and courageous progressives in both of the national major parties. True, we have from time to time real progressive movements, as we had in 1912 and 1924, and without a 3d party in 1932. With us a new party is formed from time to time, goes along for a while, but history would indicate that these new parties finally degenerate into just tails to an existing political kite.


The reason that the people of Great Britain loved Churchill as a war leader and did not want him to guide the post-war domestic problems is because they liked his war leadership but he had not done sufficient to give the people of Great Britain a token of action in social and economic reforms which the people of Great Britain, aye, the people of every country, are now demanding. Let no leader, executive or politician fail to see that. True, Churchill was busy in keeping the enemy off the shore. However, the people of Great Britain evidently believe that certain fundamentals could have been in the formative stage and beyond just the discussion stage. Housing, yes, Churchill talked about that, but evidently it did not progress to the point of something really tangible like we have right here in our own city. Members of the British Parliament have told me so.

Unemployment insurance has to be perfected, economic security yet to be fully realized, health insurance, oh yes, that advanced to the Beveridge report. Sir William Beveridge went down to defeat, not because of his plan - but because so little was done about it. Better living conditions is something that is always talked about amidst a great war when standards must necessarily come down. The people this time expect something real.

Now here is something which is mainly responsible, I believe, for the election of the Labor Government. Over three million voters, and I would venture to say that means three million families, who ordinarily voted the ticket of one of the more conservative parties, voted with the Labor Party this time. These were what we here sometimes called the middle class, what at one time was the comfortable class in Great Britain. The in-betweens, people of fixed salaries, small businessmen, professional men, engineers, architects, doctors, lawyers, dentists, grocers, pharmacists, teachers, musicians, artists, clerks, accountants, employees, the folks who had what at one time was considered nice salaries, $2500, $3000, yes, $4000 and $5000. This group has been hit hard. They seem to have reached an economic dead end. They pay comparative high taxes; they have taken a great part in the war, they have suffered big losses in casualties. It is difficult for them to see any improvement under the old system. The cost of living is not appreciably coming down. It won't in Great Britain. It will not in the United States. Why? Here we recognize that Agriculture must have permanent parity with industry. Labor costs have increased. Transportation and distribution costs, consumers goods have gone up. How can there be much reduction in the cost of living? This big group saw nothing in sight. They spoke. It might be said it was a great protest - the revolt of the middle class.

Some in our country talk about the socialistic tendencies of the Labor Party of Great Britain. It is no more so than the progressive principles of most countries, including our own. Some talk about the nationalization of natural resources and other industries. How about the great projects of T.V.A., Boulder Dam, Bonneville, Gran Coulee now in operation and more coming? How about local ownership of utilities? One thing is quite probable in Great Britain - that the coal mines will be nationalized. Don't be shocked. The Government may have to take over the coal mines in our country before long. There is definite reason for this. I am going to discuss the coal situation some day and will go into more detail. As long as coal is a necessity it must be supplied at a reasonable Cost. Coal miners must be paid decently. They have been exploited in all countries for a century and a half. Since we have come to depend so much on coal, it is difficult to operate under new living standards as a private enterprise for profit. Coal miners, too, have learned that they and their families must live decently. So it goes all along the lines.

The new Labor Government of Great Britain will endeavor to bring about economic changes, a better standard of living, in a calm, orderly and constructive way. The change in other countries of Europe may not be as gradual, as smooth, and as orderly. But here is a lesson that we should not fail to heed. Every member of Congress, during the present recess, should read the history of Great Britain and acquaint himself with the economic conditions during the past fifteen or twenty years during the war and since VE day. Every member of Congress should come back to the session resolved to give more action to our post war problems, uniformity of taxation throughout tho country, a plan for industry and business, a definite plan for our railroads, what to do with our surpluses, the post war public works program, uniformity in labor laws throughout the country and definite, uniform unemployment insurance, a uniform health insurance plan, a national housing program, increase in minimum wage based upon accepted standards of living. None of these subjects is new. They have all been discussed here and in Great Britain. Action is necessary.

Labor in our country too, has a great responsibility. Only with Labor's cooperation can we bring about the condition necessary to create sixty million jobs. That requires most honest, intelligent and courageous leadership on the part of Labor. Labor can also do so much to bring about a system of annual pay for many in what is now considered unavoidable seasonal occupations. Again, it will require courageous, intelligent leadership on the part of Labor. Jobs with decent wages for all - not jobs with overtime for some. Production, not feathering must be the basis. The annual wage and the manner in which Labor can contribute to creating the necessary spread of employment, I am going to discuss with you at another time.

The reason I say that we must heed and profit by the lesson is not that I fear that we will not be able to solve our problems. What I fear is that we will not do so in time. At the rate we have been going we will not have done it in time, and I fear that if we do get into a period of industrial stagnation, financial troubles, unemployment, it will take so much longer, it will be so much more costly, less efficient. If we unduly delay then we might have a sudden and violent change in this country that would be even more costly and not at all effective or permanent. A complete and thorough post war plan necessary to the tranquility of our country and the peace of the world. There is no secret formula - there is no exclusive patent or copyright owned by any one political party - The need is national. The Party that intelligently and courageously approaches the task and solves the problem will have the support of the American People.


St. SWITHIN AND WEATHER FORECASTING

More people have talked to me about the weather the last few days than ever before. I think that all press agents should vote unanimously and make St. Swithin their patron saint, for you all know the legend of St. Swithin. He wanted to be buried in the open where the rain would fall upon him, and they did bury him in the open and then 109 years later they removed his body to the cathedral and then this rhyme was written:

"St. Swithin's Day, if thou dost rain,
For forty days it will remain,
St. Swithin's Day, if thou be fair,
For forty days it will rain nae mair."

And you know that that publicity agent has kept St. Swithin on the front pages of the newspapers for 964 years! Now, that's pretty good, isn't it? It is an interesting legend, but it really has nothing to do with the weather we are now having. Not at all, so I thought today we would get some first-hand information of the science of forecasting weather. We have weather not because anybody is mad at us, or not for any superstition. Weather happens because the world is so constituted and the elements so operate and we need changes of weather and we have them. So today I brought Mr. Parry here. He is the head of the U.S. Weather Bureau and I thought I would have him tell you something about how they tell you just what weather we are going to have.

MAYOR: Mr. Parry, will you tell us something about the establishment of the Weather Bureau?

MR. PARRY: The Weather Bureau was established in 1871 as a part of the U.S. Signal Corps. It remained in the Army until 1891, when it became a separate bureau of the Department of Agriculture. Aviation expanded so rapidly and since it depends so much upon the weather it was decided that the Bureau could more efficiently serve aviation, industry, and agriculture as part of the Department of Commerce. So, on July 1, 1940 it joined that Department.

MAYOR: How long have you been in the Weather Bureau Service?

MR. PARRY: Forty-one years, twenty-seven in the New York office.

MAYOR: Is weather forecasting a hobby, a gamble, a guess, or an art?

MR. PARRY: It is an art. Any person having a touch of rheumatism, a pet corn or is a good guesser does not qualify as a weather man.

MAYOR: Is there special training for service in the Weather Bureau in institutions of higher learning?

MR. PATTY: Oh yes. Many of the colleges and universities have well organized courses in meteorology and some of the high schools give elementary courses in the subject.

MAYOR: While the deductions from available data is an art, is not the interpretation of these factors a real science?

PARRY: Yes, to qualify as a forecaster it is necessary to have a background of physics and meteorology, a retentive memory, an analytic mind and a lot of courage.

MAYOR: Mr. Parry, what is the General Percentage of correct forecasts in a year?

PARRY: Mr. Mayor, we are right only 85% of the time. Our failures are due mostly to improper timing. A storm or fair weather area may move faster or slower than we anticipated, or else the precipitation will cover a greater or smaller area than expected. Sometimes they become stagnant, and unpredictable local storms will move in unannounced. Unfortunately for the Bureau's reputation, these misses are remembered and our verified forecasts pass unnoticed.

MAYOR: How can you tell if it is going to rain in New York?

PARRY: Our forecasts are based upon weather reports received from all over the United States, from Europe, Canada and Alaska and from ships at sea. These reports are plotted on maps and we are able to locate storm and fair weather centers. We determine the direction in which these centers are traveling and the weather conditions which accompany them. From these data, we then calculate when they will reach New York City.

MAYOR: Just what information do you get on these reports?

PARRY: Pressure (or Barometer reading), temperature, sky condition, rainfall, wind direction and velocity, and types of clouds and the direction in which they arc moving.

MAYOR: All right now, Mr. Parry, we are just city folks here. What does all that mean? What do you mean by pressure?

PARRY: The Barometer is used to indicate pressure or the weight of air as it presses downward on the earth's surface. Under normal conditions at New York your Barometer will read close to 30 inches. This means that the weight of the air from sea level to the outer limits of the atmosphere will balance a column of mercury 30 inches high.

MAYOR: What creates rain?

PARRY: Rain falls after moisture in the air has condensed into raindrops and are heavy enough to fall through the air below the clouds. We may liken this process to a sweating pitcher. Its sides are cooler than the surrounding air. The warm air coming in contact with the colder pitcher will become chilled and its moisture will condense and appear on the sides as tiny waterdrops.

MAYOR: What causes wind?

PARRY: Wind is air in motion and is primarily due to temperature differences.

MAYOR: What would happen if air about a body would be suddenly removed?

PARRY: The body would burst outward due to the expansion of the air within the body.

MAYOR: We, lay people, know about hurricanes, cyclones, and tornados. What makes them so destructive and where do they accumulate all that power?

PARRY: The hurricane originates in tropical waters. Due to temperature differences it takes on a rotary motion with wind velocities reaching more than 100 M.P.H. Once the storm starts spinning, the heavy rains which accompany the storm release a lot of heat which adds to its energy. The tornado is a thunderstorm in its highest stage of development, and its start and development is similar to that of a hurricane except that tornados generally form over land surfaces; when formed over water they are called water spouts.

MAYOR: Mr. Parry, you must be awfully smart to be able to tell us when a hurricane is coming from the Caribbean.

PARRY: We are able to locate these storms from reports received from ship masters in that area and from land stations in the West Indies.

MAYOR: So you get the information faster than the hurricane can travel?

PARRY: Yes, that is right.

MAYOR: What sort of people are interested in knowing the weather ahead of time?

PARRY: The baker and restaurant owner plan the kind of goods their customers will require, as there is a definite relation between combinations of temperature and humidity and what people eat. The towboat captains wish to avoid easterly winds and fog. The shipper of perishables regulates his shipment according to expected temperatures. Advertising matter such as mosquito repellent is released ahead of warm waves; and furs and skid chains are advertised when heavy snow is expected. The concessioner at beach resorts must provide extra goods for a hot week-end or cut his supply for a cold rainy period. Planes are dispatched or grounded according to anticipated weather. And the farmer is interested in tomorrow's weather when he sprays, plants, cultivates and harvests his crops.

MAYOR: We have saved hundreds of thousands of dollars by availing ourselves of the weather bureau's services in connection with snow removal. Can you give us an idea of other instances where the weather bureau has proved invaluable?

PARRY: Probably the Marine industry is the largest user of Weather Bureau Services. During peace-time 12,000 ships enter port from foreign shores and 2,000 coastal vessels. There are 50,000 small boats in this area and 3,500 miscellaneous marine craft. All of these are potential users of weather information in one form or another. Aviation is next in line, while legal fraternity carries hundreds of our records into the city court during the year.

MAYOR: Do you provide information for the automatic weather reports of the telephone company, Weather 6-1212?

PARRY: Yes, we furnish by teletype, the temperature and humidity hourly and 4 or more predictions every 24 hours. The average number of daily calls is 40,000 with 155,000 calls the high figure for a single 24-hour period. A cloudy Friday will frequently jump the calls to 75 to 90 thousand.

MAYOR: Besides knowing whether it is going to rain, whether to take our rubbers or not, the weather bureau furnishes other information for the use of industry, business, transportation and the services.

PARRY: Yes, forecasting is relatively a small part of our work. We receive temperature and precipitation data from every county in the United States. Those data must be checked and tabulated; normals, averages, and extremes must be computed. Those data are used by engineers and research organizations for selecting and processing material and establishing formulas and plans of action.

MAYOR: Now, Mr. Parry, I am going to try you out. Here is your weather map for today. Now, assuming as the map indicates, that we have a low pressure area in New England moving toward Ohio with high pressure area in Michigan, Wisconsin, Illinois and Indiana and Bermuda High continues in the South Atlantic. What is your forecast for tomorrow?

PARRY: A pressure pattern of this kind indicates that the low pressure area in the eastern part of the country is drifting slowly eastward and will move off shore away from New York City within 12 hours. However, as it passes over New York City showers and thunderstorms will form locally.

MAYOR: Showers today and that means no rain for tomorrow.

PARRY: No rain tomorrow.

MAYOR: We will watch it with Patience and Fortitude.

########