Extra: Julian judges sugary confections by Doris Day & Rosemary Clooney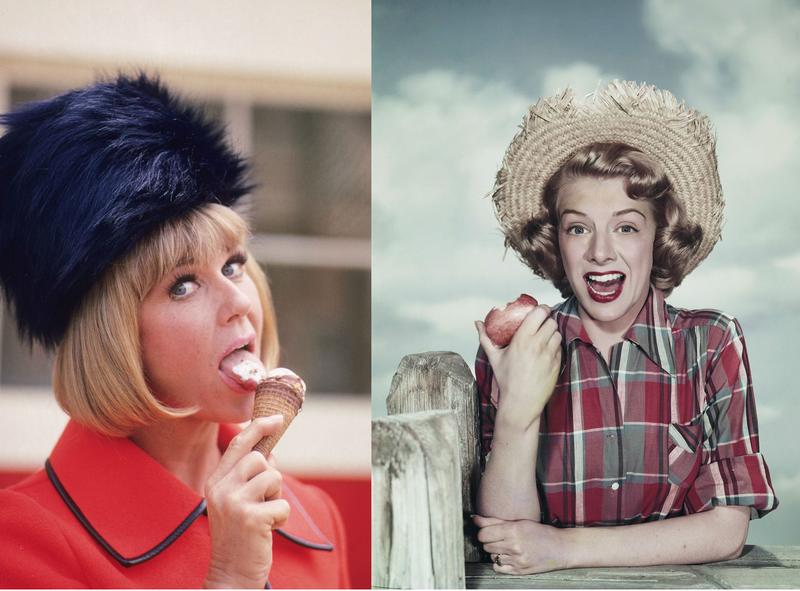 Today Judge Julian will be presiding over Day vs. Clooney, or Clooney vs. Day... 
Hey There:
Judge Julian Says: Both singers approach this tune like it were an undercooked robin's egg: fragile, child-like and one fumble away from a tiny, tasteless omelet. I'm not a fan of this approach in general as I'm a firm believer in the power of rhythm, especially in a ballad, and neither of these formidable vocalists brings much sauce to the supper. Clooney enjoys the advantage of a slightly brighter tempo than Day, whose creamy alto is one of the modern wonders of the world. But it's her natural need to cleave to the downbeat that makes Rosie's attempt the more appealing of the two. She bites the heads of her consonants, nails the downbeats and even somewhat swings... even as she's forced to cleave her way through the fog of this bizarre arrangement. To be fair, Day has to cry for the camera before the song is even over, so that's not helping her lug this sandbag over the finish line. But even with that handicap, I give it to Clooney in a photo finish.
Might As Well Be Spring: 
Judge Julian Says: This is like comparing apples to apples, when both apples are mealy and need to be composted. This is what happens when the apples have both been forced by faceless label executives to record songs they don't really like over arrangements designed not to frighten white, suburban audiences. The question isn't which of these two singers wins the contest, but how many listeners do we lose in the bargain? These are the kinds of recordings that scare new audiences away from the Great American Songbook. Clooney enjoys the advantage of a strangely haunting arrangement crowned with what sounds like a drunken cornet solo at the top and some very weird, muted and dissonant figures from the horn section at the end. I admit I was rooting for Day, whose greatest tracks are timeless gems that send shivers down the spine, but this one is the audio equivalent of a white-bread-and-mayonnaise sandwich that sends quivers down my lower intestine. 
Bewitched, Bothered and Bewildered: 
Judge Julian Says: Oy. I guess what I'm learning from this edition of Judge Julian is that I'm not a huge fan of Clooney's. I grant that she's one of the greats, but if I'm going to listen to this iconic masterpiece, I'm gonna go for Ella or even Linda Rondstadt, neither of whom sounds so much as if she's trying to stand up after some minor, out-patient surgery. There's something very workmanlike about Clooney's recording that, in the words of Project Runway's Nina Garcia, "makes me sad." The combination of lilting melody and winking lyrics, however, is made for Doris Day whose persona always held the dual promise of wholesome housewife and sexy siren — and this recording does manage to capture the subtle grain in her shining sound that suggests both. I dare say that Clooney appears to have made this recording post-prime, but I can only work with what I've got and this is Day is at her sultry best. Score one for Doris.
Blues In the Night:
Judge Julian Says: America has always loved a white singer who sounds like a black singer. Elvis anyone? It's practically an article of faith that extends to songwriters as well — as is evidenced here by Jewish composer Harold Arlen's timeless gem which combines Yiddish modalities with Black, Southern ones in a fashion that's equaled only perhaps by his fellow tribesman George Gershwin. So what are we to make of these two WASP songstresses' attempts to render this song in kind? Well, neither of them "sounds black" per se, but it's Day who best mines the music's rich, layered, bluesy potential — as well as Johnny Mercer's equally Afro-inflected poetry. It's not the most natural fit, but Day connects to the material more immediately than Clooney whose bedrock whiteness can't be mitigated even by an assist from the legendary Percy Faith and his Orchestra—hardly the Mormon Tabernacle Choir. Day was always sexier than Clooney, so perhaps the deck is stacked, but I can only call 'em as I see 'em and Doris Day takes this trophy, even if the trophy belongs to someone else altogether.
Winter Wonderland: 
Judge Julian Says: Even though Clooney is forever identified with Christmas, due to her memorable role in Irving Berlin's beloved White Christmas, someone needs to tell her that this isn't Schubert Liebeslieder.  Still, while Day enjoys a more gemütlich arrangement and her voice displays its trademark sumptuousness, her version is little more successful at making me want to locate my Ugg boots and REI gloves than Clooney's. But I don't want to be a total grinch about it, so in the spirit of the season, I rule in favor of both the plaintiff and the defendant. Merry Christmas to all and to all a good night!
Case Dismissed
We want to hear from you! Subscribe to The Naked American Songbook on iTunes, follow us on Twitter, like us on Facebook. Tell Judge Julian what case you'd like the Naked American Songbook court to hear next…