The Takeaway
Judges Temporarily Halt Part of Trump's Executive Order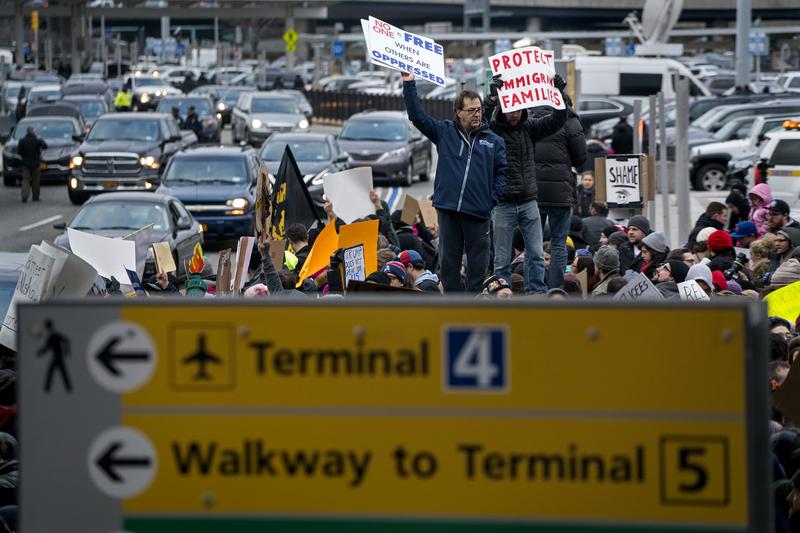 A temporary halt on parts of President Donald Trump's executive order on immigration from seven Muslim-majority countries has been issued by judges in New York, Virginia, Washington, and Boston. Those decisions came on Saturday night on the heels of spontaneous demonstrations held throughout the country, with scores of people filling up airports.
When asked if this was a ban on Muslims, Trump said, "This is not about religion — this is about terror and keeping our country safe." The order issued by Trump would seek to target Iran, Iraq, Libya, Somalia, Sudan, Syria and Yemen. 
None of the the countries included in the order have taken part in any major terror attack resulting in deaths in the United States. Additionally, no refugees accepted to the United States have been implicated in any major fatal terrorist attack since the Refugee Act of 1980. Prior to 1980, three Cuban refugees carried a successful terrorist attack that killed three people. 
Trump's order would impose a 120-day entry ban on refugees from anywhere in the world and indefinitely bar Syrian refugee immigration. A ban on all visitors from the seven designated countries listed in the order would be imposed for 90 days. The order would also bar individuals who have dual citizenship in one of the listed countries and a country outside of the United States. Trump has also said that he would give Christian refugees priority going forward and has often claimed that Christians have been denied refugee status in the past.
The claims of denying refugee status to Christians are untrue. In 2016, there were 37,521 Christians and 38,901 Muslims given refugee status.
The Trump administration, in response to the judges' orders, backtracked on barring entry for individuals carrying green cards. The Department of Homeland Security stated that exemption from the order would be given to those who are legal residents.
The Customs and Border Protection agents have defied court orders in Dulles airport in Virginia, according to members of Congress and attorneys.
Immigration, civil rights, and ACLU lawyers have vowed to continue to challenge Trump's executive order. Following a federal courts decision on Saturday, ACLU national political director Faiz Shakir said, "I hope Trump enjoys losing. He's going to lose so much we're going to get sick and tired of his losing."
To discuss the implications of the judges' decisions and what legal challenges we may expect in reaction to Trump's executive order, we are joined by Eliza Klein, an attorney and former immigration judge.